xoxoxoBruce Friday Oct 15 11:52 PM

Oct 16, 2010: Wet Windshield

Yeah a wet windshield, you know that, everybody's seen one.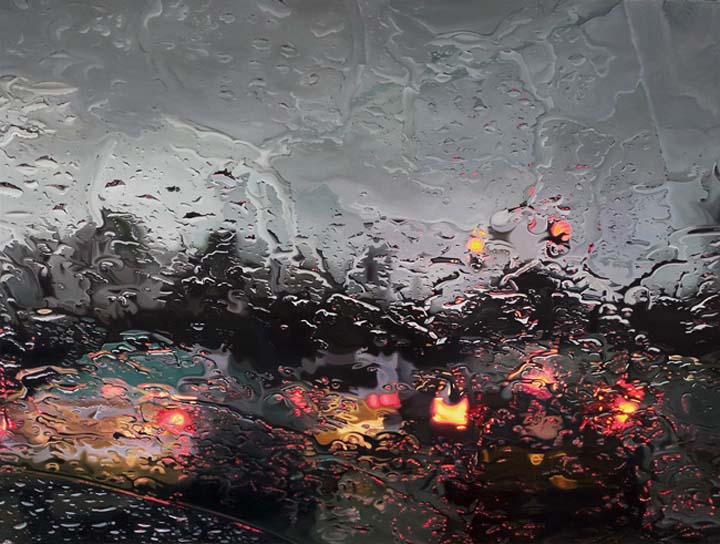 YOU: It's a photograph of a wet windshield, so what?
ME: It's not a photograph.

YOU: OK, so it's a good digital rendering of a wet windshield, same difference.
ME: It's not a digital rendering.

YOU: Hmmm... screen capture?
ME: Nope, it's a 36" x 48", oil painting on canvas.

YOU: No shit.
ME: No shit, and there's more here.

---

casimendocina Saturday Oct 16 03:13 AM

Not much I can say really except "Wooooooooooooow".

---

newtimer Saturday Oct 16 09:20 AM

Texting while driving is dangerous enough. Now we got painting while driving to worry about, too. And in the rain?!?

---

Hillrick Saturday Oct 16 10:48 AM

Pretty good painting but as art is supposed to make you feel I don't like this because it associates every stressful negative moment of driving in the rain.

---

xoxoxoBruce Saturday Oct 16 10:52 AM

Negative is a feeling.

---

Shawnee123 Saturday Oct 16 11:04 AM

True...art ain't always s'posed to make you feel good!

I like it.

---

Diaphone Jim Saturday Oct 16 01:01 PM

As the artist says:
"In the case of driving, the abstraction and distortion of the water are indexical to the windshield (as smoke can be traced to fire). The result is that painting, per se, can summon a pre-verbal experience- slipping outside of static referents and into a gestalt of sensation, both fixed and fluid."
Right.
Van Gogh had vison problems too, but they couldn't be solved by;
"Hey man, turn on the fuckin' wipers!"

---

footfootfoot Saturday Oct 16 01:20 PM

Snore. Photorealism is soooo 70's.

---

Trilby Saturday Oct 16 02:01 PM

Mmmmmmmmmmm...blurrrrrry.

---

xoxoxoBruce Saturday Oct 16 04:09 PM

Little different than the fog on the inside you normally see, eh.

---

FloridaDragon Saturday Oct 16 10:51 PM

Careful, the link attached to the original post for this thread is tagged by McAfee siteadvisor :

jalopnik.com/5664703/this-is-not-a-p
hotograph may cause a breach of browser security.
Why were you redirected to this page?

When we tested jalopnik.com/5664703/this-is-not-a-p
hotograph, it attempted to make unauthorized changes to our test computer by exploiting a browser security vulnerability. This is a serious security threat which could lead to an infection of your computer.

---

xoxoxoBruce Saturday Oct 16 11:13 PM

AVG isn't seeing that, even on Google it's giving me a little safe search thingy.

---

SPUCK Sunday Oct 17 06:07 AM

That site freezes my computer.

---

xoxoxoBruce Sunday Oct 17 10:33 AM

OK, I changed the link in the OP to the artist's site direct. Try that and see if you have a problem?

---

FloridaDragon Sunday Oct 17 11:11 AM

Better! the site advisor has no issues with that link ... no idea if there really was an issue or not but better safe than sorry... especially since I am dealing with virus issues on a lot of shared drives at work right now

---

xoxoxoBruce Sunday Oct 17 11:16 AM

Absolutely, thanks for taking the time to let us know there was a possible problem.


Hope it works for Spuck.

---

SPUCK Monday Oct 18 06:16 AM

Oh heck yeah!. Much bettah. Thanks.
I think that first site was dropping such a load of advertising crap on me that the megabyte of scripts was dragging me down.

---

xoxoxoBruce Monday Oct 18 07:01 AM

Cool, wish I'd known sooner but I wasn't having a problem/warnings, and I use that site every day.

---
Your reply here?

The Cellar Image of the Day is just a section of a larger web community: a bunch of interesting folks talking about everything. Add your two cents to IotD by joining the Cellar.