xoxoxoBruce Monday Oct 4 03:02 AM

Oct 4, 2010: Blooming Genius

Daddy, Daddy, if there are any people left over when you make soylent green, can we make some flowers... pleeeeeeese.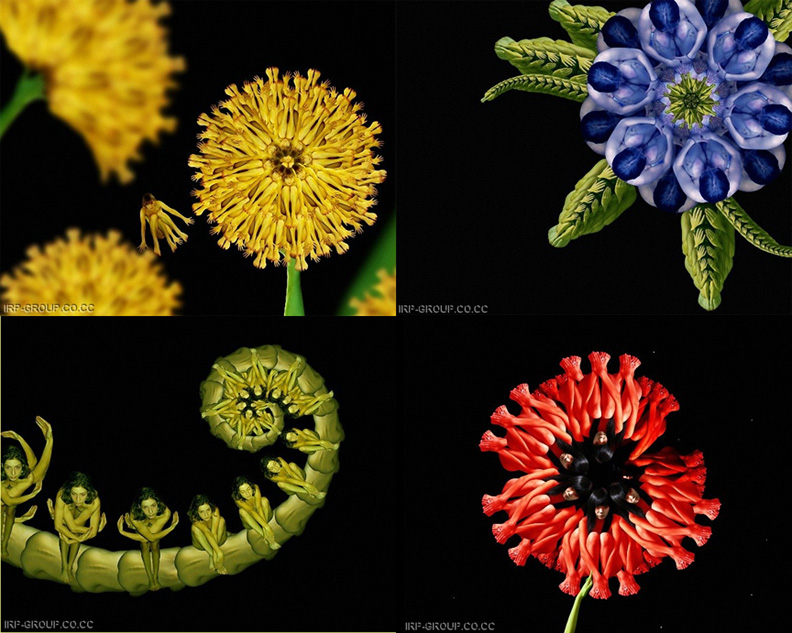 link
link

---

SPUCK Monday Oct 4 05:20 AM

Who's gonna Round this Up?

---

newtimer Monday Oct 4 08:30 AM

Porn for bees?

---

Hillrick Monday Oct 4 08:46 AM

Is that your stamen or are you just happy to see me?

---

Sheldonrs Monday Oct 4 09:47 AM

One of them's on the rag weed.

---

Gravdigr Monday Oct 4 02:44 PM

---

sandypossum Monday Oct 4 05:29 PM

The link shown on the photos (irp-group.co.cc) is for the Iranian Progressive Group; on that page there is a link so you can join their Yahoo group. Pictures of flowers made from nekkid people is not what I expected from an Iranian Yahoo group! Even the photos on the Vietnamese link (Saigon Ocean) shows the IRP logo. So... did the Iranians originally make these photos? Curiouser and curiouser!

---

artlvr Thursday Oct 6 08:15 PM

"This art was unfortunately stolen from the artist, Cecelia Webber, by the Iranian Progressive Group. I work with Cecelia. You can verify her art at her site: http://ceceliawebber.com/. Feel free to check out the new work she has created. Can you please remove these images containing the falsely watermarked images of her flowers or otherwise replace them with ones watermarked by Cecelia Webber from her website, giving credit?

Thanks for your help and understanding!
Jared"

---

CaliforniaMama Friday Oct 7 12:12 PM

The minute I saw the images I knew they were made of people, but it took me a long time to sort it out and see the individual parts. Funny how the eye and mind play tricks like that.

This is such beautiful and moving art! It is so sensual on so many levels! Amazing!

Her B&W images are very much in a style that is shown by our favorite art gallery, I feel like sending them her website.

Her art just makes me want to gush!



I'm sad to know that others have stolen her images to present as their own. I'm also sad that she has to be so protective of her images that I can't use one for my wallpaper image.



Thank you Bruce for sharing this!!!

---

Sundae Friday Oct 7 02:16 PM

I'm sure our mods will sort it or delete it - the Cellar is all about crediting artists and asking permission and making sure images are used respectfully.

---

Undertoad Friday Oct 7 03:58 PM

artlvr, I am happy to do this but cannot find any images available on her site that are A) downloadable and B) watermarked. If I missed something there please let me know, or if you have a way of getting some images that would be great.

---

SPUCK Saturday Oct 8 05:03 AM

Cripes... I never even noticed the people!

---

ZenGum Saturday Oct 8 07:17 AM

Hush now, eat your soylent green.

---

xoxoxoBruce Thursday Oct 13 02:27 AM

Hmm... nobody got it. sigh

---

infinite monkey Thursday Oct 13 08:59 AM

Have you seen that commercial...for Honda maybe, where there's a person made out of people then they all untangle and go to their tiny little cars...it's spooky.

These pics are cool, though.

Oh, here it is. It's Prius. First time I saw it I couldn't figure out what the hell it was. Why do the people get bigger? DO NOT LIKE. DO NOT GET.



An article of the 'making of.'

http://www.autoblog.com/2011/09/24/t...on-commercial/

---

CaliforniaMama Thursday Oct 13 09:01 AM



I claim youth and mommy-brain for not getting it!

---

BigV Thursday Oct 13 10:30 AM

zen got it.

also, that multidude smells like ass? gross.

---

SPUCK Friday Oct 14 04:22 AM

I think that multi dude is hideous and the ad is lame. I change channels whenever Ass Face shows up.

---
Your reply here?

The Cellar Image of the Day is just a section of a larger web community: a bunch of interesting folks talking about everything. Add your two cents to IotD by joining the Cellar.