xoxoxoBruce Thursday Sep 30 02:30 AM

Sept 30, 2010: Mystery Meat

Ahh mystery meat, the magical ingredient staple in school cafeterias and cheap diners.
What's it taste like?
The cafeteria ladies, and greasy spoon chefs, reply, "Anything you want, kid, name it".
But what is it, what's it made from?
This batch, chicken.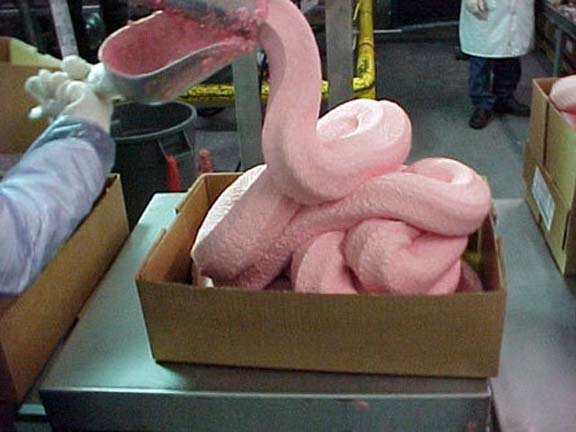 link
---

Pico and ME Thursday Sep 30 02:38 AM

Oh God, no more chicken nuggets for me...ever. That's disgusting.

---

xoxoxoBruce Thursday Sep 30 02:50 AM

Bubble gum python.

---

GunMaster357 Thursday Sep 30 04:46 AM



No wonder I prefer to buy whole chicken for cooking...
...and I almost never buy processed meat.

---

SPUCK Thursday Sep 30 06:45 AM










---

Sheldonrs Thursday Sep 30 07:15 AM

Just like Mom used to process.

---

casimendocina Thursday Sep 30 07:45 AM

So glad I bought tofu today.

---

casimendocina Thursday Sep 30 07:46 AM

---

monster Thursday Sep 30 07:56 AM

That's more mechanically joined than mechanically separated, though......




---

casimendocina Thursday Sep 30 08:00 AM

I'm starting to conjour up images of Sweeney Todd. Uuuuggghhh.

---

monster Thursday Sep 30 08:19 AM

My parents swore there was a euphemism/codename for the human flesh in the pies, but I can't remember it -I'm thinking "Albanian Lamb"? But when i google Sweeney Todd, I can't find anything and googling albanian lamb leads to recipes. Anyway, whenever we asked what sort of meat was in something, that's what they'd say. Perhaps it really was Albanian lamb?

---

stevecrm Thursday Sep 30 08:21 AM

---

glatt Thursday Sep 30 08:26 AM

Q: What cuts of the animal are in that meat?
A: Whatever could squeeze through the little holes of the sieve.

---

casimendocina Thursday Sep 30 08:42 AM

---

Spexxvet Thursday Sep 30 08:53 AM

Ugh! Nuggets has eyes...

---

monster Thursday Sep 30 08:59 AM

Great -a new business op for you! Nuggets can have spex!

---

newtimer Thursday Sep 30 09:47 AM

Still not as gross as hot dogs.

---

monster Thursday Sep 30 10:09 AM

---

Shawnee123 Thursday Sep 30 11:04 AM

SOYLENT PINK IS...CHICKENS!

---

Spexxvet Thursday Sep 30 11:14 AM

LOL

---

Sheldonrs Thursday Sep 30 11:29 AM

---

monster Thursday Sep 30 11:44 AM

I wondered how long it would be before Sheldon was grinning about mystery meat....

---

Sheldonrs Thursday Sep 30 12:07 PM

---

spudcon Thursday Sep 30 12:09 PM

You lie! That's a picture of whale penis!

---

xoxoxoBruce Thursday Sep 30 12:14 PM
ethyl acetate
ethyl amyl ketone
ethyl butyrate
ethyl cinnamate
ethyl heptanoate
ethyl heptylate
ethyl lactate
ethyl methylphenylglycidate
ethyl nitrate
ethyl propionate
ethyl valerate
heliotropin
hydroxyphenyl-2-butanone (10 percent solution in alcohol)
a-ionone
isobutyl anthranilate
isobutyl butyrate
lemon essential oil
maltol
4-methylacetophenone
methyl anthranilate
methyl benzoate
methyl cinnamate
methyl heptine carbonate
methyl naphthyl ketone
methyl salicylate
mint essential oil
neroli essential oil
nerolin
neryl isobutyrate
orris butter
phenethyl alcohol
rose
rum ether
g-undecalactone
vanillin and solvent

Hold the... 2,4-decadienal and 2-methyl-3-furanthiol.
Watcha drinkin', kid?

---

Diaphone Jim Thursday Sep 30 01:05 PM

One name for human flesh is long pig. I guess this is long chicken.
What a great way to suppress recipe posts.

---

Shawnee123 Thursday Sep 30 01:08 PM



---

Flint Thursday Sep 30 01:21 PM

They're just dumping this sh!t into a cardboard box! lol

Nobody would dump "food" into a plain cardboard box.

---

Shawnee123 Thursday Sep 30 01:49 PM

I think I'd rather eat the cardboard box, plain.

---

Adam Thursday Sep 30 02:54 PM

Hmmmmmmm.....

I don't know nothin' about nothin' but this seems fishy.
A quick inspection of the re-bloggers turned up this (from Nik Matt at The Earth Giant (DISCLAIMER: I have no idea if HIS facts are straight but it it seems more plausible to me)
Nik says:
"There is a lot of misinformation in this bullshit. The picture isn't even mechanically separated chicken, it's slurry, which exists because Americans think dark meat is nasty (yet love this shit). Basically they emulsify dark meat and separate it from the excess fat and water then flash-freeze the slurry to be transported to plants all over the country that will shape it into lovely patties and nuggets. At no point in time is this treated with ammonia (that happened to hamburger meat in response to e-coli outbreaks and doesn't happen anymore) and no processing plant would ever put an entire fucking chicken into a sieve to be separated. There are no non-muscular parts, except for maybe a very small amount of tough tissue, in any mechanically separated meat or slurry."

I Googled "Chicken Slurry" and it doesn't look anything like the bubblegum in this picture. Wikipedia wasn't a whole lot more helpful.

I'd really really like to know the source of this picture. Fooducate.com says this about the picture:

"Folks, this is mechanically separated chicken, an invention of the late 20th century. Someone figured out in the 1960's that meat processors can eek out a few more percent of profit from chickens, turkeys, pigs, and cows by scraping the bones 100% clean of meat. This is done by machines, not humans, by passing bones leftover after the initial cutting through a high pressure sieve. The paste you see in the picture above is the result.

This paste goes on to become the main ingredient in many a hot dog, bologna, chicken nuggets, pepperoni, salami, jerky etc…"

And a contributer on Snopes says:
"The article isn't wholly accurate, because MRM (Mechanically Reclaimed Meat) comes from what is left on the carcass after other processing. It's not a case of mincing the whole carcass (only a certain proportion of bones are allowed - depends on your local food laws). What tends to squick people is the idea of non-muscle meat, skin and cartilage in the mix. The description sounds more like steam reclaimed meat from a rendering plant - the whole carcass goes into the process, is pressure cooked and the resulting "highly pigmented slurry" is dried to varying degrees depending on whether you want to make it into slices for sandwiches, into pet food or dried completely for fertiliser.

References:
Fast Food Nation: What the All-American Meal Is Doing to the World by Eric Schlosser
The Food Scandal: What's Wrong with the British Diet and How to Set It Right by Caroline Walker and Geoffrey Cannon
Meat Machine by Jan W"

I think if that picture is really MRM, it is POST-pigmenting. It is made from cleaned carcasses.
Facts may be gross, but I like to get 'em straight.
Or, straighter.

---

xoxoxoBruce Thursday Sep 30 03:43 PM

Thanks for the research, Adam.



Lord knows what that stuff is, but still, much of the time we don't know what we're really eating, (refer to post #25). It would probably be healthier to catch and eat fresh rats or insects.

---

Gravdigr Thursday Sep 30 03:46 PM

I never thought I could be turned off by pink meat.

---

HungLikeJesus Thursday Sep 30 03:51 PMis tofu.

---

Undertoad Thursday Sep 30 04:17 PM

I told y'all it was mechanically separated chicken!

---

wolf Thursday Sep 30 05:41 PM

If there is anything that I have learned from Classic Science Fiction Films of the 1950s and 1960s, it is that there are some things man was not meant to know.

This would be one of those things.

---

Wombat Thursday Sep 30 07:19 PM

---

spudcon Thursday Sep 30 11:18 PM

Einstein's dead, I'm not.

---

Gravdigr Saturday Oct 2 06:51 PM

Word.

---

spudcon Saturday Oct 2 07:35 PM

Mystery meat at a WalMart in China

---

Sundae Monday Oct 4 01:48 PM

Yay, Adam!
I was about to go and do the same research, you saved me the trip.
I was certainly going to opine that it would not make good financial sense to pulp a whole chicken like that, when the breast - to name but one part - can be sold at a much higher value on its own.

Jamie Oliver has done a lot of work here, trying to educate people into understanding what they are eating. Personally I've known since 1985, when we had a class in Food & Nutrition in what goes into various pies, pastes and sausages. It didn't put me off, but at least it meant I had a well-informed choice. My vegetarian friends used to try to "convert" me by telling me what was in my food - nothing like a 16 year old to labour a point. They soon learned that I was at least as clued up as they were and could definitely out-gross them.

---

xoxoxoBruce Monday Oct 4 04:00 PM

---

xoxoxoBruce Wednesday Oct 6 11:39 AM



---

casimendocina Wednesday Oct 6 07:35 PM

Thanks Bruce. That was cool

Now (with a good blender) we can make our own meat patties at home from scratch.

---

Happy Monkey Wednesday Oct 6 08:03 PM

It was an odd "experiment". He kept talking up the grossness, but the only problem with the meat he used was that it is hard to get off the bone using just a knife. It was all from one chicken, the guts and head were removed, and the additives weren't particularly alarming. I certainly wouldn't have any problem eating one of those nuggets. It seems he was relying solely on the idea that meat ground finer than one usually sees (ie hamburger) looks wierd. Plus repeatedly saying how gross it was.

---

xoxoxoBruce Wednesday Oct 6 09:48 PM

You have to remember he's a chef. They feel white wine with red meat is gross.

---

Clodfobble Wednesday Oct 6 11:49 PM

I'm pretty sure the kids thought the meat was plenty gross. It's just that American children are attention whores who will deliberately eat gross things for fun.

---

HungLikeJesus Wednesday Oct 6 11:52 PM

But the French eat frog legs and snails.

---

xoxoxoBruce Wednesday Oct 6 11:53 PM

Without breading, too.

---

classicman Thursday Oct 7 11:24 AM


---

Beest Thursday Oct 7 03:57 PM

---

casimendocina Thursday Oct 7 07:15 PM

So what did you think of the movie compared to stage productions of Sweeney Todd?

---

casimendocina Thursday Oct 7 07:22 PM

This made me think of one trip to Carrefour I made while living in China. (The employees got round on roller blades as the store was so big). At the back in the fish section, there was a paddling pool full of turtles. The poor things obviously knew their number was going to be up very soon as they were scrabbling desperately to get out of the pool. It bordered on heart-breaking.

---

classicman Friday Oct 8 11:59 AM



---

Shawnee123 Friday Oct 8 12:45 PM

Every time I see this thread title, the commercial jingle for the game Mystery Date gets in my head, but of course it's changed to:

Open the door
For your
Mystery Meat.



---

casimendocina Saturday Oct 9 03:08 AM

Does this game still exist in the states or is it in the same category as the Edsall?

---

xoxoxoBruce Saturday Oct 9 09:10 AM

Edsall?

Oh wait, you mean Edsel... yes, tucked away in attics, and at yard sales.

---

xoxoxoBruce Saturday Oct 9 12:13 PM

Chicken Deboner



---

casimendocina Saturday Oct 9 05:49 PM

---

spudcon Saturday Oct 9 06:33 PM

That deboner is enough to give any guy a deboner. Besides the one part looking like a pile of poop, the part with the bristles and claws could probably only satisfy a chupacabra.


---

xoxoxoBruce Saturday Oct 9 08:18 PM

Yes, Spud, yucky. I was wondering why the guy was being so particular about which pieces he fed it?

---

spudcon Saturday Oct 9 09:46 PM

Are there some pieces of meat that are too disgusting even to feed to vultures? Yucky is the correct adjective.

---

casimendocina Saturday Oct 9 10:04 PM

1/2 LOL Actually, I was talking about Mystery Date (but probably another case of me shifting the focus and it being clear to me, but not anyone else, because I didn't tell them or didn't realise myself until afterwards).

---

casimendocina Saturday Oct 9 10:07 PM

---

ZenGum Monday Oct 11 05:18 AM

[Tailpost] ...

even Bear Grylls wouldn't eat that.

Bleuch.

---

Shawnee123 Monday Oct 11 08:25 AM

---

HungLikeJesus Monday Oct 11 08:28 AM

Isn't that our national bird?

---

Shawnee123 Monday Oct 11 08:32 AM

No, I think that's an Eagle.



There was one soaring over my brother's house (in the country) and it got down real close. Then it hit another current of air and went really high. Didn't flap once that I saw.

My brother said it was probably a dead snake that I saw (he knows a little about ornithology) 'cause they eat dead stuff mostly, but I thought the ones at my other brother's house was after the baby kittehs. Nah...he soared way up high.

---

SPUCK Tuesday Oct 12 07:29 AM

Nice shot of the ol buzzard.

---

spudcon Tuesday Oct 12 08:25 AM

Great shot Shawnee. I've come upon those birds several times, but as soon as I reach for my camera, they get far away.

---

xoxoxoBruce Tuesday Oct 12 08:50 AM
---

monster Tuesday Oct 12 10:01 AM

Turkey Vultures pee on their feet to keep them warm in winter, cool in summer and to kill bacteria.

---

glatt Tuesday Oct 12 11:42 AM

I should try that.

---

Shawnee123 Tuesday Oct 12 11:44 AM

---

HungLikeJesus Tuesday Oct 12 12:04 PM

Congratulations on getting your shot published on that site Shawnee.

---

Undertoad Tuesday Oct 12 12:13 PM

---

spudcon Tuesday Oct 12 04:25 PM

I thought Glatt had the funniest comment here until UT made me laugh just as hard.

---
Your reply here?

The Cellar Image of the Day is just a section of a larger web community: a bunch of interesting folks talking about everything. Add your two cents to IotD by joining the Cellar.