xoxoxoBruce Tuesday Sep 28 12:34 AM

Sept 28, 2010: Chocolate Boat

Rub a dub dub, two men in a tub,
And I firmly believe they're daft.
Not metal or wood, as a sane man should,
They used chocolate to build their craft.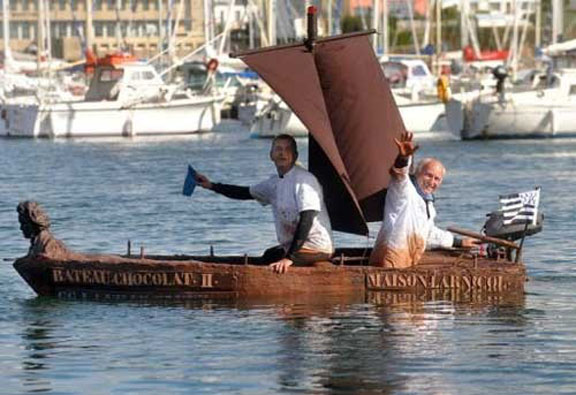 There's a video of the launch on BBC, but I won't link to it because you have to watch a 29 second commercial, just to see 28 seconds of break the champagne bottle and dump the boat in the water, with no real information.



Anyway, one of the two guys owns a chain of chocolate stores, and according to Arbroath, won a bet by building it.

It's flat bottomed, tipsy as hell, and neither the engine nor sail are chocolate.

---

SPUCK Tuesday Sep 28 06:05 AM

Should be sailing in milk, surrounded by marshmallow icebergs.

---

Trilby Tuesday Sep 28 06:38 AM

---

GunMaster357 Tuesday Sep 28 09:53 AM

That took place in Concarneau, France.

55 km south of my place in Britanny.

And they say that they are planning on a 12-meter (40 feet) for 2012.

---

Sheldonrs Tuesday Sep 28 10:44 AM

Pirates of the Carob Bean.

---

Undertoad Tuesday Sep 28 12:31 PM

Once again Sheldon has won the thread!!!

---

Trilby Tuesday Sep 28 12:41 PM

---

classicman Tuesday Sep 28 04:46 PM

---

Sheldonrs Tuesday Sep 28 05:30 PM

---

Undertoad Tuesday Sep 28 06:03 PM

You are permitted to link to the thread and list it among the rest you have won. You can then send the list to any other forum or social media whatserwhosit, and you will then be respected as a Person of Distinction.

It's a damn fine honor!

---

xoxoxoBruce Tuesday Sep 28 07:54 PM

Don't forget the free years membership to the Cellar, Undie.

---

Leah Tuesday Sep 28 10:51 PM

Yummmmmmm

---

richlevy Tuesday Sep 28 11:36 PM

Congratulations Shel. You have the most freakishly skewed intellect of anyone on the Cellar, and that's saying something.

---

Elspode Wednesday Sep 29 12:14 AM

I have been told by many that I'm a damn funny guy, but I can't begin to approach Sheldon's strata. Dayum funny, bro. Laughed long and deeply at that one.

---

xoxoxoBruce Wednesday Sep 29 12:17 AM

He could write Nathan Lane's scripts.

---

Griff Wednesday Sep 29 06:40 AM

funny stuff Shel!

---

ZenGum Wednesday Sep 29 08:37 AM

Your King of Puns crown is in the mail.

---

Sheldonrs Wednesday Sep 29 09:20 AM

Stop guys! You're making my head swell!


And you know what THAT means!!!



---

classicman Wednesday Sep 29 12:28 PM

---

Spexxvet Wednesday Sep 29 01:19 PM

Looks like classic has his mouth open and ready for you, Sheldon.

---

Shawnee123 Wednesday Sep 29 01:20 PM

keyboard alert!

Why? Sheldon has no power here. candyman must actually LIKE it!

---

Sheldonrs Wednesday Sep 29 02:00 PM





And my "power" extends farther than you think Shawnee!

---

Shawnee123 Wednesday Sep 29 02:01 PM

Oh Shel, I've never had any doubts about you, carob mia!

---

classicman Wednesday Sep 29 02:26 PM

Awe Shel - If they only knew the truth ...

---

spudcon Wednesday Sep 29 10:26 PM

The Great and Powerful Sheldonrs

---

Bucha Thursday Sep 30 09:59 PM

I hope they have cold feet.

---

xoxoxoBruce Saturday Oct 2 02:28 AM

Cold butts too.
Welcome to the Cellar, Bucha.

---

Sheldonrs Saturday Oct 2 08:27 PM

---

SPUCK Sunday Oct 3 06:06 AM

I think this whole thing is a hoax. No one would waste that much chocolate. That boat is made out of pressed turds. I mean look at their coats?! They obviously have bad die-a-rear.

---

Sheldonrs Sunday Oct 3 09:30 AM

---
Your reply here?

The Cellar Image of the Day is just a section of a larger web community: a bunch of interesting folks talking about everything. Add your two cents to IotD by joining the Cellar.