xoxoxoBruce Thursday Sep 16 12:15 AM

Sept 16, 2010: Presidio Pet Cemetery

When I hear Presidio I think military, army. Even though I've been there a few times, being a easterner, San Francisco doesn't come to mind unless I think about it. But the last thing I would conjure up is a pet cemetery.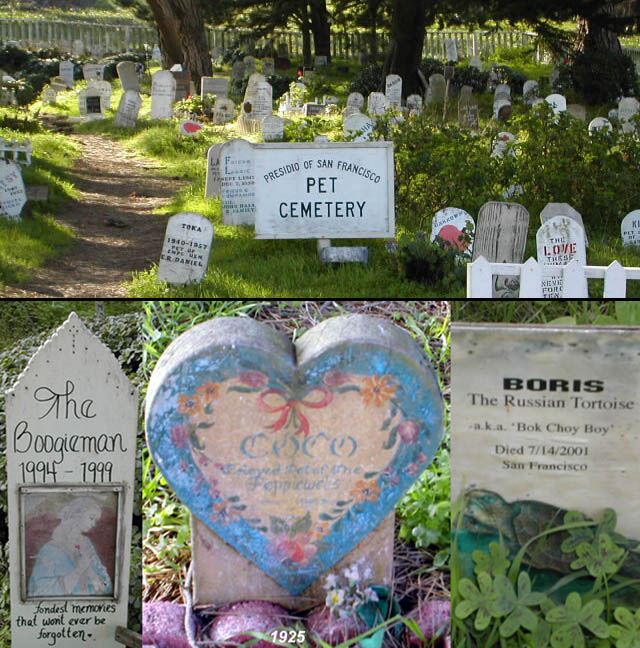 Because many of the pets buried there belonged to military families that had moved on, someone created this website for people to virtually visit their pet's graves.


---

Leah Thursday Sep 16 12:23 AM

My 5 tonne elephant has just passed away, is there a plot big enough for him????

---

spudcon Thursday Sep 16 01:40 AM

Sorry for your loss, Leah. Here's a stone for your pachyderm pal.

---

Undertoad Thursday Sep 16 02:08 AM

Spudly! Behave!

---

Scriveyn Thursday Sep 16 02:40 AM

"Bok Choy Boy"

What number is that on the menu?

---

xoxoxoBruce Thursday Sep 16 03:18 AM

---

glatt Thursday Sep 16 08:33 AM

---

blase Thursday Sep 16 12:17 PM

Should you wish to visit it, it's right here.

http://goo.gl/maps/7Qx6

(from a former Presidio Trust employee)

---

xoxoxoBruce Thursday Sep 16 12:40 PM

What does the Presidio Trust do?

---

blase Friday Sep 17 06:20 AM

After the military closed the base it was handed over to the national park service as it's part of the Golden Gate Nature something-or-other. The problem was that the park service is good with trees but doesn't know jack about buildings.

Some of the structures were in pretty good shape from recent military use and maintenance. Others had been marginal and were made much worse by a couple years of NPS neglect.

The problem with running a park in the middle of an urban area is that it's expensive. VERY expensive. The budget for the Presidio was about the combined cost of Yellowstone and Yosemite combined. So then everybody and their grandma got involved and started getting ideas of what should be done--added to the mix of SF politics and it was a very ugly political mess.

The resolution that came out of it was the very first Federal Corporation, the Presidio Trust. Their mandate was to preserve the historic buildings (the base is older than the USA as it was first a Spanish outpost, then Mexican and finally US military). The buildings would be re-mediated to a state where asbestos would not fall off the ceiling and WWII ordinance would be cleaned up.

The Trust was given a budget that was full support for the first several years and afterwards it would decrease every year as the renovated buildings would be fixed and leased. The income from the building leases would have to cover the operating budget entirely by something like 2013 or 2015. If they couldn't meet the deadline then it potentially could be sold off for development or whatever.

The Presidio Trust works in conjunction with the NPS on conservation projects such as the Crissy Field (the beach on the northern border) and the NPS manages all the beach areas as there are no buildings in that area.

I don't know how far along they are with regards to meeting the deadline but by a quick perusal of the businesses listed in Google it would seem they've got a pretty good occupancy rate. While I was there most buildings were still really "raw" but it was fascinating to go look inside them. Now they are leased with a combination of residential and commercial tenants.

One building that I thought was particularly beautiful was being leased at the cost of $4,500 per month, keep in mind that it's a home that would sell for about $350,000-400k in my city. And those tenants are not getting any equity for the high costs. None of the buildings can be sold.

It was a wonderful experience and at that time it was still very empty so there was plenty of exploration to do with all manner of really interesting buildings and military fortifications. It's 200+ years of military time capsule.

---

Lamplighter Friday Sep 17 09:48 AM

Nice bit of history, Blase !

---

xoxoxoBruce Friday Sep 17 10:36 AM

Yes, excellent blase, thank you.

---

Hillrick Friday Sep 17 12:41 PM

Nice post but

a reminder of how it is a shame that a good dog is only here for a few short years. Unfortunately that asshole next door/in your office/of a brother/etc seem to live forever.

(Ok, I'll give a shout out to all those good cats, rats and birds there too)

---

Lamplighter Friday Sep 17 12:47 PM

Dogs live shorter lives that people for one very good reason...

Another puppy !

---

spudcon Friday Sep 17 09:22 PM

That asshole next door to me has two dogs that have been having a barking marathon for the last two nights, starting at 9:30 and continuing until long past midnight. Then they start early in the morning to reming the owner to feed them. If those dogs die today, I won't care a bit.

---

SPUCK Saturday Sep 18 05:52 AM

My Dad used to train the neighbors dogs not to bark. He'd wait till the neighbors were out then go in his shed and use his weak bb gun through a knot hole. He'd wait till they got a on a barking spree and then SPuuut! Within a week the dogs would only bark when they should not whenever they were breathing..

---

HungLikeJesus Saturday Sep 18 11:47 AM

But who has a week to spend in the shed?

---

xoxoxoBruce Saturday Sep 18 11:50 AM

You don't have to spend a week in the shed, just go there when they start barking. Not talking about sporadic barking for a minute, incessant barking for hours.

---

HungLikeJesus Saturday Sep 18 11:58 AM

The neighbors have five dogs.

If I'm not around for a few weeks, I might be building a shed.

---

Spexxvet Saturday Sep 18 11:58 AM

---

spudcon Saturday Sep 18 04:43 PM

Yes, there is a noise ordinance here. But the cops are too busy on the other side of town pursuing seat belt offenders.

---

xoxoxoBruce Saturday Sep 18 05:05 PM

There's more money in that.

---

spudcon Saturday Sep 18 10:56 PM

Exactly!

---
Your reply here?

The Cellar Image of the Day is just a section of a larger web community: a bunch of interesting folks talking about everything. Add your two cents to IotD by joining the Cellar.