xoxoxoBruce Wednesday Aug 18 01:41 AM

Aug 18, 2010: Resurrection

Resurrection, in this case a church. Still by God's hand, in the form of El Nino.

Quote:
For most Venezuelans, the El Nino-linked drought that has struck the country this year means inconveniences like power and water rationing. But for some, the extreme dry spell is stirring up bittersweet memories. The Uribante reservoir that feeds a hydroelectric dam here is at its lowest level in decades, and the receding waters have uncovered a village that has been mostly underwater since 1985, when it was flooded.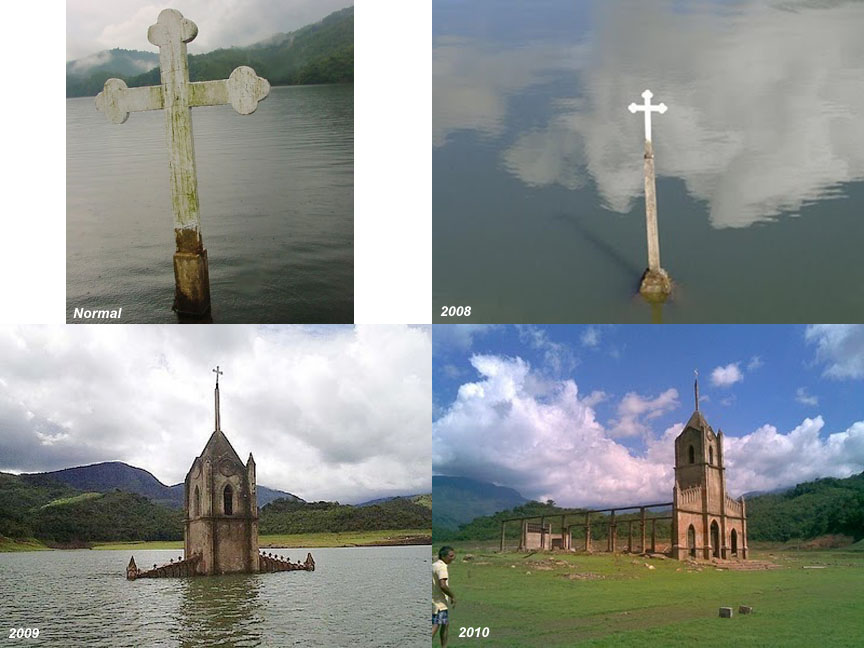 Quote:
Standing in the shadow of a usually submerged 85-foot-high (26-meter-high) high church here, Garcia vividly recalls when then-President Carlos Andres Perez swooped in by helicopter to tell residents the town would soon be flooded.

"He said we'd all be expropriated and we had to leave," Garcia said, standing in the old village square. "It took our hope away." Before its flooding, this Andean town of around 1,200 in the western state of Tachira was evacuated and its residents dispersed around the country. Garcia moved to a nearby region, and had never revisited her former town until now.
link
---

Gravdigr Wednesday Aug 18 03:15 AM

85 feet. Daaaay-umm!

---

Sundae Wednesday Aug 18 06:04 AM

Excellent find, Bruce. Very thought provoking.

---

xoxoxoBruce Wednesday Aug 18 08:25 AM

There big problem is much of the water goes to making electricity. You can ration and cajole people to conserve water, but electricity is necessary whether it rains or not.

---

Adak Wednesday Aug 18 08:55 AM

This is the "line" that the gov't wants you to believe. Clearly we need to replace that reality with our own, here:

"So this guy is out fishing with his new titanium rod and reel and he hooks onto something *BIG*.

Sure that it's a record breaking catfish, he enlists the help of his compadres to help land this monster.

Once ashore, he discovers he's caught the old village church, so what can he do, to stay out of trouble, and in the church's good graces?

Blame the whole thing on the drought!"





---

newtimer Wednesday Aug 18 09:34 AM

Wonder how many people went scuba diving in the 85-foot-deep lake, swimming through the old church windows.

---

Sheldonrs Wednesday Aug 18 09:55 AM

And there was still some old italian lady dressed in black sitting in the back, waiting for confession all this time.

---

Shawnee123 Wednesday Aug 18 10:04 AM

Bless me father, for I have swimmed.

---

Trilby Wednesday Aug 18 02:01 PM

Good one, Shawnee!

---

Wombat Wednesday Aug 18 09:26 PM

The grass grew back pretty fast.

---

Gravdigr Thursday Aug 19 04:27 AM

That church is on shallowed ground.

---

rupip Thursday Aug 19 09:15 AM

i love churches under water

but I donīt know why

---

spudcon Thursday Aug 19 06:56 PM

Easy Baptisms?

---

ZenGum Thursday Aug 19 08:48 PM

... and the waters receded ...

Am I nuts for wanting to live in that tower? (yes, I think).

---

SPUCK Friday Aug 20 06:16 AM

Quote:

Originally Posted by

ZenGum

... and the waters receded ...

Am I nuts for wanting to live in that tower? (yes, I think).

Yes! You should rather live in this one:



---
Your reply here?

The Cellar Image of the Day is just a section of a larger web community: a bunch of interesting folks talking about everything. Add your two cents to IotD by joining the Cellar.