xoxoxoBruce Sunday Aug 15 12:11 AM

Aug 15, 2010: Pandacroc

No, not a mutation, it's painted in honor of the Panda baby born Thailand last May.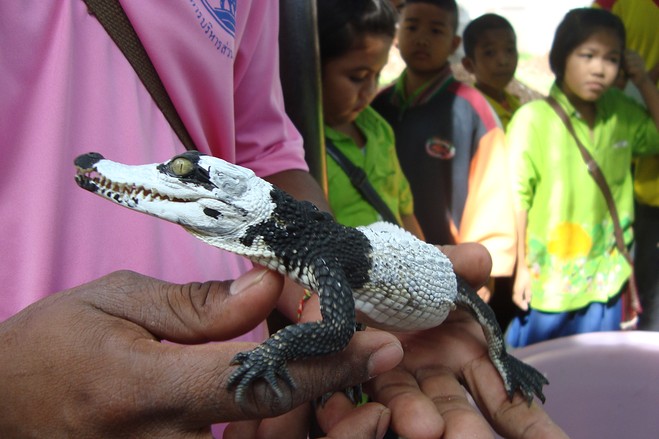 Quote:
BUENGCHAWARK, Thailand -- For aquarium worker Kamla Maneegan, painting baby crocodiles to look like crowd-pleasing giant pandas is more than just a job -- it's a point of national pride.
Ever since a pair of pandas on loan from China gave birth to a cub in May, Thailand has gone ga-ga for the black-and-white bears.
link
---

HungLikeJesus Sunday Aug 15 02:19 AM

It looks like they went through an entire bottle of Wite-out.

---

Trilby Sunday Aug 15 03:01 AM

He's ready for his close-up.

---

SPUCK Sunday Aug 15 05:39 AM

Personally I think Pandas are a wart on the Earth's butt. I'd love to see this little guy grow up and eat one.

---

newtimer Sunday Aug 15 11:00 AM

This same photo will also work for zebracroc, in honor of the first baby zebra this guy ate.

---

TheMercenary Sunday Aug 15 11:30 AM

Looks like something out of a james bond movie.

---

Diaphone Jim Sunday Aug 15 12:21 PM

Holy IOTD Batman, it's The Joker!

---

monster Sunday Aug 15 06:56 PM

I want to see a Panda painted as a Croc. And the remains of the guy that did it.....

---

casimendocina Monday Aug 16 10:20 AM

It doesn't work on any level.

---

xoxoxoBruce Monday Aug 16 10:38 AM

I saw a picture of full grown Crocs in the zoo painted the same way.

---

Sheldonrs Monday Aug 16 12:21 PM

Crocs come in all colors but I still won't wear them. My feet slide out too easily.

---

casimendocina Tuesday Aug 17 05:23 AM

You need some Mary Jane crocs.

I don't have any myself (being vehemently against crocs), but one of the girls who works in the lunchbar downstairs swears by them.

---

Pete Zicato Tuesday Aug 17 10:26 AM

Quote:

Originally Posted by

casimendocina

one of the girls who works in the lunchbar downstairs swears by them.

She stands next to them and swears?

---

BigV Tuesday Aug 17 11:23 AM

---

jinx Tuesday Aug 17 11:31 AM

I wish I had thought of that stupid idea....

---

BigV Tuesday Aug 17 12:45 PM

I didn't say unsuccessful, just stupid. Here's another example, not of shoes, but of successful stupidity:


Quote:

Jackass is an American television series, originally shown on MTV from 2000 to 2002, featuring people performing various dangerous, crude, ridiculous, and self-injuring stunts and pranks. The show served as a launchpad for the television and acting careers of Johnny Knoxville and Bam Margera. Since 2002, two Jackass theatrical films, with a third currently in post-production, have been produced and released by MTV corporate sibling Paramount Pictures, continuing the franchise after its run on television. It is one of MTV's most popular shows and sparked several spin-offs including Viva La Bam, Wildboyz, Homewrecker, Dr. Steve-O and Blastazoid.



---

Happy Monkey Tuesday Aug 17 12:56 PM

Jackass 3D is coming soon...

---

classicman Tuesday Aug 17 01:03 PM

Oh joy, I cannot wait.

---

Sundae Tuesday Aug 17 01:44 PM

I love Crocs.
I'd love a Mary Jane pair too (currently out of my range, financially).

If you have a pair of feet as toxic as mine, which blister as easily as mine and you live in a climate which can alternate rain or shine within ten minutes, you might not find them quite so stupid.

---

Sheldonrs Tuesday Aug 17 05:17 PM

---

Happy Monkey Tuesday Aug 17 06:27 PM

I don't remember where I heard this, but add IMAX, and that's coming soon to Japan, I believe.

---

jinx Tuesday Aug 17 09:21 PM

Sounds like the Louis CK sex tape...



---

SPUCK Wednesday Aug 18 06:09 AM
---

casimendocina Wednesday Aug 18 06:11 AM

---
Your reply here?

The Cellar Image of the Day is just a section of a larger web community: a bunch of interesting folks talking about everything. Add your two cents to IotD by joining the Cellar.