xoxoxoBruce Wednesday Aug 11 12:37 AM

Aug 11, 2010: Wheelchair Ramps

Wheelchair ramps became the law here in the US, I would guess with the Americans with Disabilities Act, 20 years ago. But that didn't suddenly cause ramps to spring up like mushrooms, quite often they weren't required until some change was made requiring a building (remodeling) permit. Lately we've seen tons of curb cuts at intersections being made, with federal economic recovery funds.

But some people are bitter about having to do it...



Photo credit..................................................................Photo credit


And some people are sadistic...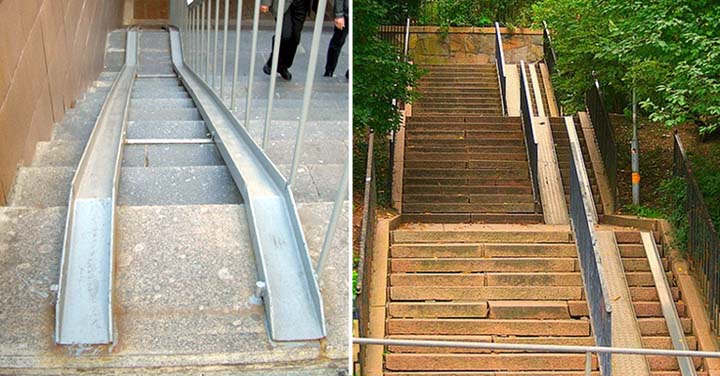 Photo credit.............................................................Photo credit & more pics

link

---

Bullitt Wednesday Aug 11 12:51 AM

Cue rkzenrage to show up from ban-hammer land and make a huge, rant-filled post.

---

xoxoxoBruce Wednesday Aug 11 12:59 AM

He came down on this issue several times... on both sides.

---

wolf Wednesday Aug 11 01:33 AM

Although nowhere near as wicked as the two last examples, the ramp at the nuthouse is built at a much steeper grade than it should be. I've had to shove a number of wheelchair bound visitors and patients up it, as well as warning them about the possibility of wiping out at the bottom.

I must admit that I have watched the wheelchair start of the Boston Marathon for the pileups.

---

Lamplighter Wednesday Aug 11 02:14 AM

Most of the links are terrible insults, but this one from the same (lower right) link looks like someone actually tried to do some good design work...

---

Griff Wednesday Aug 11 06:42 AM

---

Happy Monkey Wednesday Aug 11 07:34 AM

It looks to me like photo 2 is on a beach that has eroded away.

---

Gravdigr Wednesday Aug 11 08:20 AM

If Evel Knieval was still alive, he would jump all of those ramps with a Harley powered wheel chair.

---

Adak Wednesday Aug 11 09:25 AM

I would walk up the wheelchair ramp part of the steps Lamplighter posted the picture of, just to feel inspired by the great design it has.

Well done!




I don't see how those ramps with the steep angles, ever got approved. That's a hell of a big lawsuit, just waiting for the first wheelchair victim.

---

Spexxvet Wednesday Aug 11 09:37 AM

---

Rhianne Wednesday Aug 11 09:51 AM

Words fail me. It's hard to believe that not one person in the chain from conception to execution thought to say, 'no, this is just ridiculous'. I often have to manoeuver my partner's chair through some awkward routes but no way would I, or anyone else I suspect, ever go near either of those bottom two.

---

classicman Wednesday Aug 11 10:12 AM

Agreed. Having some experience as well, I'm completely shocked that either one ever got built. There is no way anyone with a wheelchair is going to make it up something that steep. Maneuvering down either of those is even more frightening to think about.

Adak - totally agree!

---

Clodfobble Wednesday Aug 11 10:45 AM

It's not about people actually traversing them. It's about retro-fitting an existing establishment with the minimum requirements so that a lawyer can't sue them into bankruptcy for not meeting ADA guidelines. The people setting these things up aren't patting themselves on the back for being helpful to the disabled, they're grumbling the whole way about the stupidity of having to adapt places that are basically impossible to adapt without a complete tear-down.

---

classicman Wednesday Aug 11 10:57 AM

I didn't know the ADA was also in Russia :P:

---

Happy Monkey Wednesday Aug 11 11:31 AM

The comments in the link question whether some of these are actually wheelchair ramps.

---

TheMercenary Wednesday Aug 11 12:35 PM

The one in pic two is actually a wc ramp launching device.

---

ToastyOhs Wednesday Aug 11 02:19 PM

Being in a wheelchair does not mean that you are frail or sickly.

I can imagine the Murderball folks lining up to take a ride down those last two.

http://en.wikipedia.org/wiki/Wheelchair_rugby

---

WillieO Wednesday Aug 11 06:55 PM

---

monster Wednesday Aug 11 07:05 PM

Here's the ramp we installed

---

classicman Wednesday Aug 11 09:40 PM



This one is a little different than those I am used to seeing. The ones I am familiar with have large yellow plastic tires.

---

ZenGum Thursday Aug 12 05:59 AM

Could be some of those ramps are so delivery chaps can get their hand trolleys up the stairs. At least I hope so.

---

Spexxvet Thursday Aug 12 10:05 AM

---

Shawnee123 Thursday Aug 12 11:37 AM

And boy, are the Wiffles pissed.

---

Acero Friday Aug 20 01:39 AM

The fact that the accommodation of wheelchair user is very flexible now. This is really an inspiration to us who has disability. They made our life become easier.

---

xoxoxoBruce Friday Aug 20 03:07 AM

Wecome to the Cellar, Acero.


Care to share your personal experiences with this?

---
Your reply here?

The Cellar Image of the Day is just a section of a larger web community: a bunch of interesting folks talking about everything. Add your two cents to IotD by joining the Cellar.