xoxoxoBruce Sunday Aug 8 12:15 AM

Aug 8, 2010: Floris Genérica

A popular attraction in Buenos Aires is Floris Genérica, a huge sculpture/robot, of a flower.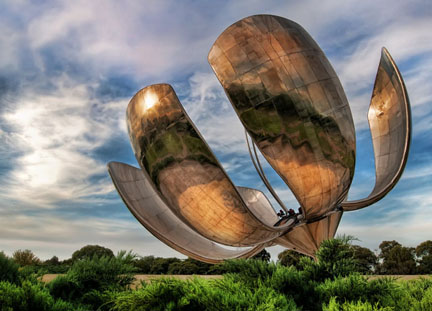 This picture of it, the best by far, was taken by Trey Ratcliff , and posted on his flickr page.


link
---

casimendocina Sunday Aug 8 03:19 AM

I saw this last year and although I like the concept of it and admire the engineering and structural work that has gone into making it a reality, I actually think it's incredibly ugly.

---

Gravdigr Sunday Aug 8 06:51 AM

Not for me, but, I can see how someone else might find it gaze-worthy.

---

glatt Sunday Aug 8 08:33 AM

Reminds me of the vast fields of flowers in Ringworld, I believe, that pivot around and focus the suns rays with their parabolic shiny petals to zap anything that dares to grow taller than them. Together, a field of these flowers can focus enough sunlight on a single spot to vaporize their target.

---

newtimer Sunday Aug 8 11:21 AM

The artist built it so he can pick up free HBO. He only tells people it's supposed to be a flower.

---

sweetwater Sunday Aug 8 01:01 PM

And where does one hide when the great big gigantic ferocious hungry metal bees show up?

---

monster Sunday Aug 8 03:55 PM

I like it

---

casimendocina Monday Aug 9 10:17 AM



Now that I've finished laughing, there are soooooooooooo many amazing things about Buenos Aires: this sculpture isn't one of them. I'm sure that in 30 years or less, it'll be a white elephant, particularly if the city drops off the lists of prime tourist destinations.

---

Sundae Monday Aug 9 11:55 AM

I think it's beautiful.
Beautiful as it is in the picture - static - and wonderful (making me full of wonder) knowing it is robotic and responds to the sun.

---

xoxoxoBruce Monday Aug 9 03:19 PM

I think it is in that picture, but some others I've seen on the web, not so much.
It is intriguing mechanically, however.

---

casimendocina Wednesday Aug 11 05:22 AM

What's has less novelty value, but is more amazing about Bs. As. than Floris Generica? (Starting the fan club as of....NOW!...sigh-would be great to be able to drop over for a weekend whenever I felt like it).

Puerto Madero - the old wharf prettied up with expensive restaurants and opposite the boat casino
La Boca and Caminito - Birthplace of the Tango where all the houses painted in bright colours are. Probably the most famous landmark in the city.
El Tigre Delta
Recoleta Cementery where Eva Peron was buried.
The Pink House-the seat of government
The Cathedral where the body of San Martin - Liberator of the Andes is kept
The Obelisk
9 de Julio Ave-10 million lanes of traffic going each way.
Havana Alfajores-like a wagon wheel only with caramelised condensed milk instead of marshmellow.
The Colon Theatre
San Telmo Markets
La Viruta - not sure if it's a tango club or a milonguera.
and that's just the beginning of the list.

---

casimendocina Thursday Aug 12 06:37 AM

Buenos Aires-Obelisk

This is the Obelisk and 9 de Julio Ave-captures the energy of Bs. As.

http://www.lugaresbuenosaires.com/wp...enos-aires.gif

The casino looks only slightly less tacky in the picture than it does in real life.



If the pic doesn't appear in the post, Bruce or Wolf, can you help out?

---

casimendocina Thursday Aug 12 06:44 AM

Bugger, none of it worked. Here's the tacky floating casino again.

http://www.lugaresbuenosaires.com/wp...enos-aires.jpg

---

classicman Thursday Aug 12 08:56 AM
---

Lamplighter Thursday Aug 12 11:54 AM

Casi, I didn't realize there were so many "flatiron" buildings.
But the one in Caminito certainly is the the most eye-catching.

---

casimendocina Friday Aug 13 01:59 AM

Is that what they're called? What a great name-"flatiron"

Thanks Classic for fixing the photos-looks much better.

---

wolf Friday Aug 13 02:12 AM

The one in New York City is called "The Flatiron." I never realized it could refer to all buildings of that style, kind of like there's only one Chrysler building, but there's a lot of art deco architecture out there.

---

Lamplighter Friday Aug 13 02:29 AM

flatiron |ˈflatˌīərn|
noun historical
an iron that was heated externally and used for pressing clothes.

---

casimendocina Friday Aug 13 03:47 AM

And it's a pincushion as well. How cool is that?

---

ZenGum Friday Aug 13 04:41 AM

I don't think that is a flat iron. It looks like a box iron. You put hot coals from your fire into it, and these provided the heat.

Flat irons are much, well, flatter, and usually came in sets of three so that two could be warming while one was in use.

---

SPUCK Friday Aug 13 06:11 AM
It's an old manual iron. Those are the stick shifts!



---

ZenGum Friday Aug 13 06:18 AM

Here is the sports model:
Attachment 29075

---

classicman Friday Aug 13 08:34 AM

... and the designer model.


---

classicman Friday Aug 13 08:36 AM

---

Shawnee123 Friday Aug 13 08:42 AM

Casi, the easiest (and better for the Cellar I think) is to save the pic to your desktop, then use the 'manage attachments' in the advanced posting part. You might have to resize using MS Picture Manager so it doesn't go over the limit.

---

casimendocina Friday Aug 13 08:34 PM

Classic-the pics that you fixed up seem to be there still and as you posted them, so all good.

Shawnee, cheers for the tip. I'll do this next time. I originally was going to post a photo I took of the mural of Diego Maradona which is on the wall of the La Boca stadium. When I loaded it and luckily looked at the preview before hitting post, it was so huge as to be completely unmanageable. Tried resizing-failed, tried resizing again, failed again, so that was when I had a look on the net for something more suitable...am pleased that anyone who's looked at this thread has at least seen the Obelisk and the lights of 9 de Julio.

I've been to Buenos Aires 4 times I think and it never seems to lose its magic. Last year, we walked from Recoleta (where Eva Peron) is entombed) all the way to 9 de Julio which is probably about 25 blocks. At one stage as we walked across the lights crossing 4 lanes of traffic going each way, it all seemed quite unreal. Nothing too out of the ordinary-millions of people do it everyday, but I love the feeling that you've conquered a metropolis in terms of being able to find your way around. Pretty easy to do, but still a great feeling. I also love walking or cycling through a city as it really makes you feel as if you're part of it rather than a tourist...it's very unlikely I'll end up doing this as after the last stint o/s, I made a decision to settle where I am writing from, but I like the phrase:

"Vivir y morir en Buenos Aires"-Live and Die in Buenos Aires.

---

classicman Saturday Aug 14 09:59 AM

---
Your reply here?

The Cellar Image of the Day is just a section of a larger web community: a bunch of interesting folks talking about everything. Add your two cents to IotD by joining the Cellar.