xoxoxoBruce Tuesday Aug 3 12:05 AM

Aug 3, 2010: No Yellow for You

Since Yellow is a registered trademark of Whiffle Ball Inc., you can't have any.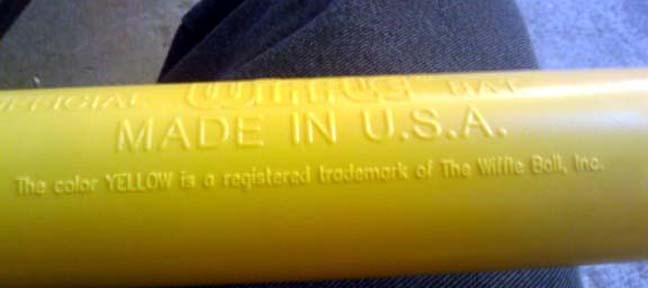 Oh, and you people with yellow cars, houses, and clothes, better call Whiffle to arrange royalty payments.

---

Razzmatazz13 Tuesday Aug 3 12:16 AM

No see, yellow's ok, but YELLOW is strictly forbidden.

---

SPUCK Tuesday Aug 3 06:23 AM

Another jackass job well done by bureaucrats, like half the patents issued.

---

Gravdigr Tuesday Aug 3 07:27 AM

Those cab people are in such deep shit.

---

Adak Tuesday Aug 3 07:49 AM

I can't WAIT until those bureaucrats are running our healthcare in the US!




We will witness SO much shit, hitting the fan, the blades will stop!



But at least those fans won't be YELLOW!


---

glatt Tuesday Aug 3 08:18 AM

It only applies to wiffle ball bats (and possibly other crappy plastic sporting equipment in the Whiffle Ball family). For example, I believe Hertz has also trademarked the color yellow for truck rentals.

Pink is a registered trademark for Owens Corning insulation.

Brown is a registered trademark for UPS for delivery services.

You can trademark a color if you have worked hard to make that color recognizable as belonging to your product and nobody elses competing product, and as long as the color contributes nothing to the actual effectiveness of the product. In other words, you can't trademark yellow or orange for a life jacket.

Edit: Amusingly, this thread is making the Whiffle Ball trademark on yellow even stronger by publicizing it.

---

Spexxvet Tuesday Aug 3 08:42 AM

---

ZenGum Tuesday Aug 3 08:58 AM

How quickly certain individuals find a way to blame this on the government. Is it not the doing of the Whiffle corporation? And if the government did make it possible by legislation, was that not because corporation lobbied for this? And if that sell-out is a failure of government, it is a failure so systematic that the fault lies with the citizens who are overseeing that government. And why? Because they were too busy playing with their damn Whiffle balls.

---

newtimer Tuesday Aug 3 09:21 AM

Forget the color. I'm shocked by the phrase"Made in U.S.A." on a plastic toy. The Chinese have exclusive manufacturing rights to plastic toys.

---

Griff Tuesday Aug 3 09:30 AM

We could take Glatt's sensible route or blame the Constitution. Article 1 Section 8 Clause 8

To promote the Progress of Science and useful Arts, by securing for limited Times to Authors and Inventors the exclusive Right to their respective Writings and Discoveries.

---

Sheldonrs Tuesday Aug 3 09:37 AM

From now on, I'm pissing magenta!

---

Spexxvet Tuesday Aug 3 10:05 AM

I've patented magenta. Pay up or piss off. In a different color.

---

glatt Tuesday Aug 3 10:34 AM

Well, actually patenting is a whole different story. You can only patent a color if it does something. In theory you could possibly patent yellow on a life jacket because it makes you more visible and more likely to be rescued. But patents eventually expire and then other companies can use the idea for free.

Trademarks never expire as long as you are still in business and still using and enforcing your trademark.

Copyrights are supposed to expire, but every time Mickey Mouse is about to go into the public domain, Disney bribes Congress to extend the expiration date of copyrights. So in effect, copyrights never expire either.

---

Sheldonrs Tuesday Aug 3 10:48 AM

---

Diaphone Jim Tuesday Aug 3 12:18 PM

Whoops!
I'm afraid I owe both Whiffle and UPS a little something this morning.

---

Razzmatazz13 Tuesday Aug 3 12:34 PM

---

Sundae Tuesday Aug 3 12:51 PM

Given that both Whiffle and Wiffle are mentioned in this thread, I guess they have the mis-spelling issue sewn up too.

But just FYI, Whifflers were a (fictional) brand of cigarettes in Dorothy L Sayers' Murder Must Advertise in which Lord Peter Wimsey joins a copywriting firm. His most successful campaign involves the slogan, "If that's what you want you can Whiffle for it" which involves people smoking great quantities of cigarettes in order to collect vouchers. So not a very healthy association really.

---

Shawnee123 Tuesday Aug 3 12:58 PM

You are correct, it is Wiffle. And made in 'Merka!

<----- yellow smilie

---

classicman Tuesday Aug 3 02:05 PM

---

glatt Tuesday Aug 3 02:18 PM

I'm compelled now to state that I'm not a lawyer. But I have learned a few thing working in an IP firm for 20 years.

---

Sundae Tuesday Aug 3 02:47 PM
But I did give head to a law student.

---

Shawnee123 Tuesday Aug 3 02:47 PM

In college, we called the law students "law bags."

No idea why, but I like how it fits with your, ahem, head story.

---

classicman Tuesday Aug 3 04:30 PM

Oh glatt - just bustin' yer chops, I know you aren't really a lawyer

---

thud85 Tuesday Aug 3 04:38 PM

By that logic, is it safe to say "How should we expect the US Military to succeed in Afghanistan when the same damn government can't even hire competent people at the DMV?!!" ...?



---

Shawnee123 Tuesday Aug 3 04:41 PM


---

glatt Tuesday Aug 3 04:47 PM

---

Sheldonrs Tuesday Aug 3 05:25 PM

---

Adak Tuesday Aug 3 05:59 PM

Succeed in Afghanistan? Succeed in Afghanistan?



Ha, ha, ha, ha, ha, ha, ha!!

Good one!!





Actually, the DMV is a different government - State. I seriously have to say that near San Diego, we have two DMV offices near me. One in Poway, another in El Cajon.

The one in Poway is absolutely horrid - they can't find their butt cheeks with both hands, in a well-lit room. Couldn't register a brand new Chevy truck, for instance, and you wait forever.

The DMV office in El Cajon is WONDERFUL - knowledgeable, efficient. They are GOOD! Whomever is running that office, should run for Governor. No joke.

---

WillieO Tuesday Aug 3 07:40 PM

Sheldon, you can't pee magenta...Verizon has that one trademarked. And we all learned that Glatt was not an attorney when he knew the word ethics!

---

thud85 Tuesday Aug 3 08:21 PM

The notion of "succeed in Afghanistan" is a whole different bag of nails... it might be kind of like "succeeding in meeting Santa Claus."




---

glatt Tuesday Aug 3 08:25 PM

"DMV" that's what some people are calling the national capital area. You heard it here first (unless you heard it somewhere else already.) It's gonna take off like "Beantown" "The Big Apple" and "The Windy City."

---

Shawnee123 Tuesday Aug 3 08:47 PM

Actually, I've always been impressed with the service at my local BMV.

I think it sounds like underwear but that's what they call it. Bureau vs Department.

---

classicman Tuesday Aug 3 09:04 PM

---

Sheldonrs Tuesday Aug 3 09:22 PM

I'm pissing the whole spectrum! Taste the rainbow bitches!!!


Muahahahahahahahahaha!!!!!!




---

Gravdigr Wednesday Aug 4 03:32 AM

Taste the rainbow...

---

SPUCK Wednesday Aug 4 06:04 AM

Swim'in upstream for a pot-o-gold.

---

Shawnee123 Wednesday Aug 4 08:55 AM

---

Sheldonrs Wednesday Aug 4 09:20 AM

---

Spexxvet Wednesday Aug 4 09:24 AM

---

BrianR Thursday Aug 5 08:28 PM

I trademarked the rainbow already. Sorry!

---

BigV Friday Aug 6 11:36 AM

Or, cut back on your beet intake.

---
Your reply here?

The Cellar Image of the Day is just a section of a larger web community: a bunch of interesting folks talking about everything. Add your two cents to IotD by joining the Cellar.