xoxoxoBruce Thursday Jul 22 11:38 PM

July 23, 2010: Cow Wash

DeLaval, the manufacturer, calls this a Cow Wash, but there's no water or other fluids involved.
So it's not really washing the cows, it's brushing them clean, and a massage to boot.

Anyway, she must like it because she looks orgasmic.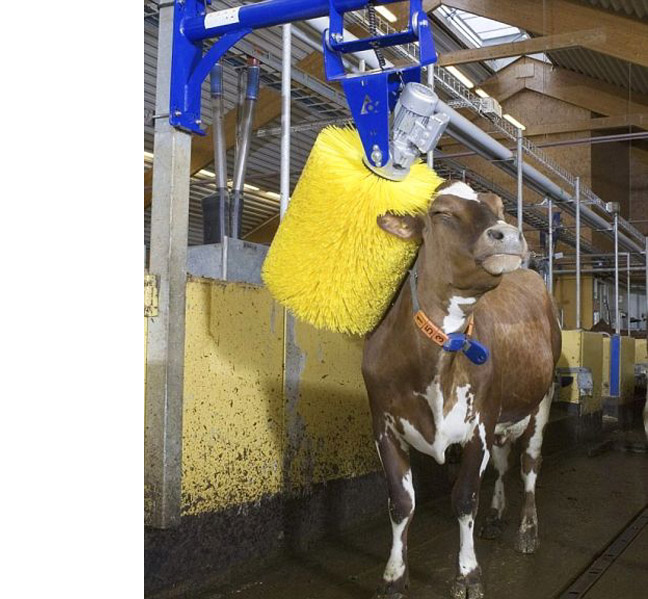 link
via
---

toranokaze Thursday Jul 22 11:41 PM

Now that is what I call a happy meal.

---

Trilby Friday Jul 23 05:23 AM

Bliss!

It's whats for breakfast!

---

SPUCK Friday Jul 23 06:28 AM

http://www.youtube.com/v/VpjCQD8ynZE

Cow brush movie.



Hey how do you post a youtube window?? Nothing seemed to work for me.

---

sweetwater Friday Jul 23 08:01 AM

But of course they'd love it. Herd animals generally enjoy contact with each other (licking, using someone's shoulder to rub their face, etc.). Hard to interact with each other much when kept in factory conditions, or take advantage of twigs and tree bark to scratch those hard-to-get-at itches. The benefit comes more from psychological health than improved blood circulation, I'd bet.

---

Aliantha Friday Jul 23 08:42 AM

I don't know of any dairy farms over here where the cows are kept in pens. All the ones I know of just arrive to be milked at their time and then head out to eat grass again.

---

xoxoxoBruce Friday Jul 23 09:12 AM

Same here, Ali, pasture until milking time in the summer. But in the winter when the grass doesn't grow, either in a barn/shed or a pen, being fed hay and stuff. DeLaval, introducing these to Britain, said they've sold 30,000 in Sweden, where I imagine dairy cattle are penned up more of the year.

In the Cornell University study, the four groups were "penned" to keep them separated for something like seven months, but that could have been separate pasture. Although, it was central New York state, so maybe not.

---

sweetwater Friday Jul 23 09:29 AM

Dairy cows are allowed more pasture around here, too, but the pastures don't have a lot things to scratch an itchy neck on. Barbed wire and metal posts wouldn't give the same relief, and what cow can schedule her desire for contact? Makes me wonder if increased milk production and level of health is greater than predicted for family cows and show animals that get more interaction. I still think it's primarily a psychological benefit, but I have just recently finished another book by Temple Grandin, too.

---

xoxoxoBruce Friday Jul 23 09:37 AM

DeLaval is being a little devious here, or the reporter didn't get it. In the study, only second lactation cows increased production, there was no change in first lactation or third on up. It did result in a 34% drop in mastitis for all groups though, and thats attributed to better mental health... A happy cow is a healthy cow.

---

newtimer Friday Jul 23 11:38 AM

The brushes must be working. Just look at all that crap on the wall.

---

Gravdigr Friday Jul 23 01:31 PM

---

Gravdigr Friday Jul 23 01:33 PM

And, just cuzz I think it's funny as hell, The Gargling Cow. (That last cow does an astounding impersonation of a COCK!)



---

Kasszia Friday Jul 23 03:12 PM

---

Gravdigr Friday Jul 23 03:40 PMhttp://www.youtube.com/v/VpjCQD8ynZE.

Copy the 'VpjCQD8ynZE' part. Then click the YouTube logo in the text box where you type your reply. In between the bracketed text that pops up, paste the part you just copied. Viola!



---

Cloud Friday Jul 23 04:16 PM

I want one! Bet it would be great inna shower. My cat (no longer plural) would love a mini one.

---

Shawnee123 Friday Jul 23 04:50 PM

(Workin' at the) cow wash.
Workin' at the cow wash yeah !
Come on and sing it with me cow wash.
Get with the feelin' y'all cow wash yeah.

(Work and work) Well those cows never seem to stop comin'.
(Work and work) Keep those rags and machines hummin'
(Work and work) my fingers to the bone
(Work) at five I can't wait 'til it's time to go home
Hey
get your cow washed today.
Fill up and you don't have to pay.
Come on and give us a play.
Get a wash right away.

---

bluecuracao Friday Jul 23 08:03 PM

Hahaha! I love Evelyn "Milkshake" King.

---

Shawnee123 Friday Jul 23 09:40 PM

---

Elspode Saturday Jul 24 01:56 AM

Speaking of bovine mental health, has anyone else seen the HBO film "Temple Grandin"? Clare Danes should be a hands down choice for an Emmy as Best Actress in a made for TV film. And the real Ms Grandin is a fascinating individual, a high functioning autistic whose "disability" actually defined her academic career in behavioral research of cattle.

I give this biopic my highest recommendation.

---

toranokaze Saturday Jul 24 02:14 AM

I do believe she was on NPR.

---

xoxoxoBruce Saturday Jul 24 04:16 AM

I watched it a half dozen times, fascinating character.

---

SPUCK Saturday Jul 24 05:12 AM

Thanks Gravdigr!

---

Shawnee123 Saturday Jul 24 09:44 AM

---

sweetwater Sunday Jul 25 09:09 AM

I saw that film recently for the first time. It gave more background of her personal journey than I was knew before, and was, I agree, wonderfully acted. I used a couple of her techniques described in Animals in Translation to work with our longhorn and calf. People thought I was a bit odd for sitting in the pasture, but those animals were as curious as predicted and gentled quickly. (Longhorns are not an aggressive breed to start with, and I am not quite experienced enough to do the same with a big herd of some other breeds, admit!)

---

casimendocina Sunday Jul 25 09:13 AM

The only movies I've seen with Claire Danes are "Romeo and Juliet" and "Shopgirl". She's ethereal in both of them.

---

richlevy Sunday Jul 25 10:39 AM

What's their policy on tipping?

---

xoxoxoBruce Sunday Jul 25 11:12 AM

Cow tipping is an urban myth.

---

Elspode Sunday Jul 25 04:45 PM

Bruce is right. Cows rarely give so much as adequate table service these days, and therefore get virtually no gratuities.

---

Leah Wednesday Jul 28 12:01 AM

Now that is just cute

---

TheDaVinciChode Saturday Jul 31 03:44 PM

What if we attached leather-cutting razors to one brush, and covered another, in meat rub, which was then placed next to the first?

Would we have a self-preparing cow, ready for the BBQ?

---
Your reply here?

The Cellar Image of the Day is just a section of a larger web community: a bunch of interesting folks talking about everything. Add your two cents to IotD by joining the Cellar.