xoxoxoBruce Sunday Jul 18 12:09 AM

July 18, 2010: Wooden Books

I suppose you could say most books a made of wood, since that's the source of most paper.
But Pavlova University, in Italy, has a collection of circa 1800 books, that really are wood.



Quote:

Each volume is about a different species of tree, with its cover made from the wood of that tree, showing both wood radial, longitudinal, and cross profiles. And on each spine is a section of the tree's bark.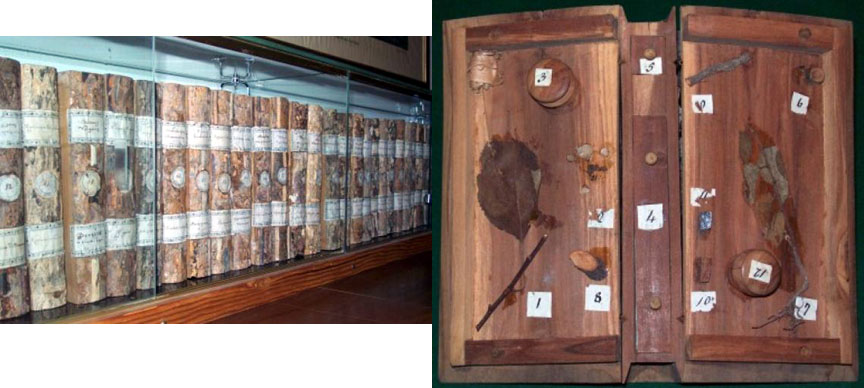 Quote:

While it would have been impossible for them to know this in the early 1800s, collecting these samples in this way was far better than simply writing or drawing accounts of the trees. As modern science can now read the DNA contained in these samples - and see the blueprint for the trees themselves - each of these strange wooden books contains more information then 10,000 pages of prose ever could have.

It's a shame half of these books have been lost... maybe they kept the other half warm.

link
---

sweetwater Sunday Jul 18 07:38 AM

Treemendous find fir today, though I pine for those lost books. Wouldn't yew?

---

spudcon Sunday Jul 18 08:56 AM

It's Oakay to make those puns here, but xoxoxoSpruce is an Elder here, and he might Tamarack on Yew.

---

newtimer Sunday Jul 18 09:51 AM

Collecting actual wood samples sure beech having to write the information out by hand.

---

Gravdigr Sunday Jul 18 04:26 PM

I was gonna pun, too, but, woodn't you know, you beat me to it.

---

Lamplighter Sunday Jul 18 04:29 PM

Don't worry about it, others are knot going to pun.

---

classicman Sunday Jul 18 05:33 PM

Oh Lamp - would you just leaf him alone. The root of the problem is well that some are nuts, nut knots.

---

wolf Sunday Jul 18 05:37 PM

I wood read some of those but I think the leaves would be too dry for my sense of humor.


yes, that was a reach, but I am trying.

---

tombstone Sunday Jul 18 06:19 PM

Puns, puns! Hopefully, we've come to an Ent.

---

Shawnee123 Sunday Jul 18 07:58 PM

I have no puns, I would just give my life savings..if that amounted to anything, to own those books. Beautiful!

---

sandypossum Monday Jul 19 12:20 AM

Puns seem to be poplar in the Cellar. Wattle we do when we run out of them?

---

Coign Monday Jul 19 11:02 AM

Quote:

Originally Posted by

sandypossum

Puns seem to be poplar in the Cellar. Wattle we do when we run out of them?

Oh I wood knot worry yourself. They grow on trees around here.

---

Gravdigr Monday Jul 19 04:10 PM

What a releaf.

---

Gravdigr Monday Jul 19 04:14 PM

Wattle is a tree/shrub in Australia, acacia ya didn't know...

---

Lamplighter Monday Jul 19 05:43 PM

Sick'um, Gravdigr... sycamore.

---

wolf Tuesday Jul 20 02:03 PM

"This here's the wattle, the emblem of our land, you can stick it in a bottle, you can hold it in your hand."
---Bruce

---
Your reply here?

The Cellar Image of the Day is just a section of a larger web community: a bunch of interesting folks talking about everything. Add your two cents to IotD by joining the Cellar.