xoxoxoBruce Saturday Jul 17 12:40 AM

July 17, 2010: Madhuri

Madhuri is a large Indian Elephant with a penchant for lizards... particularly Monitor lizards.



Quote:

Swinging mid-air like a rag doll, this monitor lizard was in for a rough time when a playful elephant took a fancy to it.
The unlucky creature had been swept off the ground and was carried around for a number of days by Madhuri, an Indian elephant.
With tail firmly clamped in the animal's trunk the lizard was swung around and occasionally put back on the floor.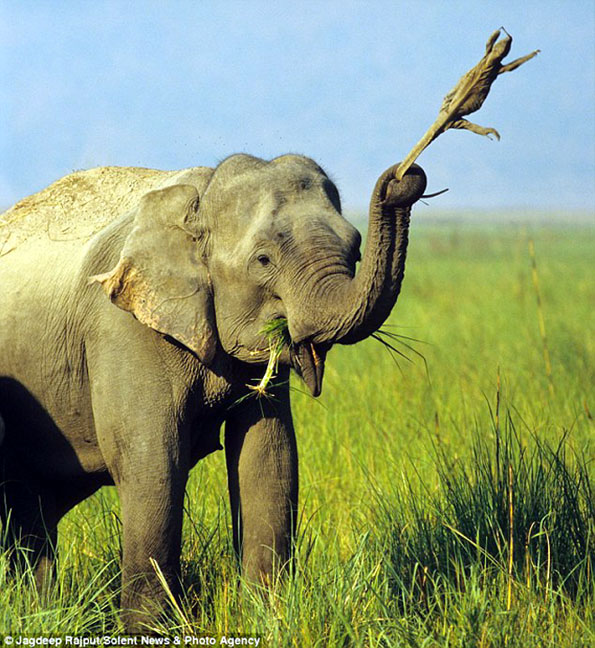 Quote:

These extraordinary shots were taken by Jagdeep Rajput during a trip to Corbett National Park, in India. He said: 'I had heard about this elephant before and looked out for her. 'She's known to be quite aggressive so when I did eventually find her I approached her carefully. 'The park has a good population of lizards and Madhuri is known as an expert in catching them - she has a particular fancy for monitor lizards. 'She caught the lizard alive and carried it all the time for few days - tossing it up and even dropping it.

Evidently she would play with the lizard then put it up on her back, so she could use her trunk to eat and drink.
Makes me wonder if she only does this when people are around? He said she's agressive, and maybe she's trying to make her trunk look bigger or something?

link

---

casimendocina Saturday Jul 17 05:22 AM

That is one multi-skilled elephant!

---

newtimer Saturday Jul 17 09:20 AM

Lizards pay good money to have a go on this elephant-powered Ferris wheel. It breaks up the monotony of crawling around on their bellies all the time.

---

ZenGum Saturday Jul 17 11:39 AM

So trunk calls are being monitored. Tusk tusk.

---

Trilby Saturday Jul 17 12:26 PM

Hm. I'm not usually sympathetic to lizards or lizard-like creatures - but, somewhere, in my fuzzy heart, I feel kinda sorry for the little guy.

---

toranokaze Saturday Jul 17 12:45 PM

" I'm going to love you , and swing you and call you George"

---

Gravdigr Saturday Jul 17 04:44 PM

Wonder if she likes mice?

---

sweetwater Saturday Jul 17 05:40 PM

Does it count as animal abuse if an animal is the abuser?

---

xoxoxoBruce Saturday Jul 17 06:10 PM

Reptiles don't count, they're all slimy and evil and shit.

---

Thunder.gryphoN Saturday Jul 17 06:24 PM

How to resuscitate a drowned lizard.

---

toranokaze Saturday Jul 17 10:36 PM

So do we make a recipe for the elephant for the lizard?

---

Leah Tuesday Jul 27 11:58 PM

Looks to me like a very playful elephant. She's having fun, like kids like to do. Good for her.

---
Your reply here?

The Cellar Image of the Day is just a section of a larger web community: a bunch of interesting folks talking about everything. Add your two cents to IotD by joining the Cellar.