xoxoxoBruce Friday Jul 16 12:24 AM

July 16, 2010: USS Pampanito

The USS Pampanito is a WW II, diesel powered submarine, that's been preserved in San Francisco as a museum open to the public, and a National Historic Landmark.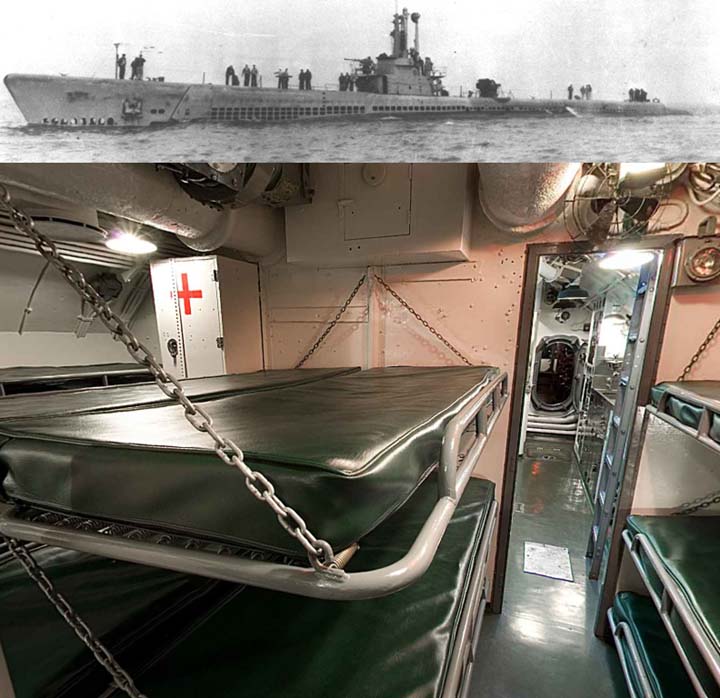 virtual tour of the Pampanito, the pictures make is look kind of spacious. It is not.
I've been on a couple of this class submarine, and they are small, very small.
I should clarify, I didn't sail on them, oh my god no! I toured them... above the water, hatches open, with fresh air pouring in.
But even with only 12 or 15 fellow tourists, it got a little claustrophobic.

---

Gravdigr Friday Jul 16 02:18 AM

What's long, hard , and full of seamen?

---

SPUCK Friday Jul 16 06:03 AM

S.F.??? I never knew.. I'll have to check it out.

---

Griff Friday Jul 16 06:56 AM

Pampanito?! We better detain her until we can check on immigration status.

She got depth charged on her first patrol and still made 5 more. Quite a boat...

---

classicman Friday Jul 16 08:47 AM

Sorry, but I'm really struggling for recipe ideas here.

---

Shawnee123 Friday Jul 16 08:52 AM

I toured the russian sub in San Diego. I would go crazy crawling around those cramped places, through little holes to other cramped spaces!

---

Undertoad Friday Jul 16 08:53 AM

And if you meet a submariner, don't make my mistake and ask them for stories. The tradition is silent service, whatever happened out there they will not tell you.

---

squirell nutkin Friday Jul 16 09:23 AM

Leaves port with 120 men and returns with 60 couples...

---

ToastyOhs Friday Jul 16 09:36 AM

In all seriousness, though my grandfather served on one of these. Short little Irish guy from the mid-west. He got into plumbing and refrigeration after the war. Undertoad is right, he never really talked about it, for what reasons, I cannot say.

---

Sheldonrs Friday Jul 16 09:37 AM

---

classicman Friday Jul 16 09:47 AM

Thanks guys - I knew I could count on you.

Now Shel - I gotta ask ....

With or without mayo.

---

Sheldonrs Friday Jul 16 09:49 AM

---

Clodfobble Friday Jul 16 10:55 AM

My cousin flew planes in the Navy, and once when we went to visit him we got an informal family member tour of a submarine that happened to be in port.

Not only was the whole thing unbearably small even for a less-than-fully-grown early teen girl, but the cook in the galley assured us that it was much more cramped when they first set out for a long trip, because of all the canned foods they hadn't eaten yet. He said they would line the hallways with stacks of cans until they could eat their way through them.

---

Scriveyn Friday Jul 16 12:50 PM

Awwww, cute ... no... wait ... it's Friday, innit?

---

classicman Friday Jul 16 12:51 PM

---

Gravdigr Friday Jul 16 01:03 PM

Start with one large nookyalur submarine;
Add one under-sea mountain.
Combine in a very large ocean.

That'll pretty much make lunch outta your sub...

---

Diaphone Jim Friday Jul 16 03:36 PM

I've toured the Pampanito a couple of times. As Bruce says, it is seriously cramped. It is also really retro without trying; reminds me of my grandparents' house during and after the war, with Bakelite the most modern material.
I didn't know until I read Wikipedea today that it was "credited" with sinking the Kachidoki Maru on September 12, 1944. The Kachidoki Maru carried 900 British and Australian prisoners of war; the Pampanito picked up 73 survivors 3 days later. This seems to have been part of a wolfpack operation that resulted in the sinking of Japanese ships carring 2,100 POWs, of which only 127 survived.

---

Diaphone Jim Friday Jul 16 06:57 PM

I guess I need a red face here. The stats I got from three Wikipedia subjects about the numbers of POW's on board the Japanese ships and the number rescued differ from what are probably better sources.
It is more likely that there were at least 951 survivors, about a third rescued by American subs and the rest by the Japanese.
It must have been an unimaginably chaotic and tragic scene.

---

xoxoxoBruce Friday Jul 16 08:50 PM

Thanks Djim, I hadn't realized the Pampanito was part of that debacle.

---

ZenGum Friday Jul 16 10:41 PM

I have some submarine questions to throw out here, and none of them involve a treadmill.

When submarines dive in the movies, the hull makes groaning sounds as the pressure builds up. Do they really do that, or is that just Hollywood being dramatic?

In movies, we often see a submarine hiding below while a destroyer lobs depth charges at it. Why can't submarines strike back? They could push mines out through the torpedo tubes which would float to the surface and endanger the destroyer. There could even be a special vertical launch torpedo they could fire. Why not, huh?

---

skysidhe Friday Jul 16 10:45 PM

My uncle who is approaching his 90s and still going strong was a cook on a submarine.
He is Filipino and oh man can he cook. ...still.

Great tour thanks for peek.

---

Gravdigr Saturday Jul 17 02:34 PM

---

Adak Saturday Jul 17 04:07 PM

In WWII, we were unable to even get our early torpedoes to explode on contact. No shit. Our torpedoes had been given a new controller, ("fuse"), and it simply didn't work.



The Germans had seen the value of their subs in WW I and had continued their development ever since. True for tanks, also.

We had not, and our subs and tanks (especially our Sherman Tanks), just weren't good, in comparison. Can you imagine a gasoline engine driving a tiny tank with a tiny gun, and almost useless armor?

Torpedoes in WWII were "aim and fire", and unable to "acquire" a target and follow it. There was no facility to fire a torpedo, upward. They're longer than you think, so the tubes are only horizontal (bow and stern).

We did develop a proximity fuse which was great, but that came about later in WWII.

It's interesting that the Russians have a vectored thrust new fighter plane, the Brits have had one for a decade or two, and just unveiled a brand new unmanned fighter concept plane. Canada is buying the new F-35 vectored thrust fighter. And we're still giving our Navy pilots F-18's that are 35 years old, to fly in war zones.

But YOU BET! we are "supporting the troops"!


---

GunMaster357 Saturday Jul 17 04:29 PM

In another area, the Concorde plane when flying at Mach2 was known to elongate by 28 centimeters (nearly a foot) due to speed friction and less external pressure.



Also, letting a mine float up to the surface is fine... but to be effective, the ennemy ship has to be more or less at the exact vertical of the sub. And just the sending of the mine will create a noise giving the sub's position to the ennemy.

Same problem with trying to escape at full speed, you create noise due to the cavitation of the propeller. Even worse, the performance of detection systems are so degraded that the sub is nearly running blind. Since the major risks of detection are in coastal areas, it's like going full speed on a highway with Steevie Wonder at the wheel.

Nowadays, subs can be very fast, at least nuclear ones, and can outspeed most anti-submarine ship. But torpedoes can do the job nicely, can be launched from a chopper, and some of those fuckers are real fast.

---

Lamplighter Saturday Jul 17 05:12 PM

Not to mention breaking the back of the sub in the process.

---

xoxoxoBruce Saturday Jul 17 05:29 PM
But the reality of the world today is they don't need $160 million dollar F-22s, which is why they are building the F-35s. Actually, I think the F-18 with a hot pilot, might be a match for an F-35.

---

skysidhe Sunday Jul 18 01:25 AM

Yeah, true grav

and it was a great post. I sent it along in e-mails to people.

---

Adak Sunday Jul 18 05:44 AM

With the newer jet (F-35), the vectored thrust landing is a gentle drop downward, from a speed of zero knots. You can even press a button and let the computer do most of the landing, for you.

There are many tricks you can do with vectored thrust - in a dogfight, or against a ground to air-missile, that you just can't do without it. Once you learn those tricks, you have a distinct edge over non vectored thrust aircraft. We learned that from exercises with the Harrier what, twenty years ago?

You might recall that we helped the Afghani's chase out the Russian's, by giving them shoulder-fired AA missiles, and training them in how to use them.

Most of our military mistakes - like Mogadeshu ("Black Hawk Down"), failing to capture Bin Laden, etc., have been caused by not committing the resources we needed, to get the job done. Whether it's deterring the North Koreans from attacking the South, or the Chinese from attacking Taiwan, or the Russians from taking over Baltic countries they owned in the past, we need modern military hardware, all around.

Including fighter jets. Maybe we don't need the F-22 today, but we should have the F-35, clearly.

Another example:
In Afghanistan, they have a LOT of mountains. Thousands of years ago, the Afghani's learned to take the high ground, and shoot down on the hapless (Romans, Mongols, Brits, Russians, etc.), because they generally couldn't fire back that far.

We're too cheap to put the right length of barrel on our soldier's rifles, so we're having a problem with snipers and such, shooting at us, before we can shoot back with our rifles. The army now has "rationed" longer shooting rifles, out to the troops. Ideally, some day, one in ten army infantry soldiers will be able to have one.


As for the marines? Well, no.




I'm not sure you can fight a war "on the cheap". I'm sure, if you try hard enough to pinch those pennies, you'll increase our casualties exponentially. In Vietnam, in the early years, we didn't have sniper rifles newer than WWII. The snipers had to order their own rifles, from Remington or Winchester.



We do this all the time. During peace times, we close our eyes and dream that there won't be another war, and if we dream hard enough, peace will prevail. But it doesn't - human nature hasn't changed. Putting our fingers in our ears too, won't help, really.

Most people don't know that our number of Naval ships, has been cut by about one-third since Reagan's term as President. Likewise our defense budget. Meanwhile, the fact that we can't USE nuclear weapons unless the other side tries to uses them first, has really sunk in, around the world. That advantage, is no advantage, for the kind of wars we're fighting these days.

What would you guess in our current percentage of Gross Domestic Product is, for all of our Department of Defense (All services)?

I'll let you ponder that, but here's a hint: it's less than you think.

---

xoxoxoBruce Sunday Jul 18 09:47 AM

---

Scriveyn Sunday Jul 18 01:01 PM

---

Adak Sunday Jul 18 01:36 PM

In the 18th and 19th century, that was true. We didn't even have a Navy, for several decades. Didn't need one. Each state raised it's own "Army" (a militia really). and decided how many "soldiers" to send to any battle or campaign. It was a nightmare.

That's just not the way of things, today. Our biggest trouble spots in the world, are heavily militarized - Iran with new SAM's it's getting from Russia, North Korea with it's huge militarization and help from China, probably top the list.

If we get involved - when we get involved, because we have close ties to both Israel and South Korea, it would sure be good to have those newer fighters.

I don't know if you can REALLY feel the importance, if you don't have close relatives in the Navy/etc. Whether we lose 20 servicemen or 2000, in the next "clash", may not affect you, directly.

If you haven't seen the movie "Charlie Wilson's War", I heartily recommend it. It's a true story, quite funny, with Tom Hanks and Julia Roberts -- good stuff.

CLEARLY shows what having the right weapons means in a war.

Just the right weapons, and the Afghan's (not the Taliban), went from Cannon Fodder to Rambo, and sent the mighty Red Army/Air Force, right back where they came from.

---

xoxoxoBruce Sunday Jul 18 02:05 PM

18th & 19th century? Dwight D. Eisenhower?

The Taiban sent the Soviets packing because they advocated exactly what you are, bigger, faster, more complex, weapons systems. That is not the future.

The future is wars of insurgency, where helicopters are more valuable than fighter jets. What we should be building is A-10s, instead piloted missiles.

---

Diaphone Jim Sunday Jul 18 03:33 PM

Thanks, Adak, for sending me to
http://en.wikipedia.org/wiki/List_of...y_expenditures
The idea that the US is not spending enough on "defense" is so absurd that I can feel little sparks going off in my brain.
I'm afraid that any one who thinks we need to spend more needs to be in a secure environment where sharp objects are kept locked up. But when I think of the company there .....

---

xoxoxoBruce Sunday Jul 18 03:57 PM

Don't forget that 650 Billion doesn't include fighting the wars, Afghanistan, Iraq or Terror, not to mention the Billions that are spent indirectly by other departments, on behalf of the military.

---

Gravdigr Sunday Jul 18 06:06 PM

That 35 year old f-18, is still leagues and leagues beyond what most of the rest of the world is using...I said most...

---

spudcon Sunday Jul 18 07:09 PM

Try to get input from Korean war pilots who were getting their asses kicked by migs in the early part of the war. We didn't need state of the art war planes then either.

---

Adak Monday Jul 19 07:31 AM

Watch the movie "Charlie Wilson's War" for the remarkable details of how it happened. Charlie's staff are stunning!



A-10's are great tank killers/infantry supporters, ("it's not a plane, it's a flying 20mm Cannon", is no joke), but very vulnerable to ground fire, and certainly NOT for air to air combat. They'd be "Buffalo'd".

Did you ever hear about the "Buffalo's"? They were older planes on Midway. We sent every one of them to attack the Japanese carriers when they came into range. EVERY SINGLE Buffalo was shot down by the Jap. Zero's, on that ONE mission. They are believed to have shot down ONE Zero, during their fight.**

Same thing in Korea. We had prop planes - and an older jet fighter. North Korea had vastly better mig jets.

If you have better equipt. and training, you'll kick their butt, and win 80% - 90% of your dog fights. If not, you probably won't survive long.

Helicopters were never designed for, and generally can't survive, air to air combat with a fighter jet. They don't even try such a stunt.

It was true at Midway, it was true at the Turkey Shoot (Battle of the Coral Sea), it was true over France and Germany, with the Mustang, it was true in Korea, it was true for all the Israeli wars, in Bosnia, and in Iraq - and it's still true today.

If you have better equipment and training, you will be the hammer, you'll get to do the pounding, and have minimal losses. If you don't, you'll be the nail and get pounded upon . . .

Very few fights wind up "even". You either win or die, pretty much.



<<not for the faint of heart>>



**Three U.S. buffalo pilots were rescued. One was deemed worthy of further interrogation. The other two were shackled to chains, and dropped over the side of the ship, after the normal beatings.

They didn't follow the Geneva Conventions then, and they certainly don't follow them now.

If we want the best outcome for our service sons and daughters, we need to give them the best equipment and training.

---

ZenGum Monday Jul 19 08:57 AM
I understand why subs can't run, but the reasons for not having a weapon like I describe don't work for me.
Small one first - the noise in deploying it. I'm thinking of the situation where the U-boat has attacked the convoy and sunk a ship or two, and now the destroyer escort are hunting the sub with sonar and lobbing depth charges. The enemy know where the sub is already. So silence doesn't matter.

Space? well true, at a premium, but not being sent to the bottom of the ocean must be the first priority. Or taking out enemy warships. Either way, some kind of sub-to-surface weapon strikes me as good value, and worth the space.

So the main objection seems to be that the ship has to be pretty much directly above the sub. I don't see why - the sub could release twenty smallish floating mines over ten minutes as it maneuvers, then remain in this general area. If the destroyer wants to keep hunting, it must risk the minefield. Or the mines could be connected to a long rope that the destroyer will intersect and pull the mines in to it. Modern hi-tech toys could do much more, I'm mostly thinking WWII technology.

---

Shawnee123 Monday Jul 19 09:01 AM

---

GunMaster357 Monday Jul 19 10:21 AM

Sonar detection in WWII was in its infancy as no country had ever imagined submarines deployed on the scale used by Germany. So, part of the game was to play dead up to push oil, debris and even bodies through a lock.

Never forget that this era was the first time submarines were used as an effective weapon integrated as such in the navy at least in Germany. In other countries, they were considered something of a special weapon to be use at specific places and moments, or even worse, as toys.

Therefore, it's only logical that designers didn't think of every contengency.

Back to the problem of space.

A submarine, even today, has a very delicate equation to solve: flotability. If you put too many things in it, once you dive, you wont be able to resurface again.

For example, a bathyscaphe (very deep water exploration vessel - down to 30000 feet) do not use ballasts to dive but an enormous steel weight that is left on the ocean floor once they want to get back to the surface.

---

Shawnee123 Monday Jul 19 10:23 AM

I used to work for a DoD contractor and I tested these thingys that were used for sub sonar testing. Can't say much...it was all classified and I don't know if it still is, but it was fascinating!


---

xoxoxoBruce Monday Jul 19 10:25 AM

You're watching too much history channel, Adak. No more dog fights, any air to air is long now long distance. The need for ground support, helicopters and a-10s is the future. The Taliban is the successor to the Mujahideen.

---

Adak Monday Jul 19 02:22 PM



We had very few dog fights in Iraq, because they knew it would be suicide, and flew out of the country.

That's winning without fighting, and that's what I want.



You can't have ground support aircraft, unless you control that air space. (My nephew flew Apache long-bow attack helo's in the Army, until recently.)

You may recall (although the media didn't give the incidents much traction), the "test run attacks" over several of the US Air Force Bases, by Russian strategic bombers.

Flew right over our AF bases, with bombers the size of B-52's! Stupid AF pukes couldn't get our fighters scrambled fast enough to "greet them" and turn them away.

I'd like to believe that there would never be another war, but the minute I believe that, I know I brought that war one second closer to a reality.

If you want peace - walk softly, and carry a big stick. No one who wants to tear you up, will respect you when you're carrying a handful of rose petals, or a feather from a pure white dove.

The Taliban are a particular "flavor" (philosophy) of Mujahideen, dedicated to fighting against the West, and re-establishing the Caliphate with Sharia laws, and of course (always), converting the "non-believers".

Our advisors fought in Afghanistan, with other Mujahideen, dedicated to freeing their land from the invading Russians. They had no problem with us - quite liked us, actually.

---

classicman Monday Jul 19 04:09 PM

---

Adak Monday Jul 19 07:05 PM

Thanks, Classicman. :thup:

@Shawnee, it's quite obvious that Charlie was no angel - apparently his line for why he hired VERY buxom and beautiful women was:

"You can teach typing, but you can't teach tits"



Smart guy though - and he sat on just the right committee's. Julia Roberts was great as the ultra rich widow with the passion for Pakistan & Afghanistan.

The CIA guy in his boss's office -- and bugging Charlie's office - had me rolling.

Charlie incredously asking the CIA station chief in Pakistan:
"The Russians have invaded. Those people are being slaughtered, and you tell me you don't want to upset things?" "I don't even know what that means."

And best of all:
The Texas bellydancer is VERY provocatively belly dancing, and the Egyptian minister they have to butter up, asks:

"What religion is she?"

Just as the dancer drops into the most sensous splits imaginable, Charlie answers:

< Censored >

Well, you need to see Charlie Wilson's War now, don't you?



---

Shawnee123 Monday Jul 19 07:57 PM

---

BrianR Friday Jul 23 10:22 AM

Since it was mentioned earlier, the Brewster Buffalo was manufactured partly at the NADC Warminster, PA...about five miles from Willow Grove NAS.

I was even there a few years ago, before it became an office park. The flying club in Norfolk was looking to acquire a wrecked trainer aircraft from their flying club, hoping for enough parts to rebuild one of ours that had been damaged heavily in a taxiing accident (instructor pulled up the landing gear on the ground).

That deal went through and the Norfolk aircraft is flying today.

ETA: that club was disbanded in 2000. It is unknown what happened to the aircraft. Many were leasebacks and the owners presumably took the planes somewhere else or leased them to the flying club at Langley AFB. Some were not flyable and likely were sold for parts or scrap.

---

xoxoxoBruce Tuesday Jul 27 12:09 AM

And for the newest US Submarine, click here.

---
Your reply here?

The Cellar Image of the Day is just a section of a larger web community: a bunch of interesting folks talking about everything. Add your two cents to IotD by joining the Cellar.