xoxoxoBruce Monday Jul 12 12:02 AM

July 12, 2010: Anamorphic Art

I'm no artist. Oh, I can sketch a fair representation of a mechanical linkage or something simple. But making a drawing/sketch of something like a still life, or a person, you wouldn't know what I was trying to illustrate when I was done.



Making these sketches, so distorted they are almost undecipherable, until you drop a cylindrical mirror in the right spot, just boggles my mind.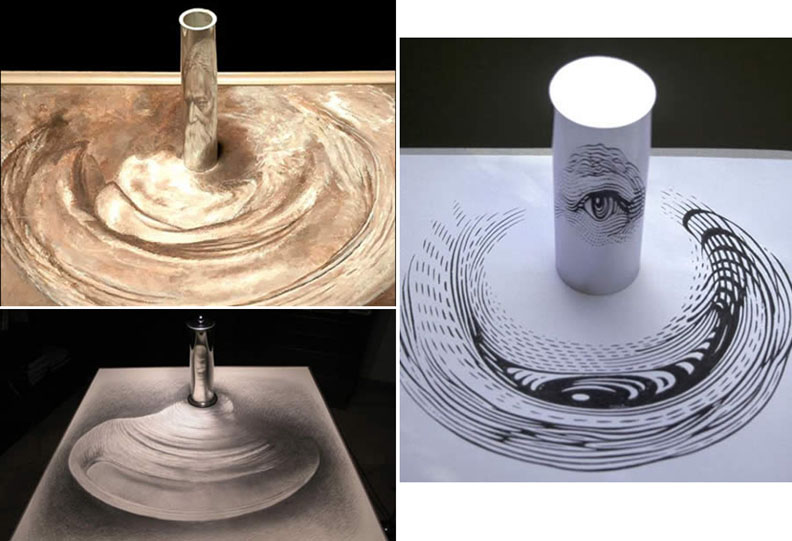 link

---

Gravdigr Monday Jul 12 04:56 AM

Well, that's fairly awesome.

---

Griff Monday Jul 12 07:49 AM

Gonna have to show this to lil' Pete...

---

glatt Monday Jul 12 08:26 AM

In the link, my favorite images are the ones that are camouflaged to look like they are paintings of something else, and then you put the mirror in place and suddenly see a portrait.

Like this one.

---

classicman Monday Jul 12 08:46 AM

Just sent that link to a few friends - that is really amazing. I have zero artistic ability. I can appreciate it, but creating it is beyond me.
That is simply awesome.

---

casimendocina Friday Jul 16 08:51 AM

Incredible.

---

Lamplighter Tuesday Nov 3 03:35 PM

OK, if you start with this:



.

... and you get a little closer to understanding the "Adaptive Optics" technologies
that are coming to maturity in astronomy, particularly at the Keck Observatory in Arizona...

Here is distorted infrared light coming from Uranus (left) improved via "AO" (right)
For Sharpest Views, Scope The Sky With Quick-Change Mirrors
NPR - June 24, 2013

Attachment 54032

.

... and that lets you see the super-massive black hole at the center of the Milky Way galaxy.

Attachment 54033


.

Actuallly, the technical development was the reverse, starting with the US military wanting
to actually "really see" Russian satellites in case they were carrying weapons.
The AO technology was declassified so astronomers could take advantage of it.


.

---

Gravdigr Tuesday Nov 3 05:09 PM

There's light coming outta my anus?!?!?





No wonder it's distorted.

---

xoxoxoBruce Tuesday Nov 3 09:05 PM

How do they know they've rearrange it right, and not well we have this, and want that, so build a system to make this that?

---

Lamplighter Tuesday Nov 3 09:50 PM

Maybe you have seen pics of a lazer beam aimed into the sky at the Keck Observatory.

Attachment 54038

The article describes that beam as activating the sodium atoms that are at the bottom of the trophosphere.

By measuring the distortion of that lazer beam, a correction factor is calculated and
applied to the flexible secondary mirrors in the telescope that are collecting the light image from the target star(s).

I can't say I really understand all that, but that seems to be the gist of it.

.

---

xoxoxoBruce Tuesday Nov 3 10:23 PM

That seems like a viable way to measure the distortion of any spectrum coming through our atmosphere. But it's a long way from the source of most of the things their looking at, to our thin candy shell. I guess they know enough about the properties of the whole spectrum, including how they travel, so correcting for our atmosphere they can determine if anything else along the path is affecting it.

---

Lamplighter Wednesday Nov 4 12:01 AM

Exactly so, xoB.
Once our atmospheric distortions are resolved by adaptive optics systems,
other distortions would require explanation and/or involve further research.

Even the governmental funding of the Keck Observatory's installation of
Next Generation of Adaptive Optics (NGAO) equipment was justified, in part,
on the detection and precise measurements of dark matter affecting light
passing by or through gravitationally lensed galaxies.
(This was only one of a number of top priority studies - described here)

,

---
Your reply here?

The Cellar Image of the Day is just a section of a larger web community: a bunch of interesting folks talking about everything. Add your two cents to IotD by joining the Cellar.