xoxoxoBruce Friday Jul 9 12:38 AM

July 9, 2010: Bored With Cute

She's bored with cute...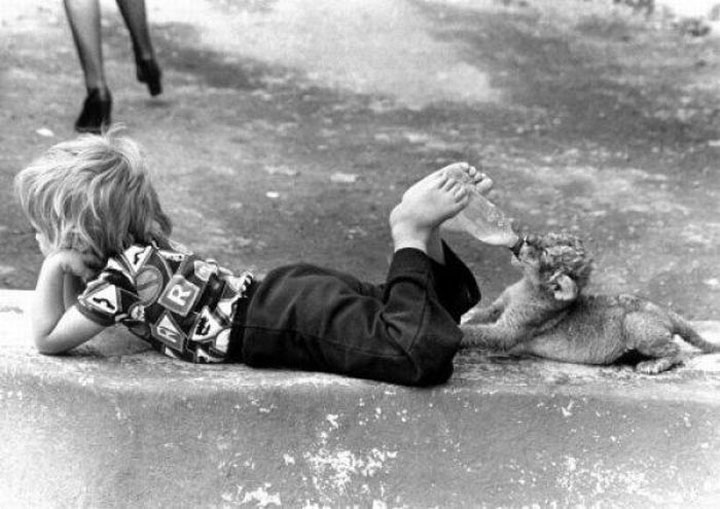 ---

spudcon Friday Jul 9 01:18 AM

She won't be bored when that cub licks her toes!

---

stevecrm Friday Jul 9 05:43 AM

where's the snake?

---

SPUCK Friday Jul 9 06:56 AM

On it's way..

---

Trilby Friday Jul 9 07:50 AM

AWwwwww! two baby animals!

---

Trilby Friday Jul 9 07:50 AM

---

classicman Friday Jul 9 08:36 AM

She's getting impatient waiting for the damn thing to fatten up a bit and just occupying her mind with all the lovely recipes she was sent from the cellar lurkers.

---

monster Friday Jul 9 10:11 PM

he.

---

xoxoxoBruce Friday Jul 9 10:47 PM

I don't think so, it looks like it was taken in the 50's when boys were shorn.

---

Clodfobble Friday Jul 9 11:02 PM

Wearing a shirt decorated with roadsigns? No way. That's a shaggy 60s boy.

---

xoxoxoBruce Friday Jul 9 11:19 PM

Those look like 50's shoes, but if it's 60's, it could be either boy or girl.

---

spudcon Friday Jul 9 11:49 PM

You have to turn the kitty upside down to see if it's a boy or a girl. I learned that many years ago. I'm surprised you guys haven't figured it out yet...Uhh, sneakers? never mind.

---

tombstone Saturday Jul 10 12:53 PM

60's obviously. Note the legs and high heels. There is no seam line on the stockings. So--mid sixties at least. There are definitely stockings. No lady who wore heels like those would have worn them without stockings.

---

Cicero Saturday Jul 10 02:34 PM

I know.... I do the same thing. I get bored with cute because I get side-tracked.

I looked at my dog the other day as if for the first time, and realized again, how cute she is!!! As if I was shocked...

---

xoxoxoBruce Saturday Jul 10 07:59 PM

1953

Oh, and God damn,
God damn, I say,
I said God damn, God damn, the pantyhose man.

---

monster Sunday Jul 11 10:28 PM

I doubt they even had kids' shirts like that in the 50s. What makes you think 50s?

---

monster Sunday Jul 11 10:30 PM

(trust us moms in hippy college towns, we have to make this call on a regular basis)

---

lumberjim Sunday Jul 11 10:33 PM

besides, if it were the 50's and that was a girl, she'd be in a friggin dress, man.

---

xoxoxoBruce Sunday Jul 11 11:15 PM

Where are those road signs from, they ain't ours?

---

SPUCK Monday Jul 12 06:03 AM

And now that you point that out that really wasn't a common USA boys hair cut either, fits more with Europe too.

---

Pete Zicato Monday Jul 12 04:13 PM

tineye found only one matching image - on a Russian forum.

---

classicman Monday Jul 12 04:30 PM

That bottle plastic or glass??? I cannot see it well enough to tell.

---

monster Monday Jul 12 09:53 PM

they're British signs. Didn't occur to me that they were odd.....

---

xoxoxoBruce Monday Jul 12 11:31 PM

It's probably the 60's then, since they're 10 years behind. tee hee

---

wolf Tuesday Jul 13 09:28 AM

I would guess 1970s, because that kind of big graphic design kidswear came in about then.

---
Your reply here?

The Cellar Image of the Day is just a section of a larger web community: a bunch of interesting folks talking about everything. Add your two cents to IotD by joining the Cellar.