xoxoxoBruce Wednesday Jun 30 12:02 AM

June 30, 2010: Bike Lane

There, in the night... Ahhwooooo... Bike lanes of London, Ahwooooo!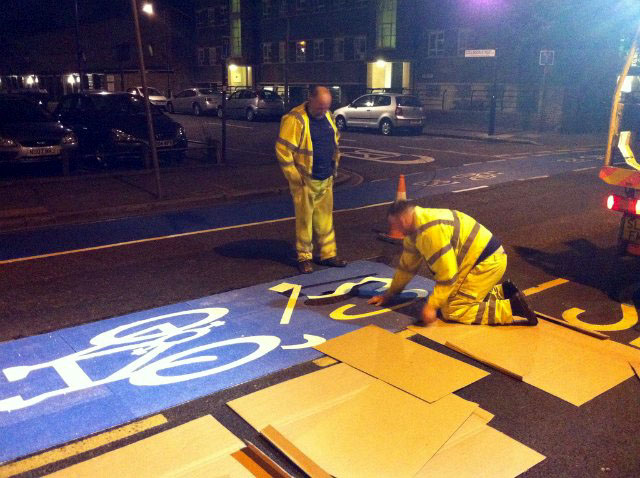 photo credit: jamesup



link
---

HungLikeJesus Wednesday Jun 30 12:12 AM

I wonder if they're slippery when wet. Does it rain much there?

---

xoxoxoBruce Wednesday Jun 30 12:18 AM

Does it rain much in London?

---

Gravdigr Wednesday Jun 30 02:02 AM

---

Antimatter Wednesday Jun 30 04:18 AM

If they're anything like the ones in Copenhagen they're coarse enough not to get slippery when wet.

---

xoxoxoBruce Wednesday Jun 30 04:22 AM

I don't know about Europe, but the plastic lines and letters they put down here are slippery as shit.

---

Griff Wednesday Jun 30 06:40 AM

Yeah, but we don't have bikes here.

---

xoxoxoBruce Wednesday Jun 30 06:47 AM

Them ain't horses I'm trying to avoid on the road.

---

Griff Wednesday Jun 30 06:58 AM



We've almost given up rode riding. It used to be you'd get the occasional jack-ass swerving and laying on the horn but now it is some form of aggression pretty much every time out no matter how carefully you follow the rules of the road. A lot of cyclists ride like punks now feeding that violence. hmmm... sounds like a foru...

---

squirell nutkin Wednesday Jun 30 08:48 AM

The cat calls and honks are nothing.

---

HungLikeJesus Wednesday Jun 30 08:55 AM

Last year in Colorado they passed a law that a car passing a bicycle must give three feet clearance. That seems to have helped.

---

newtimer Wednesday Jun 30 09:12 AM

---

classicman Wednesday Jun 30 09:22 AM

hahaha -

---

Antimatter Wednesday Jun 30 10:55 AM

---

jinx Wednesday Jun 30 10:56 AM


Especially if bikers are required to stick to roads where there's 3 feet to give.

---

Griff Wednesday Jun 30 11:05 AM

---

jinx Wednesday Jun 30 11:14 AM

Yeah, that'd be great, then I could kayak down the storm drains like I've always wanted...

---

Griff Wednesday Jun 30 11:22 AM

See, everybody wins... most everybody... well a couple people.

The cultural aspect of this is interesting. I remember riding in Ireland and how careful the cars were around cyclists. We got razzed by German cyclists for our helmets and mirrors, items we need in the States because we will get driven off the road or hit with a beer bottle or slapped in the back of the head.

---

jinx Wednesday Jun 30 11:34 AM

People are insane. I drive around in a tank and other drivers make me cringe, I'd be terrified on a bike.
There's this long passing zone on my usual commute, excellent opportunity to go around the many people who like to drive that road 15mph under the speed limit. BUT, people don't like to be passed there for some reason. I often have people try to race, put their high beams on after they've been passed - and not that long ago I had someone swerve at me when I was next to them. Jim happened to be following me home that night.... followed that guy to a shopping center and had words...

---

Griff Wednesday Jun 30 11:44 AM

---

Lamplighter Wednesday Jun 30 11:45 AM

Here in Oregon, cyclists have been politically active and laws were passed giving them protection and "rights" on the roads. Some cyclists have become very "assertive". Drivers are noticing these changes and some are responding poorly.

Portland has had several deaths and so is experimenting with various bike-only routes and bike lanes, especially at intersections where vehicles make turns. The problem is that no matter who has the "right of way", the car always wins.

---

lumberjim Wednesday Jun 30 11:48 AM
chicken shit wouldn't stop his car.... his white chrysler cirrus that if i ever see again......






edit.... wouldn't get out of his car....

I pulled along side him at a light, and MFed him..... then i followed him around some more until i could see him calling someone on his cell phone.....

i was driving a demo, so i decided to let it go.....

---

Happy Monkey Wednesday Jun 30 12:14 PM

Gah, I was in a long line of cars behind one driver who refused to pass a bicycle on my way to work today.

---

monster Wednesday Jun 30 12:41 PM

Lanes are very narrow in the UK ....mind, so are the cars. A Focus is an average-sized car.

(No points to anyone "fixing" lanes to minds in the above statement).

It's been 10 years since I lived in the UK, but I don't remember markings like that being slippy and was suprised here when they were, so I'm guessing they'd be fine. The painted disabled parking spots at my kids' school are like ice rinks. It's insane.

Yes, whole diffeent attitude to cyclist in Europe. And from cyclists. And the roads are more cyclist-friendly -no huge earthquake-like cracks and crater potholes -but that may just be Michigan

---

glatt Wednesday Jun 30 01:57 PM

They have just added a bunch of bike lanes in DC too. DC is fairly bike friendly, for a US city. It's still dangerous, but it's much better than most.

When cyclists are killed, it actually makes the news and people care. Some mysterious person (or persons) puts up memorials every time a cyclist is killed. And if the city removes them, they put another up in the same spot until the city gives up.

This one memorializes a woman run over by a national guard truck a couple blocks from my office this Spring.

---

HungLikeJesus Wednesday Jun 30 02:02 PM

Those are the ghost bikes, I think.

---

xoxoxoBruce Thursday Jul 1 12:34 AM

In Philly, a guy on a bicycle killed a pedestrian, a short time ago.

---

HungLikeJesus Thursday Jul 1 12:54 AMhttp://en.wikipedia.org/wiki/Ghost_bike

---

ToastyOhs Monday Jul 5 11:34 AM

I like to ride. Where I am in Maine you have to ride aggressively or people will not respect your space. We have laws, and "Share the Road" bumper stickers, but people driving a cars seem to instinctively hate cyclists. The last time most of them rode a bike, it had a banana seat and sure as heck didn't go 30 mph.

Also - Sidewalks are for pedestrians and dogs, not bicycles.

---

Lamplighter Monday Jul 5 11:45 AM

---

ToastyOhs Monday Jul 5 12:17 PM

Yes, I agree, but I don't want to have someone put up a memorial for me.

---

Pete Zicato Monday Jul 5 12:31 PM



Cause that would mean I was dead.

---

spudcon Monday Jul 5 03:03 PM

---

Glinda Monday Jul 5 04:47 PM

Seems, whenever he and his older brother were driving around and they'd approach a pedestrian or biker headed the same direction, he'd lean out the passenger window and yell "BANG!" right next to them, as loud as he could.

Couple of guys fell off their bikes, he says.



Ok, ok. If it happened to me, I'd be pissed as hell, but come on. That's FUNNY.

---

classicman Monday Jul 5 05:07 PM

sorry - I've no dog in this fight either, but...




---

Griff Monday Jul 5 08:18 PM

---

spudcon Tuesday Jul 6 08:00 AM

Cats hanging from a snake, bikers getting hurt, and cellarites getting offended. Sheesh. Getting much to serious around here.

---

Griff Tuesday Jul 6 08:16 AM

I'm gonna lighten up. Thanks for the heads up Spud.

---

spudcon Tuesday Jul 6 10:52 AM

All part of the service. I save my sensitivity for politics, usually.

---

Sundae Tuesday Jul 6 02:41 PM
My Dad cycled to and from work for years because we didn't have a car. He'd have split his sides if someone had done that to him.

---

Pete Zicato Tuesday Jul 6 05:37 PM

Illinois just passed a law requiring adequate clearance for cyclists.



http://www.illinois.gov/PressRelease...=1&RecNum=8597

---

xoxoxoBruce Tuesday Jul 6 11:00 PM

Then you either kill 'em, or you have to pay a $2500 fine...hmmm.

---

ZenGum Wednesday Jul 7 09:27 AM

Could be worse.

Attachment 28645

---

Griff Wednesday Jul 7 09:35 AM



not a problem

---

Glinda Friday Jul 9 01:09 PM



It wasn't me. I wasn't there. I'd never do such a thing, and it's not remotely like being hit with a beer bottle, slapped in the back of the head, or run over. The image it conjures up just makes me laugh.

Sheesh.

---

Griff Friday Jul 9 01:53 PM

No. It is the same. Any unexpected action that makes the cyclist hit the pavement is the same.

---

classicman Friday Jul 9 02:01 PM

And the long-term life altering damage it can cause to not only the bicyclist who has fallen, but also his/her caregivers bring no such smirk to my face.

---

Glinda Friday Jul 9 02:05 PM

Well, I guess I'm a horrible human because I laughed at something I imagined.


You all can hate me if it makes you feel better. *shrug*

---

classicman Friday Jul 9 02:08 PM

nope - you aren't horrible. Other people laugh at drive by shootings with paintball guns too. I don't see the humor in that either.


Of course, I'm an opinionated asshole - so take it for what its worth.

---

Griff Friday Jul 9 02:09 PM

I don't hate you Glinda, you're obviously a nice person, that is why your take on this shocked me. I guess people don't know the seriousness of what they're doing when they surprise cyclists.

---

Glinda Friday Jul 9 05:02 PM

Well, as I said, I don't condone it and would never do it. I just imagined the picture in my head and got the giggles.

Don't you ever laugh at Funniest Home Videos when someone does something risky (or even not particularly risky) and ends up getting hurt in a spectacular way? I think you're lying if you say you don't, and laughing does not mean you wanted the guy to hurt himself, nor that you're happy he did. It's the image that makes us laugh, not the reality of the outcome.

Is this image funny?




Yes. But my crotch also cringes in sympathy. I bet it's the same for most people.

Same guy told me another story about his brother. One night, while the brother was fast asleep with one hand hanging off the side of the bed, he crawled beneath the bed and yanked his brother's hand as if he were the monster from every kid's nightmares. Brother has slept firmly wrapped in the bedding ever since.

I laughed like hell at the story, yet again. I also told him he was a son of a bitch for doing this to his brother, and sympathized with the brother for what was done to him, but I still laughed at the image it put in my head.


---
Your reply here?

The Cellar Image of the Day is just a section of a larger web community: a bunch of interesting folks talking about everything. Add your two cents to IotD by joining the Cellar.