xoxoxoBruce Friday Jun 18 12:00 AM

June 18, 2010: Eurofloods

Many parts of Europe a experiencing severe flooding this summer, especially Poland and Spain.
Boston.com has pictures of these floods and the efforts to rescue people and animals.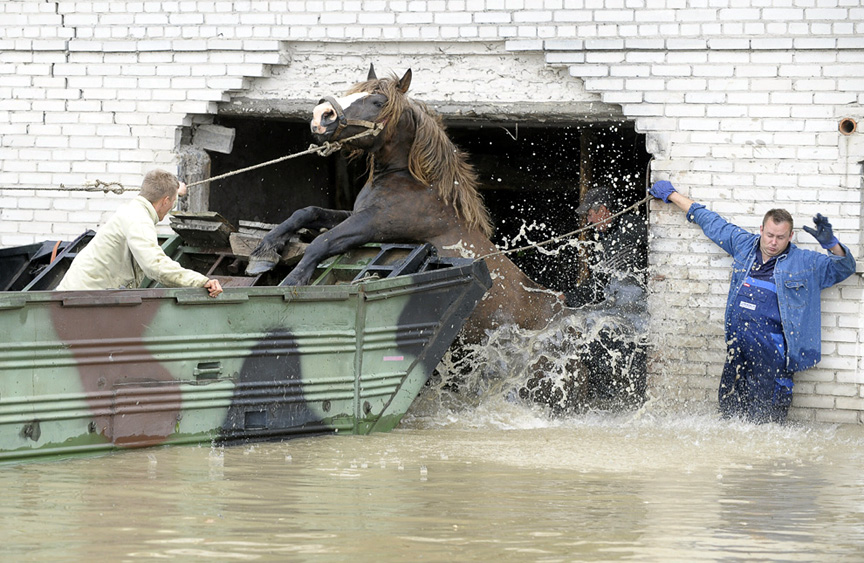 Getting a horse into an amphibious vehicle ain't easy.

---

HungLikeJesus Friday Jun 18 12:09 AM

Doesn't that have a door in the back that they can put down?

---

gvidas Friday Jun 18 01:02 AM

You can lead a horse to the amphibious vehicle, but you can't make him climb in.

---

xoxoxoBruce Friday Jun 18 01:06 AM

---

Antimatter Friday Jun 18 01:28 AM

Ouch! Must be no fun at all with that kind of damage. Seems this guy got lucky, though - he almost looks like he's going to marry his catch

---

xoxoxoBruce Friday Jun 18 01:35 AM

Her constant Carping will drive him crazy.

---

Pearcie (AUS) Friday Jun 18 02:17 AM

That guy really does look wayyyyy too into that fish.

"Why couldn't she be the other kind of mermaid, with the fish part on top and the lady part on the bottom" - Fry (Futurama)

---

crazybuoy Friday Jun 18 02:28 AM

hey

a slop should be provide to hourse to sit in boat.

---

Adak Friday Jun 18 04:23 AM

I'd think twice about putting a very upset 1,200 lb. horse, into a small open boat with me.

---

SPUCK Friday Jun 18 06:39 AM

There is NO way they are going to get that horse into that boat.. The guy on the right is just standing in knee deep water. I think they are just getting it out of that cave.

---

glatt Friday Jun 18 08:37 AM

looks like they made a ramp out of some boards leaned up against the boat over on the left, and the horse slipped off.

---

Shawnee123 Friday Jun 18 09:36 AM

---

newtimer Friday Jun 18 09:56 AM

---

classicman Friday Jun 18 10:14 AM

---

Pete Zicato Friday Jun 18 10:20 AM

Actually, they're trying to take the boat away from the horse. The horse is saying, "Hey, that's my boat."

---

morethanpretty Friday Jun 18 10:45 AM

Its a dolphin.

---

Shawnee123 Friday Jun 18 10:46 AM

---

HungLikeJesus Friday Jun 18 10:52 AM

Those sloppy hourses.

---

Shawnee123 Friday Jun 18 10:55 AM

Really, you can't take them ANYWHERE!

---

classicman Friday Jun 18 11:05 AM

Horse boat repo man
snort!

---

Shawnee123 Friday Jun 18 11:10 AM

I was gonna rent a horseboat at Lake Cumberland a few years ago, but it fell through.



---

Flint Friday Jun 18 12:23 PM

---

Shawnee123 Friday Jun 18 12:29 PM

Please to not make the cuss.

---

Flint Friday Jun 18 12:31 PM

lol

---

Gravdigr Friday Jun 18 02:32 PMnate his catch. Carp,

.

---

monster Friday Jun 18 09:11 PM

.

---

SPUCK Saturday Jun 19 06:27 AM





The horse.. They can swim you know. Why don't they just pull it in the water and if it isn't knee deep, guide it where they want it?

---

xoxoxoBruce Saturday Jun 19 10:23 AM

If you look at the first picture at the link, you'll see it's not knee deep and it's a long way.

---

spudcon Saturday Jun 19 11:06 AM

The pictures in the link are from all over Europe. In the locale of the horse, there are 2 guys standing on somethin knee deep, one in the barn, and Squiggy outside the barn. Not to downplay the disaster, but sometimes Reuters exaggerates things.



---

spudcon Saturday Jun 19 11:14 AM

BTW, be proud of the Cellar. Some of the comments on Boston.com seem to be written by chimpanzees.

---

wolf Saturday Jun 19 02:22 PM

So, when the horse gets to heaven, he asks God why He didn't answer any of his prayers, and so then God says, "I sent you an army truck, a boat, and a helicopter, what were you waiting for?"

---

Griff Saturday Jun 19 06:42 PM

...and then the bar tender asks, "Hey buddy, what's with the long face?"

---

SPUCK Sunday Jun 20 05:52 AM

As for distance.. My Great Grandfather rode a horse across the Columbia River, near Portland! He rode a horse because he couldn't swim.

Why did he do this? It was more desirable than the bullets the sheriff was sending his way. Something about bedding the sheriffs wife.

---

Shawnee123 Sunday Jun 20 07:23 AM

---

Gravdigr Sunday Jun 20 01:09 PM

---

stevecrm Monday Jun 21 10:53 AM

its a one horsepower boat engine

---

Spexxvet Monday Jun 21 02:45 PM

It's a boat battering ram. The horse did its job - it kicked a hole in that wall.

---

spudcon Monday Jun 21 06:42 PM

Damn horse vandals!

---
Your reply here?

The Cellar Image of the Day is just a section of a larger web community: a bunch of interesting folks talking about everything. Add your two cents to IotD by joining the Cellar.