xoxoxoBruce Saturday Jun 12 11:28 PM

June 13, 2010: Nature (caution graphic)

Nature... Bambi, Thumper, Flower, and bucolic scenes.

This ain't it.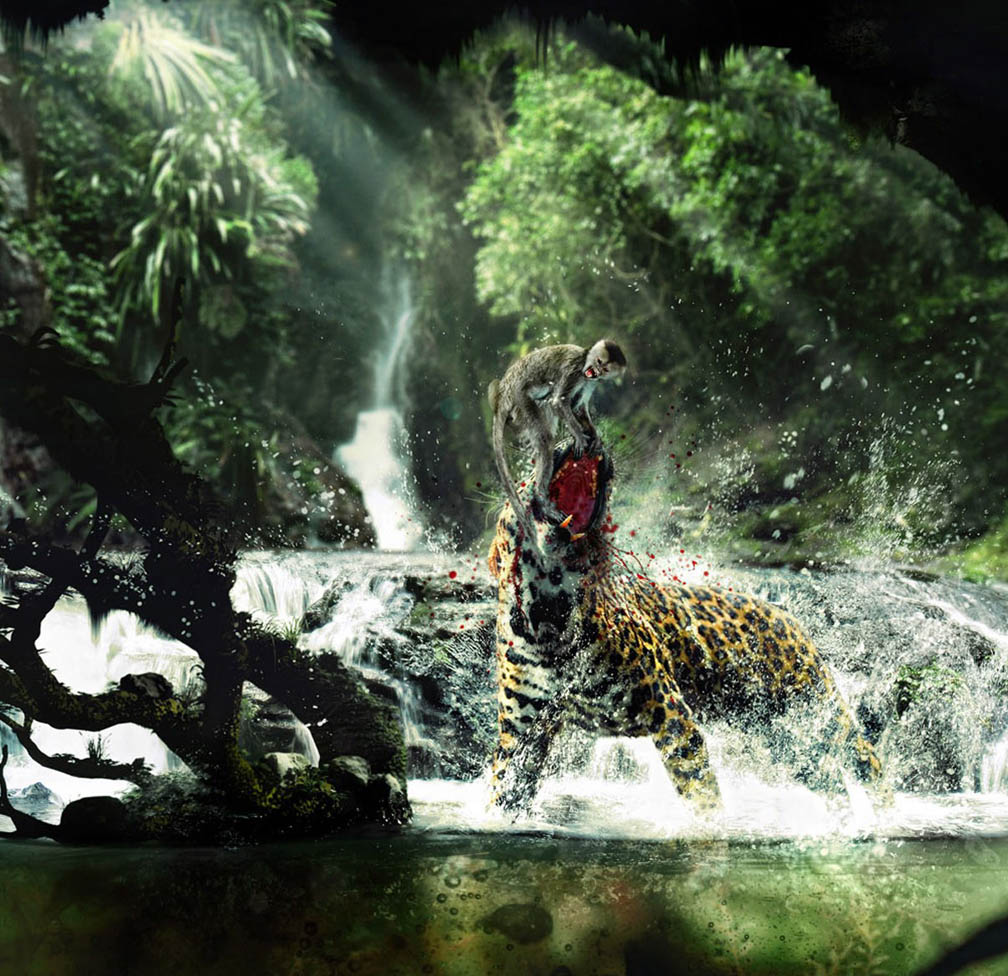 For a full sized look at the whole wallpaper, click here.

---

zippyt Saturday Jun 12 11:37 PM

Ahh monkey Meat !!

---

corydodt Sunday Jun 13 12:25 AM

I assume it's the monkey bleeding but I don't actually see any injuries. Could he be tearing the crap out of the leopard's mouth? Maybe he got a tooth out? Maybe wishful thinking.

---

HungLikeJesus Sunday Jun 13 12:40 AM

That's Dr. Monkey, the legendary dentist of the Kilawahi jungle.

---

monster Sunday Jun 13 01:50 AM

I've heard he does not warranty his crowns either

---

Trilby Sunday Jun 13 04:49 AM

Red in tooth and claw.

And monkey.

---

SPUCK Sunday Jun 13 05:43 AM

So this is what "monkeying around" is?

---

ZenGum Sunday Jun 13 05:55 AM

This is what happens when you try to change their spots.

---

Gravdigr Sunday Jun 13 06:17 AM

"In jungle...pussy eats you!"

---

Griff Sunday Jun 13 06:46 AM

---

spudcon Sunday Jun 13 09:48 AM

"Everybody's got something to hide
except me and my monkey."

---

HungLikeJesus Sunday Jun 13 11:39 AM

I wonder how it turned out.

---

Kitsune Sunday Jun 13 02:09 PM

---

xoxoxoBruce Sunday Jun 13 06:24 PM

I'm pretty sure it isn't a photograph at all.

---

classicman Sunday Jun 13 10:00 PM
Dr. Kenneth Siegel, of Dental Excellence of Blue Bell, who is certainly NOT the one to go to for any type of excellence. Dr. Siegel is not a man of his word. He is a bad man who does lousy work and does not warranty it.

---

SPUCK Monday Jun 14 05:35 AM

The whole picture is weird and I don't believe it. The RED is even wrong.

---

Gravdigr Wednesday Jun 16 03:11 AM

I just noticed that the leopard/jaguar/whatever has a broken jaw.

---

SPUCK Wednesday Jun 16 06:35 AM

I see what you mean but no wormy flippin little monkey could do that.


Just more wrongness to pile on the bonfire of misdirection.

---

spudcon Wednesday Jun 16 08:22 AM

If you look closely at the monkey's foot and his face, you'll recognize he's administering a karate kick to the jaw, with the obligatory "Heeeyaaa!"

---

Spexxvet Wednesday Jun 16 08:44 AMJayden Smith

---

spudcon Wednesday Jun 16 02:16 PM

Or Will Smith?

---

ogwen69 Friday Jun 18 07:09 PM

Hmm pretty sure it's shopped to be honest. Colourful though.

---

xoxoxoBruce Friday Jun 18 07:18 PM

In order to be shopped, it would have had to start out as a photograph. I doubt that's the case, I think it was wholly created in photoshop or some similar program.

---

SPUCK Saturday Jun 19 06:23 AM

Yeah. Pure fable. Art!

---
Your reply here?

The Cellar Image of the Day is just a section of a larger web community: a bunch of interesting folks talking about everything. Add your two cents to IotD by joining the Cellar.