xoxoxoBruce Wednesday Jun 9 12:00 AM

June 9, 2010: Bad Kitties

When good cats go bad...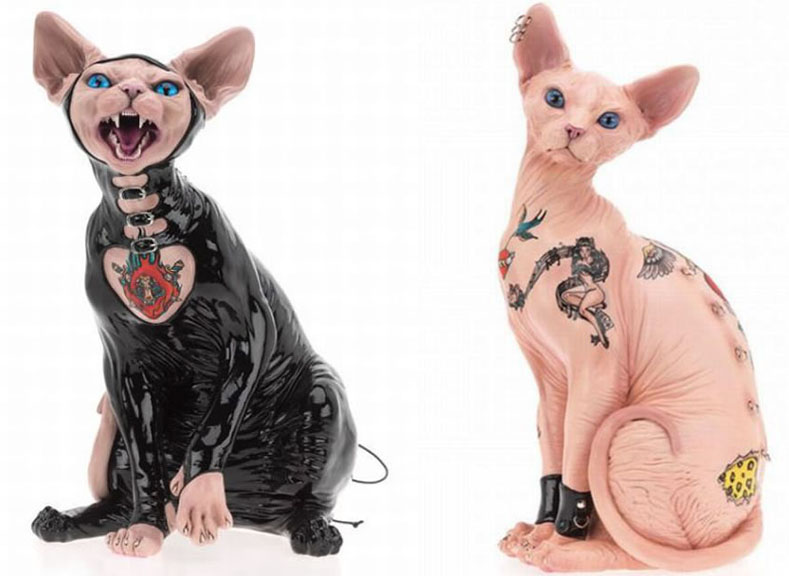 It's midnight, do you know where your kitties are?
Are they out carousing? Hanging out with a bad crowd?
They could end up like these kitties.

---

Cloud Wednesday Jun 9 12:18 AM

A couple of those actually do look real, like the koi one. I think you'd have to sedate the cat to do it. If so, very cruel.

---

spudcon Wednesday Jun 9 08:30 AM

UGH!

---

HungLikeJesus Wednesday Jun 9 08:43 AM

That one on the left has been swimming in the Gulf.

---

ToastyOhs Wednesday Jun 9 11:28 AM

Spray-painted poodles I can deal with. That washes out after a while.

I can't imagine that these cats sign any sort of consent waiver for this sort of operation. Unless they take hissing, spitting, and eyeball clawing as consent.

Perhaps the people who do this will allow me to tattoo one of their children to appease my vanity. How about a goatse on the cheek?

---

Shawnee123 Wednesday Jun 9 11:29 AM

Stick a couple table legs through their ears while you're at it. It's all the rage.

---

jinx Wednesday Jun 9 11:45 AM

The real ink is messed up - no more so than de-clawing though, just more visible.

---

dmg1969 Wednesday Jun 9 12:45 PM

When my wife told me she wanted to get her p*ssy tattooed, I was thinking something TOTALLY different.........

---

spudcon Wednesday Jun 9 01:37 PM

It's not tattoed on, just washoff decorations. It is still disgusting, that cat has enough to deal with being hairless and ugly.

---

Cloud Wednesday Jun 9 01:41 PM

not all of them, spudcon--some are real I think.

and I kind of like the sphinx cats--lovelier than a lot of dogs I've seen, and a boon to those with allergies.

Those Russians need better hobbies, tho

---

Gravdigr Thursday Jun 10 03:59 AM

The cat's in heat again...

---

SPUCK Thursday Jun 10 06:38 AM

Like out of some Sci-Fi novel (Neuromancer).

---

Happy Monkey Thursday Jun 10 04:14 PM

It's a Fremen kitty!

---

lookout123 Thursday Jun 10 04:18 PM

Pierced p***ies rock!

---
Your reply here?

The Cellar Image of the Day is just a section of a larger web community: a bunch of interesting folks talking about everything. Add your two cents to IotD by joining the Cellar.