Undertoad Wednesday May 26 08:42 AM

May 26, 2010: The Hanging Coffins of Sagada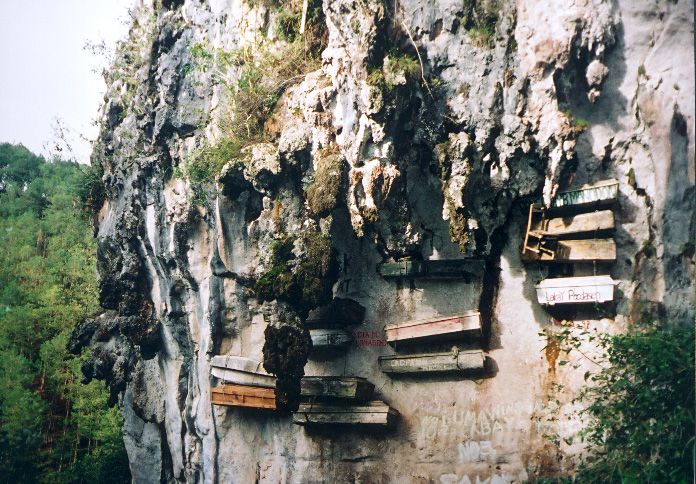 In Sagada, Philippines, they have a funeral tradition dating back 2000 years.

When you get old, you build your own coffin. What a treat! Typically by hollowing out a log. It should be rather small, because it's going to have to be hauled up a cliff. Your family can help in the coffin-building process, which must really be a treat: hey kids, grampa's about to snuff it so get handy with the tools already.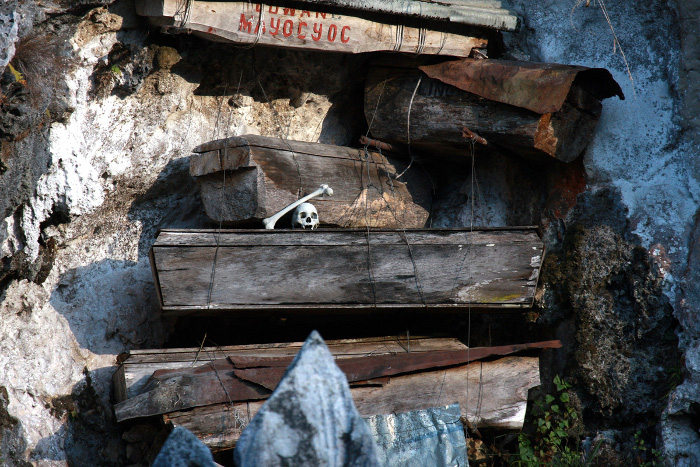 And then once you die, you're packed into the thing - they can break your bones up if you're too big for the box - and you're hauled up the cliffside.

Now, if you're lucky you get a spot hanging on the outside of the cliff.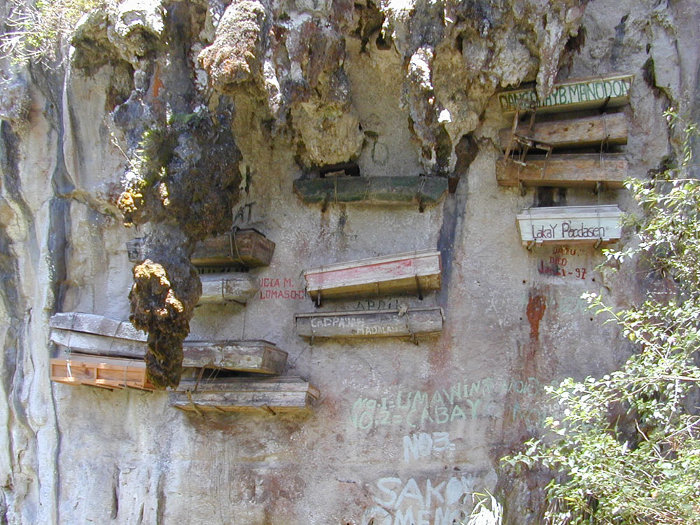 But you may just end of stacked on one of the caves that line the cliff.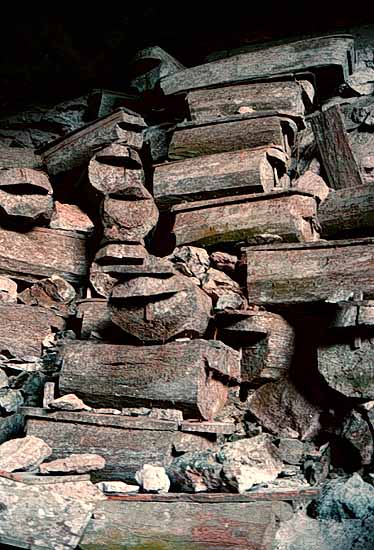 Either way, what a final resting spot. The idea is to get you closer to heaven so the trip is shorter.

I guess, but if your soul can make the ionosphere, the last 500 yards aren't really that much of an extra haul.

debri.ru wikipedia

---

Sheldonrs Wednesday May 26 09:19 AM

A tomb with a view.

---

Trilby Wednesday May 26 09:51 AM

What if you refuse to build your coffin? What are they gonna do? Take your funeral away?

---

glatt Wednesday May 26 10:13 AM

Then they bury you down at the bottom of the canyon, and it's that much harder for you to get up to heaven.

---

Shawnee123 Wednesday May 26 10:49 AM

The floor of the canyon is riddled with the bodies of the decoffinated.

---

Trilby Wednesday May 26 11:03 AM

---

Flint Wednesday May 26 12:14 PM

---

jinx Wednesday May 26 12:16 PM

Did heaven exist 2000 years ago, when they started doing this?

---

squirell nutkin Wednesday May 26 12:24 PM

Yes. The official IPO of heaven was on March 27th -45,678.

---

dmg1969 Wednesday May 26 01:09 PM

One could argue that being old combined with the physical stress that would come with building your own coffin could hasten the need for said coffin.

Make it fun...when the grandkids misbehave, they get to spend 30 minutes hollowing out grandma/grandpa's coffin.

---

spudcon Wednesday May 26 02:08 PM

The punishment for not building your coffin is being kicked off the top of the cliff before your time is up.
The question is, what happens to accident victims or those who die young hanging coffins?

---

squirell nutkin Wednesday May 26 02:16 PM
"See that tree? That's my tree, I want you to get your coffin out of my tree..."

---
Your reply here?

The Cellar Image of the Day is just a section of a larger web community: a bunch of interesting folks talking about everything. Add your two cents to IotD by joining the Cellar.