Undertoad Tuesday May 25 12:43 PM

May 25, 2010: Pink Handfish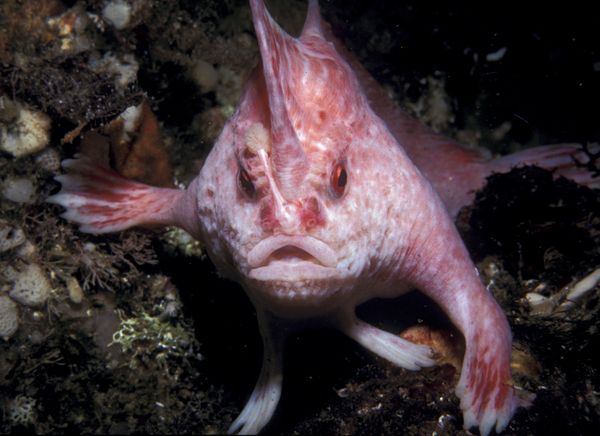 It walks along the ocean floor instead of swimming. It's the elusive Pink Handfish, one of 14 members of the elusive Handfish family.

Because they're fish. With hands. That's it. Do you need a more complicated name?

Anyway, this beast was last seen in 1999 - and only four of them have ever been documented. But scientists have taken until now, the lazy bastards, to grant it official Different Species(TM) status. Maybe it'll show up more now that it has documentation.

Anyway, I've appealed for a rename: the Pink Age-Spotted Ornery Bastard fish with Silicone-Injected Plumped Lips.

NatGeo has the details, and did we mention this doof has only been seen in the vicinity of Hobart, Tasmania.

---

lumberjim Tuesday May 25 12:54 PM

Before I was born late one night,
My Papa said everything's alright
The doctor laughed,when mama laid down,
With a stomach bouncing all around
Mama gave birth to the hand-fish

I could barely walk when I milked a cow
When I was three, I pushed a plow
While chopping wood I moved my legs,
And I started dancing while I gathered eggs
Townfolk clapped, I was only six
he'll out dance em' all
"He's a born hand-fish!"

Oh yeah, yeah, yeah - everybody!

Born to hand-fish, baby,
Born to hand-fish baby- yeah!

How low can you go?
How low can you go?
How low can you go?
How low can you go?

Higher, higher, higher and higher
Now can you hand-fish, baby?
Oh can you hand-fish, baby?
Oh yeah, oh yeah, oh yeah, yeah
Born to hand-fish, oh yeah!

---

Shawnee123 Tuesday May 25 01:03 PM

If you could capture one, you could take it on tour and make money hand over fish.

---

Sheldonrs Tuesday May 25 01:31 PM

I'd change the name to the Pink Edward G. Robinson Fish.

---

Spexxvet Tuesday May 25 03:32 PM

He's a handsome fish.

---

Diaphone Jim Tuesday May 25 03:50 PM

Finger food?

---

Shawnee123 Tuesday May 25 03:53 PM

His nose looks tickly.

---

Sheldonrs Tuesday May 25 06:10 PM

---

monster Tuesday May 25 10:20 PM

That's no handfish! That's Shawnee on a night out making her way to the bar!

---

Shawnee123 Wednesday May 26 08:11 AM

Yeah, look at me! You can dress me up, but you can't ____ (fill in the blank)

glub glub glub

---

ZenGum Wednesday May 26 08:14 AM

So that's where fish fingers come from.

---

HungLikeJesus Wednesday May 26 08:15 AM

Over here we call them fish dicks.

---

Sheldonrs Friday May 28 09:32 AM

---

Shawnee123 Friday May 28 09:34 AM

---

Glinda Friday May 28 12:45 PM

"Pink handfish" sounds like a euphemism for something naughty.

---

toranokaze Friday May 28 01:27 PM

I bet your right there Glinda but if you google it the cellar is the third one down.

---
Your reply here?

The Cellar Image of the Day is just a section of a larger web community: a bunch of interesting folks talking about everything. Add your two cents to IotD by joining the Cellar.