Undertoad Monday May 10 09:14 PM

May 10, 2010: Kanellos the Greek protest dog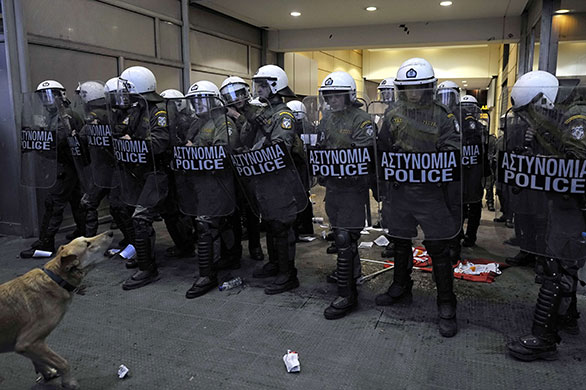 News stories have painted him as a mystery: this same stray dog is said to have shown up at almost every protest in Athens over the last few years. And since there have been so many protests recently, he's been really busy.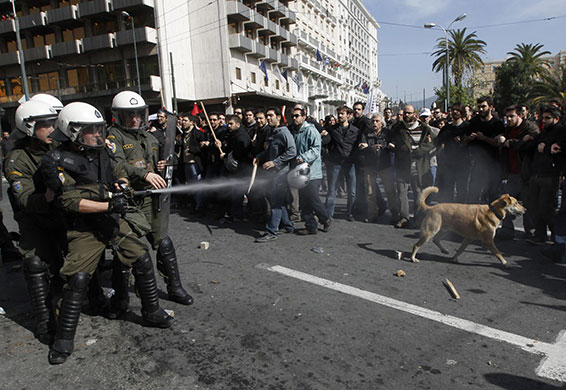 He has a collar, and a name: Kanellos. The stories say he's a stray, and his collar means he's been treated at some public facility. Maybe inoculated for rabies? They say Greece doesn't have rescue facilities and strays are a real problem.

He doesn't try to wharrgarbl at high-pressure hoses... in fact he's kinda nonchalant about it. He's been here before. A seasoned pro.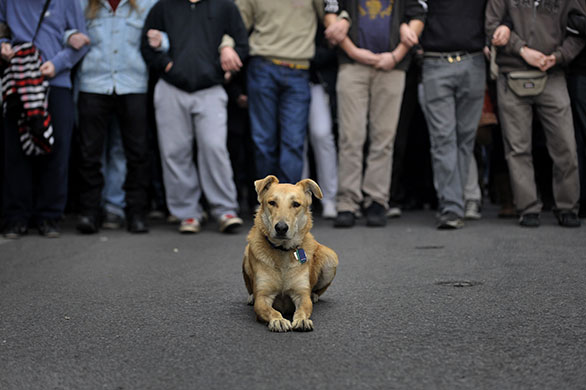 A noble pack leader, perhaps.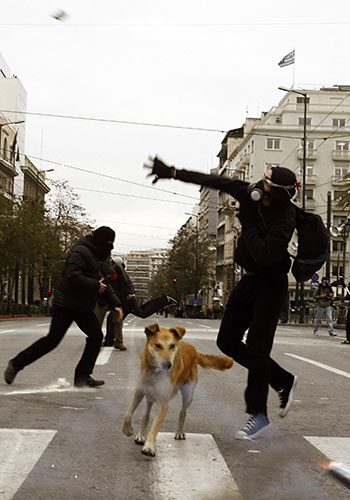 It's kinda sad though. The dogs should avoid where people are throwing things that are on fire.

Guardian gallery

---

toranokaze Monday May 10 10:23 PM

The dog had a lot a capital tied up in Greek debt

---

Gravdigr Tuesday May 11 02:29 AM

Shoulda put all his money in kibble and dingle balls...

---

ZenGum Tuesday May 11 06:28 AM

Obviously a *red* heeler.

---

ToastyOhs Tuesday May 11 09:27 AM

Isn't it obvious? He is being paid in Kibble by the liberal media. This is Obama's real dog, not the fluffy one posing for photo ops. I know this is true, Fox News told me so.

---

Sundae Tuesday May 11 10:38 AM

Aw bless him. It's dog-heaven for a stray; lots of company, allowed to bark and growl all he likes and probably lots of garbage to nose through afterwards.

---

Leus Tuesday May 11 11:48 AM

I read somewhere that the original Kanellos died a while ago.

Back at university there were packs of strays roaming around and they also enjoyed protests. They were treated nicely, well fed and pet by the students. Good times.

---

Cloud Tuesday May 11 11:58 AM

he's an angel, sent from heaven to try to diffuse violence. and we could use a few more of those around here . . .

---

birdclaw Tuesday May 11 01:14 PM

---

spudcon Tuesday May 11 03:54 PM

---

Nirvana Tuesday May 11 05:22 PM

That is a Dingo



this is a red heeler

---

sandypossum Tuesday May 11 07:40 PM

Nup, it cannot be a dingo for two reasons: (1) dingo ears are always erect - they cannot flop them down like other dogs. (2) no trace of baby

---

ZenGum Wednesday May 12 07:08 AM

Lol, it was a joke about being red, as in commie/lefty. I almost went Red Setter, but I'm not certain that's really a breed.

But I'm pretty sure it's not a dingo: it's a bit too chunky, the ears (see above), and it is in Greece. And the baby thing.

---

Nirvana Wednesday May 12 11:24 AM

Being a Dingo was a joke

[bad ear day] My red heeler is not a commie

---

spudcon Thursday May 13 03:52 AM

---

Sundae Thursday May 13 09:03 AM
Wiki says Red Setter is another name for Irish Setter, which makes sense. He needed a lot of exercise, which he got on the school field (now mostly built on

). Trusted children in 4M (11-12 year olds) were allowed out of lessons to throw ball for him. Ah the good old days.

---

SPUCK Friday May 14 06:14 AM

Irish Setters = The dumbest dogs on earth.

---

xoxoxoBruce Friday May 14 08:56 AM

I think you're right, I've seen one run herself to death.

---

Clodfobble Friday May 14 09:46 AM

[meaningless trivia]It's also the only dog with a confirmed species-wide genetic intolerance to gluten.[/meaningless trivia]

---

ZenGum Friday May 14 10:38 AM

So, ahh, would finding the genetic cause of gluten intolerance in Irish Setters be kinda interesting to someone already interested in gluten intolerance in humans?

---

Clodfobble Friday May 14 11:50 AM

It's just a side note, really. That's the thing about genes. You can identify the specific gene, but once you know it's there, there's nothing much you can do about it. At least until we get those DNA-replacing nanoviruses up and running.

---

xoxoxoBruce Friday May 14 01:23 PM

I wonder if my friend's Irish Setter ran herself to death, because of the peanut-butter crackers, or the beer?

---

casimendocina Saturday May 15 10:04 AM

---

classicman Saturday May 15 07:16 PM
Link
Link
Boxers - I dunno.

---

wolf Saturday May 15 07:33 PM

re: Boxers.

Going through a screen door rather than waiting patiently for a human to help like a normal dog does not necessarily mean they are stupid.

---

ZenGum Saturday May 15 09:41 PM

That's not stupidity, that's efficiency.

---

spudcon Sunday May 16 05:52 AM

Golden retrievers are so smart, they'll play stupid to get out of an activity they don't want to do, or to fake you into allowing behavior you don't approve of.

---

spudcon Sunday May 16 05:54 AM

BTW, Did the boxer that went thru the screen door strain himself?

---

SPUCK Sunday May 16 06:34 AM

---

casimendocina Sunday May 16 07:34 AM



Has anyone seen the out-takes bit on Marley and Me where they had to do 6 million takes to get the puppy to jump straight through the screen door? The one where the golden retriever puppy almost made it through and bounced off the wire was hilarious-much funnier than what made it into the movie.

---
Your reply here?

The Cellar Image of the Day is just a section of a larger web community: a bunch of interesting folks talking about everything. Add your two cents to IotD by joining the Cellar.