xoxoxoBruce Thursday Apr 8 12:00 AM

April 8, 2010: Baubotanical Tower

Say your kid wants a tree house, and you're not keen on ladders.
Where there's a will, there might be an alternative... grow one.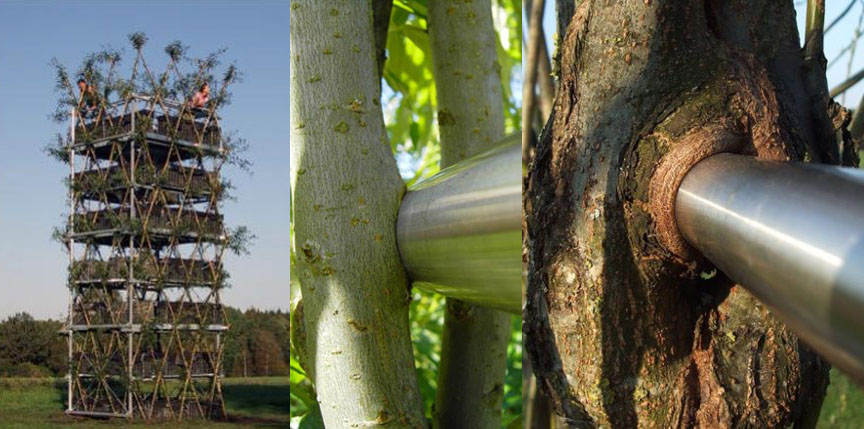 Quote:

Basically, the tower consists of a framework-like structure made of several hundred young, only two meters high plants (White Willow/salix alba). Only the plants at the ground are planted in the soil, all others are rooted in plant containers, plugged in a temporary steel scaffolding. Thereby the architects make use of a quite old technique: Plants of the same species can be merged to one organism by methods similar to grafting.

After several growth periods, when the plants have joined and those at the bottom have developed a sufficient root system in the ground, the plant containers will be removed. As part of his PHD studies, Ferdinand Ludwig from the Research Group could show that and how this grafting method works.

In the current year, the plants will sprout out and form a green wall, and in the course of the following development the at the moment very delicate stems will become thicker and thicker by secondary growth. When the living structure is solid enough to carry the load of the three zinc-coated steel platforms and the working load, the scaffolding will be removed.

Your kid might lose interest, however...



Quote:

How much time the whole process will take depends on many factors and will be investigated at this tower building – a time period between 8 and 10 years is estimated.

link

link

---

Flint Thursday Apr 8 12:03 AM

Want.

---

Clodfobble Thursday Apr 8 12:40 AM

It's like that other IOTD where the tribes trained the trees to grow into bridges, except vertical.

---

xoxoxoBruce Thursday Apr 8 12:48 AM

Yup, except they were using roots.

---

Sundae Thursday Apr 8 07:18 AM

That's not a treehouse. That's a sniper platform.

---

monster Thursday Apr 8 08:53 AM

Do Not Want. Looks like shitty modern architecture. Call me in 20 years when the scaffolding has gone and nature has taken back control.

---

SamIam Thursday Apr 8 12:06 PM

I guess the grandkids would like it.

---

Gravdigr Thursday Apr 8 04:18 PM

Patience. I don't haz that much.

---

Cloud Thursday Apr 8 04:28 PM

they have actual trees out there--why stick a ugly virtual one up? ???

---

Shawnee123 Thursday Apr 8 06:29 PM

I think it's baubolicious! I want to play!

---

monster Thursday Apr 8 07:17 PM



.

---

Sperlock Thursday Apr 8 10:29 PM

Eye of Sauron not included.

---

xoxoxoBruce Thursday Apr 8 11:43 PM

Quote:

Originally Posted by

Cloud

they have actual trees out there--why stick a ugly virtual one up? ???

When it matures, and they take the scaffold out, it won't be virtual. If you read the link, it tells you this is an experiment to see if it can be done, if they can create living space from natural growth.

---

Clodfobble Friday Apr 9 01:56 PM

What I don't understand is, how will they remove the scaffolding? Looks like the tree is growing all the way around the bars.

---

xoxoxoBruce Saturday Apr 10 02:29 AM

No, the bars grown into the trees are the frames for the floors, they will stay attached. The scaffolding is inside/outside the living structure and can be dismantled.

---

DanaC Saturday Apr 10 07:13 AM

Ooooh. What a wild idea.

I must show this link to my bro (tree-house builder extraordinaire!) he'll be fascinated.

---
Your reply here?

The Cellar Image of the Day is just a section of a larger web community: a bunch of interesting folks talking about everything. Add your two cents to IotD by joining the Cellar.