What's IotD?

The interesting, amazing, or mind-boggling images of our days.
xoxoxoBruce Wednesday Apr 7 12:24 AM

April 7, 2010: Space Storm

A huge space storm of the Sun's coronal mass ejection, whacked to Earth on Monday. As a result there were beautiful Auroras around the world.

This is what it looked like, from the International Space Station flying through it, at 17,500 mph.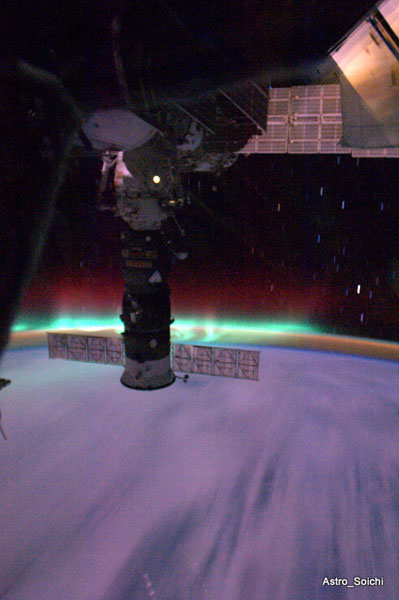 Quote:

On 3 April, the SOHO spacecraft spotted a cloud of charged particles called a coronal mass ejection (CME) shooting from the sun at 500 kilometres per second. This velocity suggested the front would reach Earth in roughly three days.
"It hit earlier and harder than forecast," says Doug Biesecker of the US National Oceanic and Atmospheric Administration's Space Weather Prediction Center in Boulder, Colorado. Fortunately, the storm was not intense enough to interfere strongly with power grids or satellite navigation, but it did trigger dazzling auroras in places like Iceland.

The science of it all is a little mind boggling, but it looks cool.

link
link
---

classicman Wednesday Apr 7 09:36 AM

It's over my head.

---

Sheldonrs Wednesday Apr 7 09:47 AM

---

spudcon Wednesday Apr 7 01:42 PM

When I was a boy, I once had a mass ejection that whacked to earth also.

---

Sheldonrs Wednesday Apr 7 02:25 PM

Quote:

Originally Posted by

spudcon

When I was a boy, I once had a mass ejection that whacked to earth also.

You must have been a spunky kid.

---

Cloud Wednesday Apr 7 03:21 PM

a Lightning Storm in Space? better watch out for Romulans!

---

Pie Wednesday Apr 7 03:39 PM

If you want to cower under your bed in fear, read up on the Carrington Event.

Then think about what it would do to us today.

Then read this:


Quote:

Originally Posted by NS

The good news is that, given enough warning, the utility companies can take precautions, such as adjusting voltages and loads, and restricting transfers of energy so that sudden spikes in current don't cause cascade failures. There is still more bad news, however. Our early warning system is becoming more unreliable by the day.

By far the most important indicator of incoming space weather is NASA's Advanced Composition Explorer (ACE). The probe, launched in 1997, has a solar orbit that keeps it directly between the sun and Earth. Its uninterrupted view of the sun means it gives us continuous reports on the direction and velocity of the solar wind and other streams of charged particles that flow past its sensors. ACE can provide between 15 and 45 minutes' warning of any incoming geomagnetic storms. The power companies need about 15 minutes to prepare their systems for a critical event, so that would seem passable.

However, observations of the sun and magnetometer readings during the Carrington event shows that the coronal mass ejection was travelling so fast it took less than 15 minutes to get from where ACE is positioned to Earth. "It arrived faster than we can do anything," Hapgood says.

There is another problem. ACE is 11 years old, and operating well beyond its planned lifespan. The onboard detectors are not as sensitive as they used to be, and there is no telling when they will finally give up the ghost. Furthermore, its sensors become saturated in the event of a really powerful solar flare. "It was built to look at average conditions rather than extremes," Baker says.

He was part of a space weather commission that three years ago warned about the problems of relying on ACE. "It's been on my mind for a long time," he says. "To not have a spare, or a strategy to replace it if and when it should fail, is rather foolish."

There is no replacement for ACE due any time soon. Other solar observation satellites, such as the Solar and Heliospheric Observatory (SOHO) can provide some warning, but with less detailed information and - crucially - much later. "It's quite hard to assess what the impact of losing ACE will be," Hapgood says. "We will largely lose the early warning capability."

DEATH FROM SPAAAAACE!

---

xoxoxoBruce Wednesday Apr 7 06:47 PM

Might save Toyota's ass.

---

spudcon Wednesday Apr 7 11:16 PM

Kinda makes the global warming scare seem like kid's stuff. This is a real possibility, given that solar maximums happen every eleven years.

---
Your reply here?

The Cellar Image of the Day is just a section of a larger web community: a bunch of interesting folks talking about everything. Add your two cents to IotD by joining the Cellar.