xoxoxoBruce Sunday Apr 4 12:16 AM

April 4, 2010: Drought

The shifting of weather patterns have brought floods, and drought, to various parts of the globe.
Parts of China have been suffering from a severe drought, causing crop failures in the rural areas, and dust storms in Beijing.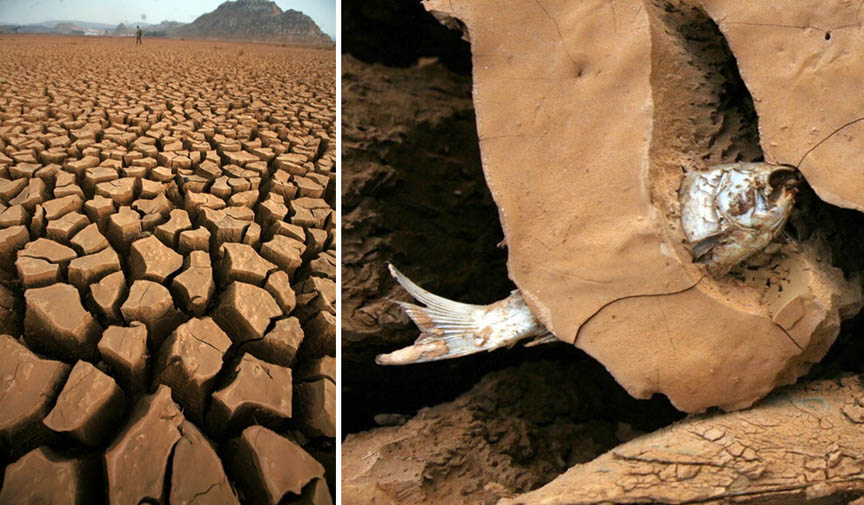 Quote:

Out of the water-rich Nanchang, hometown news, Qujing city yesterday to local drought now Luliang County town of Dege Hai Zi Mo Reservoir. In front of all to my mind startled. This originally had 1.6 million cubic meters of reservoir water has now dried up bottom, a shocking article palm crack width. Crack depths up to half a meter of soil.
"This lake has never dried up after 40 years." Lao Zhang sighed village, the lake dried up, the villagers took away the lake's big fish, many fish drilling mud, and finally die slowly as the water evaporation , see people sad ... ...

You probably noticed that is a Google translation.

link

---

SPUCK Sunday Apr 4 05:26 AM

Wasn't the 3 gorges damn supposed to fix all that dryness?

---

Trilby Sunday Apr 4 07:45 AM

um. Ew.

---

Shawnee123 Sunday Apr 4 08:48 AM

That texture gives me the willies. Like a holey suspended ceiling does.

---

richlevy Sunday Apr 4 10:51 AM

This is probably what Lake Mead near Las Vegas will look like in 10 years.

---

SamIam Sunday Apr 4 11:41 AM

" Tencent called on friends for the love of the water poured into arid children"

相关新闻:

This sounds very sad even tho I don't understand it.

---

Shawnee123 Sunday Apr 4 11:56 AMvery sad.

---

squirell nutkin Sunday Apr 4 03:28 PM

I hate that, when I get stuck in mud and it dries around me and then I die. I really it when that happens...

---

monster Sunday Apr 4 07:05 PM

Second pic looks like a clay elephant caught a fish

---

Gravdigr Tuesday Apr 6 05:25 PM

The fish pic is outfuckingstanding. But, I wonder why the fish didn't rot away? It couldn't get that arid that fast, for there not to be enough moisture to begin rottage. Could it?

---

Cloud Tuesday Apr 6 05:48 PM

didn't we have another post about this? Where the kids got lost in the dust storm?

ETA: hmm. cannot find. I think it was a Time article--very horrific. The dust storms were so bad, that kids got lost and died walking home from school.

---

jinx Tuesday Apr 6 05:51 PM

The photoshop generation is skeptical of everything they haven't seen with their own eyes.

---

squirell nutkin Tuesday Apr 6 06:03 PM

"Believe none of what you hear and only half of what you see"

Vermont saying

---

Gravdigr Wednesday Apr 7 04:15 AM

Quote:

Originally Posted by

jinx

The photoshop generation is skeptical of everything they haven't seen with their own eyes.

I didn't say they shopped the pic. Weather control. That's what I'm saying!

---
Your reply here?

The Cellar Image of the Day is just a section of a larger web community: a bunch of interesting folks talking about everything. Add your two cents to IotD by joining the Cellar.