xoxoxoBruce Saturday Mar 27 01:19 AM

Mar 27, 2010: Oh Deer

I don't know where this picture was taken, but if you find them I'm sure they would be tasty.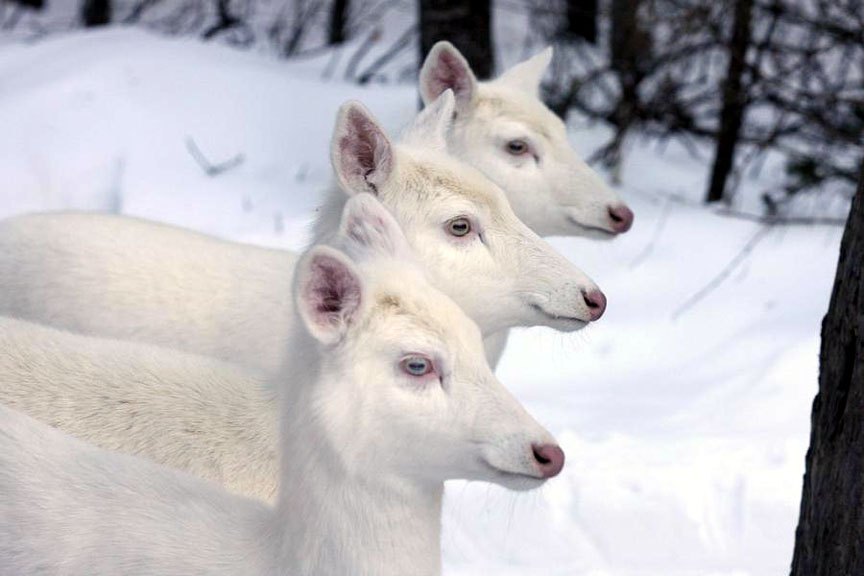 ---

Adak Saturday Mar 27 08:04 AM

Breeding Albino Deer?

Ya gotta feel sorry for the deer. Not only are they extra prone to cancer from the sun, but they're probably very inbred, as well.

Plus, I'm sure that noise I'm hearing is some Cellarites sharpening their steak knives and fixing up the BBQ.

Sure sucks being on the low end of the food chain!

---

Trilby Saturday Mar 27 11:14 AM

It's all done with mirrors and a large bottle of peroxide.

---

spudcon Saturday Mar 27 11:29 AM

I'm not sure they're deer. Neck is short, eyes are different. Maybe they're chupacabra in disguise.

---

Slight Saturday Mar 27 12:19 PM

hmmm, because they have no pigmentation -- the rectangular pupils are much more pronounced. They really look like goats here, but normal deer have very dark pupils so you don't notice the shape.

---

lumberjim Saturday Mar 27 12:22 PM

Deer are Caprine. split hooves, oval pupils.

or so I always thought.

I had never heard the term 'Cervine'





---

skysidhe Saturday Mar 27 12:23 PM

not your average African animal



El Chupacabra

Name: El Chupacabra
Nickname: Chupa
Alias: El Vampiro de Moca
Closest "known" relative: Jersey Devil
Height: 4.5 to 5.5 feet
Weight: unknown
Eyes: very large, often red
Build: quasi-simian-kangaroo-reptile
Likes: goats, chickens, cows, horses, dogs, cats, ducks, travel
Dislikes: bright, shining lights
Favorite hangouts: Guanica, Puerto Rico; Canovanas, Puerto Rico; Klamath Falls, Oregon; Miami, Florida; Calama, Chile; Juarez, Mexico; Sonora, Mexico
OREGON!?

---

xoxoxoBruce Saturday Mar 27 04:34 PM

The pupils are probably distorted because the sun and snow make it very bright.

---

Griff Saturday Mar 27 05:18 PM

---

richlevy Saturday Mar 27 05:30 PM

---

Gravdigr Saturday Mar 27 05:49 PM

Mmmmmmmmmmmm....White meat.

---

Gravdigr Saturday Mar 27 05:59 PMwhitetail deer.

Just for reference, this is what most taxidermists use for a whitetail:

---

Gravdigr Saturday Mar 27 06:03 PM

And...(just because)

---

spudcon Sunday Mar 28 01:11 AM

They're smiling because they all farted at the exact same time.

---

classicman Sunday Mar 28 10:23 AM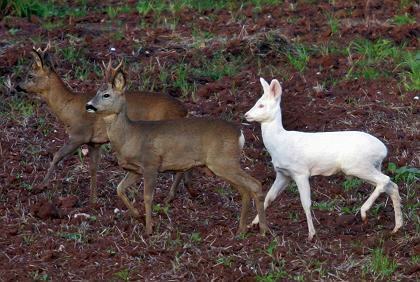 ---

Pete Zicato Monday Mar 29 10:53 AM

You think the white ones are discriminated against by the brown ones?

---

treehugger Monday Apr 12 04:02 PM

---

lumberjim Monday Apr 12 04:20 PM

what are you at sea?

---

Gravdigr Thursday Apr 15 03:46 PM

---
Your reply here?

The Cellar Image of the Day is just a section of a larger web community: a bunch of interesting folks talking about everything. Add your two cents to IotD by joining the Cellar.