xoxoxoBruce Friday Mar 12 12:28 AM

Mar 12, 2010: Foxes

Foxes around here are in bad shape, between rabies and competition with bigger stronger coyotes. Apparently in Britain they are doing quite well, though.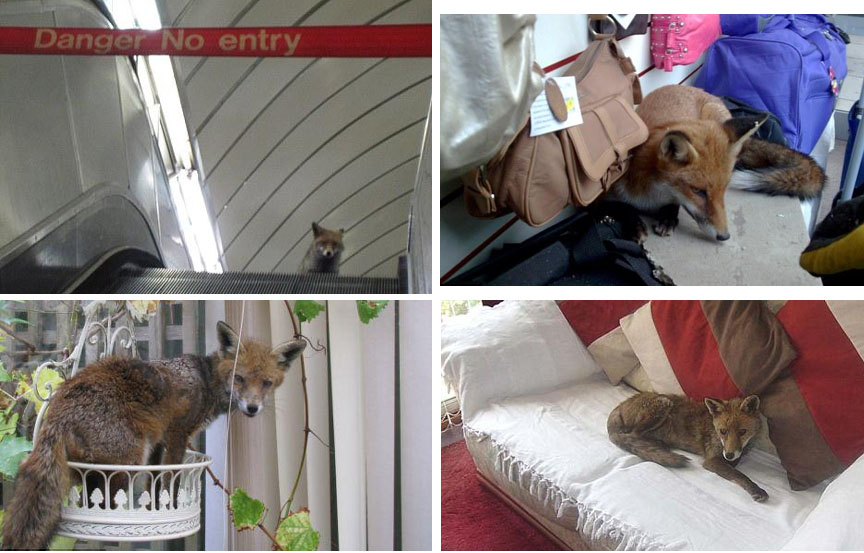 Foxes being small, rely on their speed and smarts to survive. Having lived close to humans for some time, they know we are slow and dumb, so they have a healthy respect, but not the fear, of humans, you'd expect from a wild animal.



link
---

Juniper Friday Mar 12 12:43 AM

There are a lot of foxes around here where I live. I see them all the time. They are not very friendly though!

---

ZenGum Friday Mar 12 07:16 AM

Foxes do well in most parts of Australia, cities included, having been released for hunting purposes about 150 yeas ago.

---

CzinZumerzet Friday Mar 12 10:14 AM

I live in the town where the fox fell through the ceiling of the indoor market and landed in the bag display, unharmed and apparantly unperturbed. The family of foxes live in the false roof space above the market complete with cubs and come out at night to forage for food. There is no shortage of that. This is a seaside resort town and fast food is everywhere, and I mean everywhere. People drop food where they stand once they have stuffed themselves to capacity and seagulls and foxes feast with ease.

Of course its a long story about urban foxes having moved in from the non-existant countryside and living with ease off the fat of the land, and McDonalds.

The fox in the market is still there by the way but they have repaired the hole in the ceiling.

---

Pie Friday Mar 12 10:23 AM

We have a red fox in our neighborhood that used to run through our back yard on a regular basis (before we had the yard fenced).

The fence keeps out deer (very good!) but it also keeps out foxes, garden snakes and other predators (bad).

---

Trilby Friday Mar 12 10:51 AM

---

monster Friday Mar 12 10:58 AM

Cut into 1 inch cubes, marinade in red wine, skewer and char-grill, then served drizzled in ginger sauce with curls of lemon rind.

Or mince and sell to McDonalds.

---

Spexxvet Friday Mar 12 11:42 AM



---

Shawnee123 Friday Mar 12 11:50 AM

Oh wow...remember this movie?

---

Trilby Friday Mar 12 12:11 PM

Cherie Currie!

---

dmg1969 Friday Mar 12 12:49 PM

<snip>"...as the fox nestled between some handbags and allowed itself to be petted."

You Brits have no fear of rabies?

---

squirell nutkin Friday Mar 12 01:01 PM

♪♫ "Little foxes, on the hill side,
Little foxes, made of ticky tacky,
And they all live together
And they all look just the same..."
♫♪

---

glatt Friday Mar 12 01:03 PM

♫♪ And the little ones chewed on the bones-o ♫♪

---

jinx Friday Mar 12 01:09 PM

I see a lot more dead ones than live around here unfortunately. Usually roadkill.

---

monster Friday Mar 12 01:18 PM

---

lumberjim Friday Mar 12 08:54 PM



I've always thought foxes were part dog and part cat.

---

SPUCK Saturday Mar 13 06:35 AM
That's right! You have the Black Plague instead.

---

Griff Saturday Mar 13 08:01 AM

---

lumberjim Saturday Mar 13 09:42 AM



---

skysidhe Saturday Mar 13 10:02 AM

The fox dive was amazing.

---

Gravdigr Saturday Mar 13 04:18 PM

---

spudcon Saturday Mar 13 08:54 PM

---

Gravdigr Sunday Mar 14 01:24 AM

I could prolly stand it for at least a week. I mean, shit, it's Jimi Fuckin' Hendrix!

---
Your reply here?

The Cellar Image of the Day is just a section of a larger web community: a bunch of interesting folks talking about everything. Add your two cents to IotD by joining the Cellar.