xoxoxoBruce Saturday Mar 6 11:58 PM

Mar 7, 2010: Serious Duck Blind

Honey, I've been cooped up with the wet dog, in that cramped little boat, since way before sun up.
I sure am tired and sore... would you mind cleaning the ducks, please?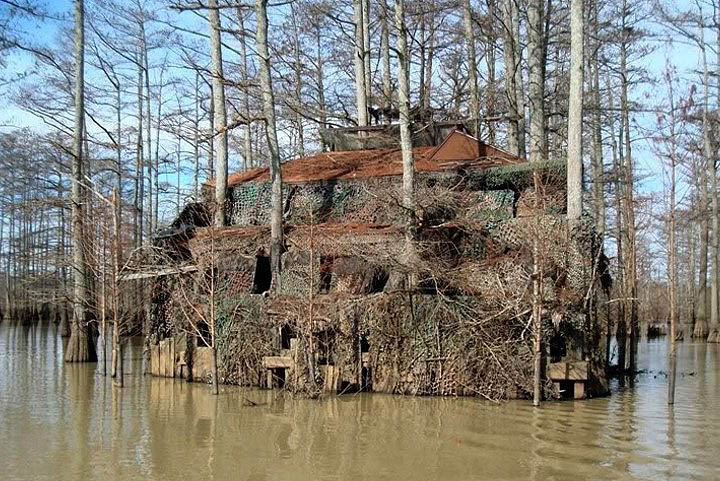 Quote:
Serious duck blind, Louisiana (of course), 3 stories…
~1st level hides 4 boats underneath and has room for 2 hunters and 2 dog doors.
~2nd level has a full kitchen with fridge, 2 stoves, electricity for lights, living room with 2 couches and satellite TV,
... theater seats around the "porch of the blind" to shoot 14 guys comfortably.
~Side porch has a running toilet, stainless steel grill for cooking whole rib eyes for lunch.
...All the mojos and mallard machines are hard wired to car batteries.
~3rd level is the "crows nest" with room for 3 It's about 25' up in the trees and most of the time you are cutting down on the ducks.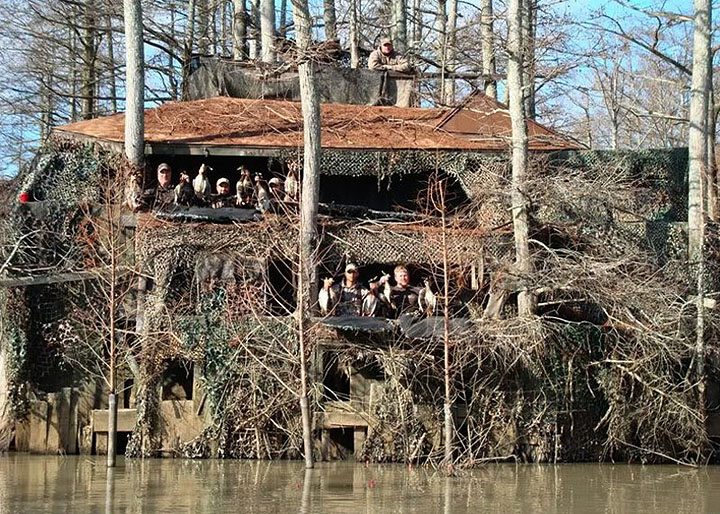 Oh and Honey, before you clean the ducks, get me a beer.



A reader sent this in to a very NSFW website, in Australia, so I copied the entire text here.

---

cabbagepulley Sunday Mar 7 04:39 AM

"Hey Dad, look at the fort I built!"

---

newtimer Sunday Mar 7 11:05 AM

Does anybody else suspect that the "running toilet" on the side porch consists of no more than seeing how far off the balcony you can pee into the swamp?

---

xoxoxoBruce Sunday Mar 7 12:15 PM

I doubt it, I'll bet there's a flush toilet with squeezably soft tissue. I just wonder where it flushes to? Remember the dogs are in and out of that water constantly, while they are retrieving ducks.

---

rditlkustoleit Sunday Mar 7 04:09 PM

It quacks me up how ducked up that is.


______________________

If we're not supposed to eat animals, why are they made out of meat?!

---

Cloud Sunday Mar 7 04:13 PM

don't you have to be quiet in order not to scare the ducks away? looks like a recipe for rowdiness to me

---

Gravdigr Sunday Mar 7 04:44 PM

At best, it's a time share with the snakes.

---

ZenGum Sunday Mar 7 05:51 PM

A lair like that needs a more evil and megalomaniac purpose than merely blowing away defenseless little birdies. Some kind of global-domination plot or something.

"Come in, Mr Bond, we have been expecting you. Mind the alligators."

---

Sheldonrs Sunday Mar 7 06:17 PM

This is what happens when you give crack to beavers.

---

ZenGum Sunday Mar 7 06:51 PM

Is that why you so carefully avoid both? :p

---

Elspode Sunday Mar 7 11:00 PM

Heh. Heh heh. You said crack *and* beavers.

So, correct me if I'm wrong, but if twenty dudes let loose with 12 gauges on a relatively small number of ducks, isn't it pretty much just going to end up as a cloud of red spray and feathers?

---

Sheldonrs Tuesday Mar 9 08:33 AM

---
Your reply here?

The Cellar Image of the Day is just a section of a larger web community: a bunch of interesting folks talking about everything. Add your two cents to IotD by joining the Cellar.