Agent-G Friday Mar 5 09:26 PM

Mar 6, 2010: 1961 - Surgeon does self-surgery

I saw this story on another site, searched it here and couldn't find it, but thought it would be a good submission to the Cellar.

In early May 1961 a Russian surgeon named Leonid Ivanovich Rogozov was the only medical personal on a mission to the Antarctic to build a new base. On this mission, Rogozov diagnosed himself with acute appendicitis. Being the only surgeon in a remote location gave him little option; he had to preform the surgery himself or die.

I can't even imagine having steady hands while operating on myself.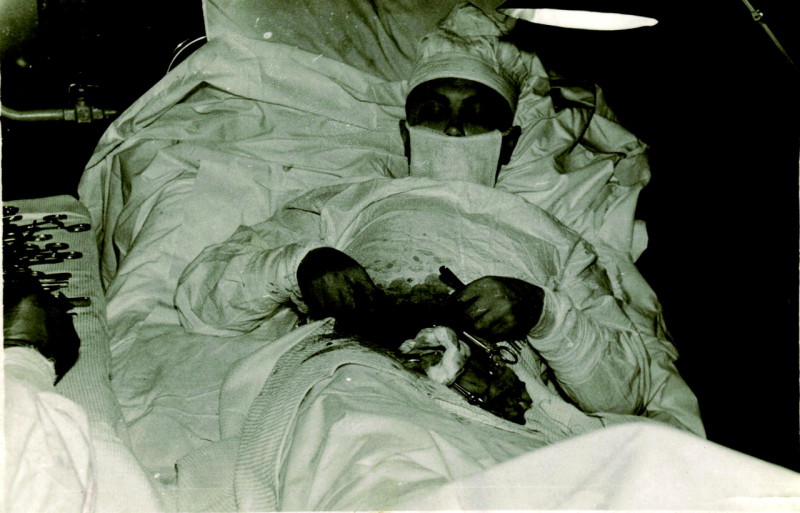 link - http://www.bmj.com/cgi/content/full/339/dec15_1/b4965

---

Nirvana Friday Mar 5 11:03 PM

Truly amazing!

---

ZenGum Saturday Mar 6 01:32 AM

That took a lot of guts.


In Soviet Russia, not need capitalist bourgeois doctor to take out appendix.


Seriously, an appendectomy is relatively simple; I'm surprised he didn't teach someone else how to do it. Or maybe there was an assistant on standby.

---

rditlkustoleit Saturday Mar 6 02:42 AM

True intestinal fortitude!

_________________________

If we're not supposed to eat animals, why are they made out of meat?!

---

SPUCK Saturday Mar 6 05:50 AM

How did he see?? I'd expect a mirror or something.

---

Trilby Saturday Mar 6 06:30 AM

"Ok, I'll do it, but I'm going to need a LOT of pain meds after."

---

Griff Saturday Mar 6 07:52 AM

Wow, nice find Agent-G. Well played Leonid.

---

newtimer Saturday Mar 6 08:22 AM

"Quick, Ivan, I need a clamp right here. Now. NOW! (sigh) Dammit, would you put down that frakkin' camera and look at where I'm pointing?!?"

---

Adak Saturday Mar 6 08:31 AM

No smoke, however!



It made the image backward, so he worked mostly by touch, he said, and without gloves.

---

richlevy Saturday Mar 6 08:44 AM

It's a lot easier than performing your own circumcision.

BTW, he got himself a wiki page.



I still give more points to the guy who wasn't a surgeon, had to cut off his own leg while alone, and then go for help.

---

Gravdigr Saturday Mar 6 03:30 PM

I wonder if was his own 'preferred provider'. Or did he have to pay himself, and wait for a reimbursement?

---

Kolbenfresser Saturday Mar 6 05:56 PM

neither a surgeon nor surgery...

I like this one, although it was neither a surgeon nor surgery:

Surgical Procedure: Amputation of Right Arm
In September of 2007 Parker a Farmer from South Carolina was harvesting corn when some stalks got stuck in a set of rollers that shuck the cut corn. He reached in the still-running machine to pull the stalks out and the rollers grabbed first his glove and then his hand. Parker tried yelling for help, but there was no one near the isolated field in Kershaw County. For more than an hour, he tried to pull his hand free, only to have it pulled ever further into the machinery. He was able to reach an iron bar and jam it into a chain-and-sprocket that drove the rollers, and, with his fingers growing numb he pulled out a small pocketknife and started to cut his own fingers off to free himself. Before he could do that the sprocket grinding against the rod he'd jammed in it threw off sparks and set the ground litter on fire. Parker then knew he had to cut his arm off or die right there. Parker credits the fire with keeping him from passing out from the shock of cutting through his arm. When he got down to the bone, he dropped onto the ground, using the force of his own weight to break the bone and free him from the machine. When he was finally loose he got in his pickup truck and started driving his truck into the middle of the road to force a car to stop. Finally a motorist stopped and a rescue helicopter was called in to take him to a hospital. Parker spent three weeks in a burn center before going home.

Interesting Fact: While he was recuperating, about 25 of his neighbors got together to finish harvesting his corn.

http://listverse.com/2008/12/09/top-...elf-surgeries/

---

SamIam Saturday Mar 6 07:58 PM

Wow! Gives a whole new meaning to critters that gnaw their foot out of a trap.Humans can do it too.

---
Your reply here?

The Cellar Image of the Day is just a section of a larger web community: a bunch of interesting folks talking about everything. Add your two cents to IotD by joining the Cellar.