xoxoxoBruce Saturday Feb 27 12:03 AM

Feb 27, 2010: Narrow House

Stormieweather thought you might be as fascinated as she is, by this narrow house.
It certainly would require a huge change of lifestyle for most people...
especially a family of four.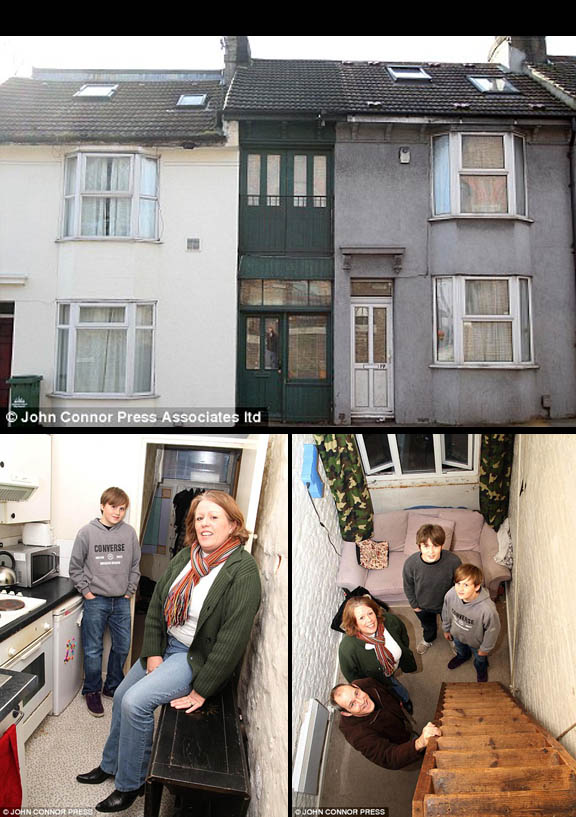 Quote:

Anyone who claims you can't cram a quart into a pint pot should visit the house owned by Iain and Rachel Boyle. It is only 6ft wide and 21ft from front to back.
Yet in that tiny space is an entrance hall, kitchen and shower room on the ground floor, a first-floor living room and a bedroom in the eaves. Mr and Mrs Boyle believe that the former donkey-cart shed could be Britain's narrowest inhabited terrace home and have written to Guinness World Records to ask if they are right.

I guess a "terrace home" would translate to row house, here.



Quote:

Mr Boyle, 51, said: 'Property is so expensive in Brighton that our tenants have always been thrilled to find a house they can afford with a garden.
'They don't ever have to switch the heating on - it is so narrow that it is insulated by its neighbours.'

A 6ft by 10ft garden wouldn't grow much more than flowers to look at out the window, but not paying for heat is a big plus.

link
---

ZenGum Saturday Feb 27 12:09 AM

Oooh, ahhh, luxury, that is. When I were a lad ....

---

Clodfobble Saturday Feb 27 12:13 AM

Those camouflage curtains are hideous.

---

lumberjim Saturday Feb 27 12:21 AM

i'd freak the fuck out

---

jinx Saturday Feb 27 12:25 AM

"Oh, if only I could be so lucky as to have a house as wide as my master's door."

---

xoxoxoBruce Saturday Feb 27 12:42 AM

I wonder if the TV police could zero in on that place?

---

Trilby Saturday Feb 27 05:53 AM

---

SPUCK Saturday Feb 27 06:17 AM

Don't switch on the heat..
Notice what they're all wearing?

---

capnhowdy Saturday Feb 27 07:53 AM

I hope they're not hoarders.

---

spudcon Saturday Feb 27 09:33 AM

Rachel is touching herself in both pictures.

---

Undertoad Saturday Feb 27 09:54 AM

Gotta keep warm somehow

---

newtimer Saturday Feb 27 10:11 AM

What's the big deal? When I was a kid, me and my 2 half-brothers and our cousin and the cousin's baby and Ma and Pa (whenever he was on parole) all lived just fine in our trailer. And we didn't need to turn on no heat neither, because whenever it got too cold, we just went to Walmart and walked around in there for awhile. At Christmas, Ma would even buy us a bag of popcorn from the snack bar!

---

Pete Zicato Saturday Feb 27 12:55 PM

We keep our heat at 67. And mostly we wear sweatshirts during the winter.

---

Pete Zicato Saturday Feb 27 12:56 PM

I think it'd be fine for a single person.

---

glatt Saturday Feb 27 01:13 PM

If they closed the two open windows, it would be warmer. And sandwiched in between two other houses like that, you could probably get away without heating it because the neighbors would heat you. Just have to have good insulation in the roof and exterior walls.

It's too small for a family of four, but for a couple it might be OK. Depends entirely on the bathroom quality though. If it's like an airplane bathroom, that would be a deal killer.

---

lumberjim Saturday Feb 27 01:22 PM

at 6 feet wide, how could it NOT be?

---

lumberjim Saturday Feb 27 01:24 PM

2 floors for a whopping 252 sq feet. If the basement is finished, 378

no way they live there full time. that's a treehouse without the tree.

---

SamIam Saturday Feb 27 01:39 PM

I get claustrophobic just looking at those pictures. No thanks!

---

jinx Saturday Feb 27 02:01 PM

Shower room, and a bedroom? It's better than living in the car I guess... maybe...

---

xoxoxoBruce Saturday Feb 27 03:10 PM

When I was five, four of us lived in a one car garage for a year. A sink in the corner with a pitcher pump, a wood burning stove, a hide-a-bed couch for the folks, and bunk beds for sister and me.

The following summer they built a cinder block kitchen and bathroom into the side of a hill, then dragged the garage up on top with horses and a homemade tractor. The steps up & down were six stone steps set into the hill and seven wood steps up to a wood deck the length of the garage, outside. We lived there for a couple years, then almost 2 years in the cellar of a new house, until there was enough money/time to build the rest of the house.

Most people have way more room than they actually need, and most of that is used to house stuff they don't need and seldom use.

---

lupin..the..3rd Saturday Feb 27 03:36 PM

The Dutch have them beat. Narrowest house in Amsterdam. I saw it on a recent business trip there. There are actually many many contenders there for 2nd place as well; loads of unbelievably narrow row houses, many less than 2 meters wide!!!

http://www.flickr.com/photos/bagatell/128061040/

---

Gravdigr Saturday Feb 27 05:19 PM

Quote:

Originally Posted by

lumberjim

2 floors for a whopping 252 sq feet. If the basement is finished, 378.

I fart bigger than that.

That place is so small, you'd have to go outside to change your mind.

That place is so small, the roaches have to crawl along the wall because the floors are too narrow.

That place is so small, you can't cuss a cat without getting four feet in your mouth.

---

SPUCK Sunday Feb 28 05:41 AM

That place is so small you can actually find your own ass with two hands.

---
Your reply here?

The Cellar Image of the Day is just a section of a larger web community: a bunch of interesting folks talking about everything. Add your two cents to IotD by joining the Cellar.