xoxoxoBruce Saturday Feb 20 12:15 AM

Feb 20, 2010: Pull Pig

Sargent Schultz loved sausages.
Most Germans loved their sausages.
German history and culture is steeped in sausages.

Maybe because German children were traumatized by pull toys like this.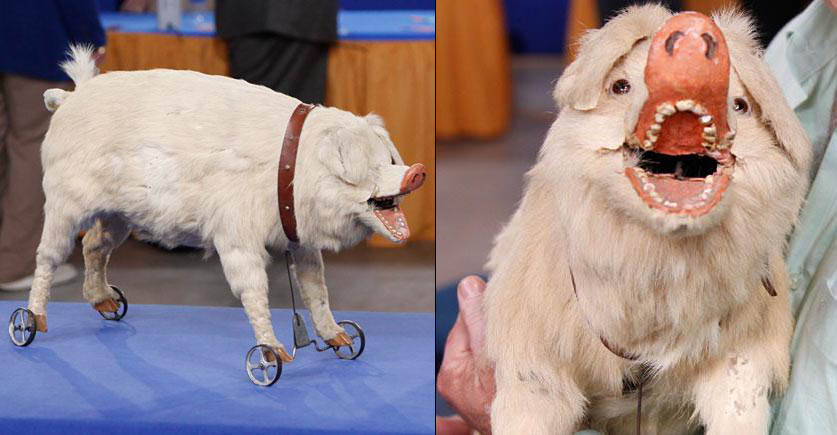 This thing, which appeared on the Antiques Road Show, is enough to give any kid nightmares, and make them want to devour every pig in the land.



Quote:

APPRAISER: And I must say, I've never seen this before. It's generically a pull toy.
GUEST: Right.
APPRAISER: Cast-iron wheels, and probably made in Germany.
GUEST: Okay.
APPRAISER: Probably made around 1895 to 1910. Most pull toys you see from Germany are, like, horses. Right. They're about this big, little wooden platforms. Sometimes a lamb; lambs are very popular.
GUEST: Right.
APPRAISER: Goats are very, very popular. You seldom see pigs, and you seldom see platform toys this big.
GUEST: Right.
APPRAISER: So, I mean, this is really exciting. Plus, you seldom find them so cute and so animated.
GUEST: Right.
APPRAISER: So, push him over here. (oinks) And listen to him, and you see his mouth go. I mean, this guy is really a little charmer. Glass eyes, painted papier-mâché snout and teeth. It's got this incredible action and just absolute charm. My hunch is at auction this could easily bring $2,000 to $2,500.

So for $2500 you could traumatize that little brat next door.
But wait, if you do that, who's going to fix your computer in the future?

---

SPUCK Saturday Feb 20 06:09 AM

H
i
d
e
o
u
s
.


I'll pay you $2500 to make it go away!

---

SamIam Saturday Feb 20 10:45 AM

I'm guessing rabies, myself.

---

Shawnee123 Saturday Feb 20 11:32 AM

I've been craving a pulled pork sammich.

---

charmzny Saturday Feb 20 02:04 PM

Is this one of the evil pigs from the Amityville Horror? This thing is freakin' evil!!

---

Juniper Saturday Feb 20 02:07 PM

Being a Cincinnati girl, I actually think it's normal and even a little cute.

---

Cloud Saturday Feb 20 05:32 PM

I saw that episode! And the appraiser was gushing over it, and I was thinking: ewwww!

"absolute charm" my ass.

---

Gravdigr Sunday Feb 21 01:18 PM

Rollerpigdog, Rollerpigdog
Does whatever a
Rollerpigdog does.

---

lumberjim Sunday Feb 21 11:22 PM

can he swing from a thread?
no he can't, he's a rollerpigdog!



---

Gravdigr Monday Feb 22 12:50 PM

---
Your reply here?

The Cellar Image of the Day is just a section of a larger web community: a bunch of interesting folks talking about everything. Add your two cents to IotD by joining the Cellar.