xoxoxoBruce Saturday Feb 6 02:25 AM

Feb 6, 2010: Chinese Daycare

Not all Chinese daycare, but one parent's solution...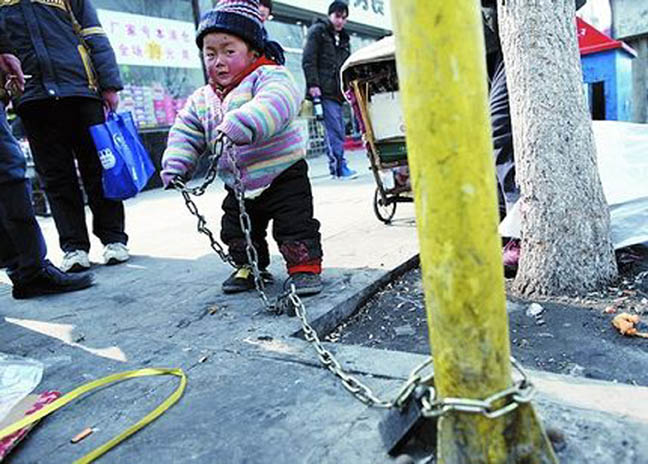 link
via
---

DucksNuts Saturday Feb 6 02:39 AM

Ohhh, I might try that!!

Save me $150 a week in day care.

---

lookout123 Saturday Feb 6 02:54 AM

No kidding. I wonder what the age limit is on that. Lil Lookout might complain a bit, but it is definitely cheaper than tuition.

---

zippyt Saturday Feb 6 04:46 AM

That's almost as good as the duct tape and Peanut butter we used to use ! ( Kidding )

---

Medic63 Saturday Feb 6 05:22 AM

That "tree" looks rather metallic. ;-)

---

SPUCK Saturday Feb 6 05:35 AM
Smog proof tree..

---

capnhowdy Saturday Feb 6 08:29 AM

A product of global warming.

---

skysidhe Saturday Feb 6 09:25 AM

ooh that little face that just says,
"When I'm a teenager you gunna pay for this."

---

xoxoxoBruce Saturday Feb 6 09:49 AM

---

SamIam Saturday Feb 6 10:06 AM

What if a bad guy comes along with a bair of bolt cutters? Poor little guy. I suppose it might solve the problem of little kids being abducted as sex slaves in Haiti.

---

newtimer Saturday Feb 6 10:32 AM

If the Chinese stolen-baby market is as lucrative as the Chinese stolen-bicycle market, this won't work. I had 5 bicycles stolen when I lived there. All of them were chained and locked up.

On another note, I assume this little guy has a bowl of water and a bowl of snacks nearby.

---

squirell nutkin Saturday Feb 6 10:34 AM

I saw the photo and thought "They must have Baptists in that area." Then I read the caption. That is so sad. I wonder if he got his daughter back?

Probably not.

---

Hillrick Saturday Feb 6 10:51 AM

Not quite as bad as going to the casino here and seeing a sign in the parking lot warning you of leaving your child in the car will result in the police being called.

---

squirell nutkin Saturday Feb 6 12:42 PM

When will casinos start offering daycare? It would probably be a short slide into indenturing the kids to cover your gambling debts...

---

jinx Saturday Feb 6 12:45 PM


Duh.

---

Brett's Honey Saturday Feb 6 12:57 PM

"My wife is ill and I can't stop work. So I chain him to a pole when I have a fare."

He said pole. The other author said tree. Not that it really matters..pole, tree...........it still SUCKS for the toddler. Looks damn cold too.

---

monster Saturday Feb 6 01:13 PM

you'd think he's be able to knock up some sort of kid attachment for th rickshaw, though.

Although given the traffic in Beijing, maybe the chain is the safer option for the kid?

---

squirell nutkin Saturday Feb 6 01:49 PM

"The rickshaw ride is 10 cents, but you get a 2 cent discount if you hold the kid on your lap..."

---

monster Saturday Feb 6 01:52 PM

They don't ususally use nappies in China, I've heard.... so I think I'd want a bigger discount....

---

squirell nutkin Saturday Feb 6 02:13 PM

I'm thinking of skipping the China trip altogether...

---

jinx Saturday Feb 6 02:21 PM





I used the living shit out of my maya wrap AND my evenflo backpack. Never lost a kid.

---

monster Saturday Feb 6 02:28 PM

Kids don't cost much in China

But I agree, you'd think some sort of wrap would be do-able.

---

xoxoxoBruce Saturday Feb 6 02:36 PM

---

Elspode Saturday Feb 6 05:43 PM

Chinese men tend to not have much body hair, so baby-sitter-on-a-roll (you probably call it duct tape) would be cheap *and* effective.

---

Reg Sunday Feb 7 12:02 AM

Chained to metal pole!

See kids today are spoiled, when I were a lad, we were lashed to a railway sleeper with rusty barbed wire..
.. and we were grateful.

---

lumberjim Sunday Feb 7 12:21 AM

luxury!

when we were young, our parents nailed our heads to a log!

---

ZenGum Sunday Feb 7 02:28 AM

Who could afford nails?

Our dad used to cut our legs off with axe, soon as we're born, so's we cou'nt run awa'.

---

richlevy Sunday Feb 7 02:58 AM

Man: Now sweetie, I want you to look over there because daddy has to pee.

Jinx: Were you ever able to get LJ to wear that? If so, pictures PLEASE!!

---

Undertoad Sunday Feb 7 08:30 AM

With axe? You 'ad it looky! We wished we would have axe! We had to gnaw through our own legs at age two, and use the remains as meat at tea.

---

Clodfobble Sunday Feb 7 10:57 AM

Ah, you were one of those priviledged families with teeth! We all had to pass around the one set of old wooden dentures, waiting our turn before our legs could get gnawed off. And believe you me, you didn't want to have to go after granddad, no sir!

---

lumberjim Sunday Feb 7 10:58 PM
if the guy isn't peeing, he's at minimum touching himself in a inappropriate manner.

also, your wife has pictures of me that you should see.

---

Gravdigr Monday Feb 8 03:11 AMFamily? Piffle. I was raised in a flower pot by a local herb woman until I was twelve. (I escaped when they took me out to toss me on the compost heap.)

---

ZenGum Monday Feb 8 05:46 AM



Gaww, a silver spoon it was you had, what with that woman to care and tend fer yer. From the age of two I lived alone in a drainpipe wi nought to eat but worms, unless the rats got to em first.

And I still di'nt have any legs, mind you.

---

chrisinhouston Tuesday Feb 9 11:24 AM

Back in the '50's my parents lived in an apartment complex not far from the UN in New York. There was a big common green space for the apartment dwellers and there were several close lines set up for drying clothes. My older brother who was 4 at the time had a habit of wondering off (he was once returned by the mail man) so my mother hiched him to the clothes line much like you would tether a dog. He had the run of the lawn but couldn't get much farther away.

Oh, I should add that he turned out pretty much normal.

---

Sheldonrs Tuesday Feb 9 01:12 PM



---
Your reply here?

The Cellar Image of the Day is just a section of a larger web community: a bunch of interesting folks talking about everything. Add your two cents to IotD by joining the Cellar.