xoxoxoBruce Sunday Jan 31 11:39 PM

Feb 1, 2010: Fire Pit

Not just a plain fire pit, but an enclosed outdoor fire pit for story telling, group sings and after the kids go to bed... well, use your imagination.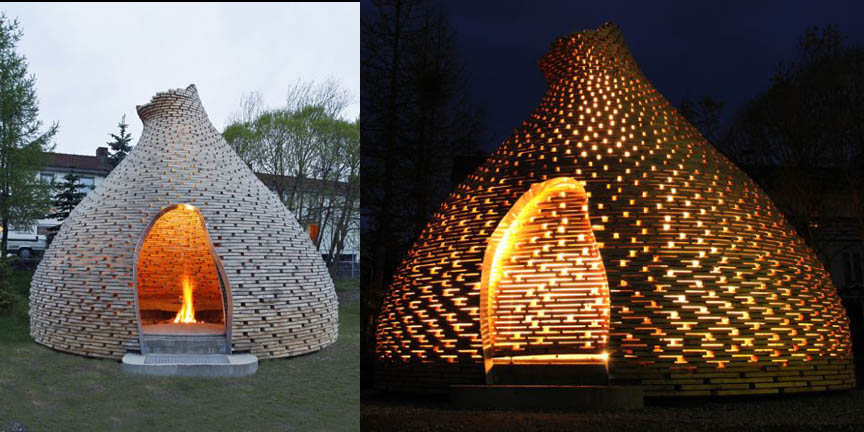 Quote:
Given a very limited budget, reusing leftover materials (from a nearby construction site) was a starting point that led the design to be based on short wooden pieces. Inspired by the Norwegian turf huts and old log construction, a 5,2×4,5 meters wooden construction was built and mounted on a lighted and brushed concrete base. The structure is made of 80-layered circles. The circles have varied radiuses and relative centre point in relation to each other.
Every circle is made out of 28 pieces of naturally impregnated core of pine that are placed with varied spaces to assure chimney effect and natural light.
Oak separators differentiate vertically between the pine pieces to assure airflow allowing easy drying of the pine pieces.
A double curved sliding door was designed for locking the structure.
link
---

zippyt Monday Feb 1 12:18 AM

Verry Cool

---

pocketlama Monday Feb 1 03:13 AM

Boy I love a good fire-pit and this is outrageous!

---

SPUCK Monday Feb 1 05:07 AMBy who?

---

ZenGum Monday Feb 1 07:55 AM

Woody Woodpecker?

---

monster Monday Feb 1 08:24 AM

Gorgeous. Do they sell them on Amazon? I'm after a free shipping deal

---

glatt Monday Feb 1 08:50 AM

Pretty freaking cool, but if it's just bare pine that sits out there in the rain, you can't expect it to last much longer than an unpainted fence. Probably less, since the slats are horizontal instead of vertical. Picture an untreated pine deck. I give it 4 years before it's rotted.

---

Clodfobble Monday Feb 1 09:00 AM

Not arguing that it's got relatively little time to live without being treated, but... I thought vertical slats would get ruined faster than horizontal ones, because the cut edge of the grain is exposed to the downward-flowing water? That's why people put those little metal caps on the top of their fenceposts.

---

glatt Monday Feb 1 09:04 AM

Good point. I'm not sure which rots faster. Certainly, exposed end grain is bad, and ground contact is bad, but a horizontal board will allow water to pool on the surface, and that's bad too.

---

classicman Monday Feb 1 09:15 AM

I agree with both of you. Untreated pine is bad, either horizontal or vertical.

Then again when this thing start to look really bad or deteriorate, you just let it implode upon itself and have a good old fashioned bonfire.

---

glatt Monday Feb 1 09:21 AM

Just built the fire up against one of the inside walls, instead of in the center, and that takes care of that.

---

glatt Monday Feb 1 09:28 AM

It would be cool made out of pavers or flagstone. Actually, now that I think of it, I'm not sure how safe I'd feel inside of one if it was made out of piled up stones. It would be kind of like the Trullo roofs in Italy.

---

Pete Zicato Monday Feb 1 10:17 AM

Reminds me of a Hershey's kiss.

---

wolf Monday Feb 1 10:25 AM

Me want, although I'm pretty sure that since my lease says I can't barbecue on my porch, I can't have one of those, either.

---

xoxoxoBruce Monday Feb 1 10:58 AM

Can't? With all those gun ports, who says can't?

---

Cloud Monday Feb 1 01:24 PM

very pretty, but --a fire pit made out of wood?

---

Gravdigr Monday Feb 1 06:03 PM

---

Adak Monday Feb 1 11:27 PM

It's a beauty, but I don't like the higher portion still having the rough side on the inside.

Bits of this and that will collect in those little ledges, and may catch an ember.



With smooth sides you'd be OK, - consider how similar it is to a teepee. Like a teepee, it needs some cooler air to vent in near the bottom, but you don't want or need air to vent in near the top - that just short-circuits the draft you are trying to create for the smoke to exhaust well.

I guess Scandinavian architects don't chat with Plains Indian tribesmen, on the finer points of teepee design.

---

ZenGum Tuesday Feb 2 03:18 AM

Quote:

Originally Posted by

monster

Gorgeous. Do they sell them on Amazon? I'm after a free shipping deal

Bad news... kit form...

---
Your reply here?

The Cellar Image of the Day is just a section of a larger web community: a bunch of interesting folks talking about everything. Add your two cents to IotD by joining the Cellar.