xoxoxoBruce Monday Jan 18 12:19 AM

Jan 18, 2010: Book Shelves

I hear it, I read it, and I personally experience it... Where am I gonna put all these damn books?


Boxes, bins, shelves, stacks... books and more books, we don't want to, or can't find a practical way to, get rid of.
I admit I'm old school in that a book, any book, should not be intensionally destroyed. Find a home for it... like it was a puppy.

Here's a practical solution, just put shelves up over the windows.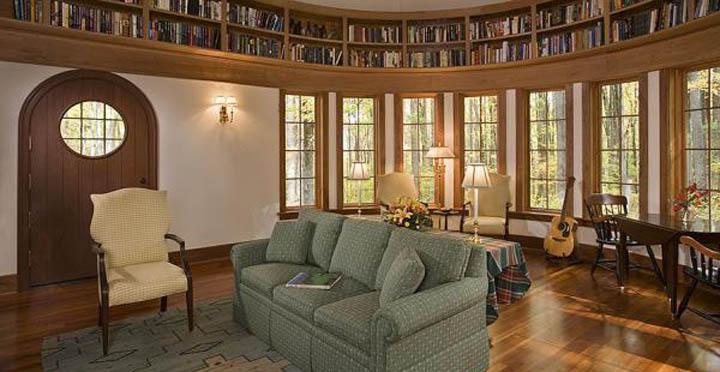 Oh, make sure you have enough headroom.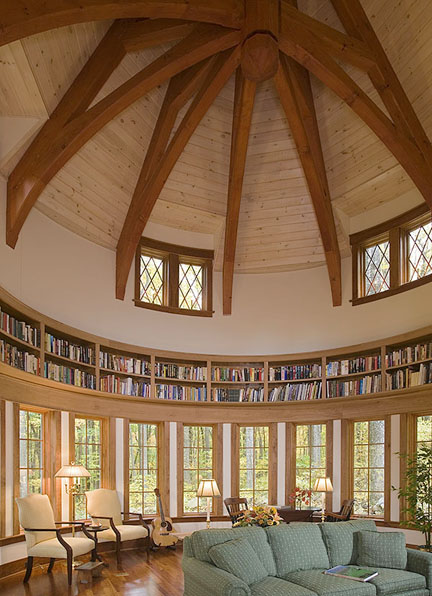 link

via

---

nil_orally Monday Jan 18 01:05 AM

So where does one put the collection of short stories?

---

casimendocina Monday Jan 18 01:39 AM

There's room underneath the windows as well.

---

xoxoxoBruce Monday Jan 18 02:30 AM

And between the windows. And on the window sills. And in boxes in the corner... wait, there's no corners.

---

SPUCK Monday Jan 18 05:51 AM

A touchy subject around here... We have about 10 garbage sacks of books in our living room and rented storage that has perhaps 1,000 more.. Then there's my SciFi collection in the bedroom that's about another thousand. But they're small! <sigh>

---

capnhowdy Monday Jan 18 07:12 AM

I'll just take the guitar that's in the first pic and y'all can have the books.

---

Undertoad Monday Jan 18 07:35 AM

This picture just makes me rage. Those books are just decor. Nobody is keeping a 18' stepladder around to use on the hardwood floors.

I also hate those style of chairs: expensive but clearly uncomfortable. And I hate rooms where they show you how rich they are by having 10 different windows to close the blinds of, to make the point that you never close the blinds, because you have enough land that you still have privacy in your pretend-reading room.

Eat the rich.

---

Griff Monday Jan 18 07:50 AM

It would be cool to have one of those library ladders installed if people really lived without stuff against the walls.

---

lumberjim Monday Jan 18 09:18 AM

that sofa looks rather mundane and out of place for such an austere looking room.

don't eat the rich.....let's be nice to them.

---

Trilby Monday Jan 18 09:35 AM

UT - those chairs are made for size zero-1 people. THEY think they're comfy.

Also - I WANT THAT ROOM! (with bigger chairs) (and probably a different couch)

I LOOOOOOOOVE the snobby windows, the wood floors, the books up above, the hobbit door. And as for actually getting the books down, that's what Jeeves is for, dahling. Or, probably in this case, Consuelo.

---

Tawny Monday Jan 18 09:50 AM

I see conflicting wood grains.

It's truly disturbing to see how some people are forced to live.

---

skysidhe Monday Jan 18 09:55 AM

I think it is quite a nice room. I don't think the couch is mundane at all. Maybe I only say that because when I was a cub - scout den mother I went into some of the homeowners houses and they could barely afford to furnish them. sheesh what's the point in trying to keep up with the jones if the inside of your house looks shabby. I'm talking ratty couches the second hand stores would not want.

---

Pete Zicato Monday Jan 18 10:11 AM

---

Trilby Monday Jan 18 10:30 AM

IMO the couch needs to be lower and curvier to reflect the curves of the windows, room and ceiling. and it needs to be a dark red. That green-blue is too chilly for the room

---

skysidhe Monday Jan 18 10:49 AM

It was a very expensive neighborhood. My aunt and uncle developed and built their house there on the same street. They could afford to furnish it nicely so maybe I am biased. There is even a street named after them.

( memory - one of those strange but true stories I have to share.)

My aunt and uncle passed away years ago. Within months of each other they were both gone. My aunt of lung cancer she was receiving hospice care at home. One day my uncle said he wasn't feeling well and lay down beside her in her hospital bed and beat her to it. He couldn't bear to be without her I guess. The story goes when my aunt who was dying woke up and saw he was passed away said,'god damn you ___.'

Why she said that is anyone's guess.




---

Spexxvet Monday Jan 18 11:28 AM

We did the white-trash version of that in my parent's previous house. What a pain in the ass it was to move them out.

---

Sundae Monday Jan 18 02:52 PM

I used to give my evil ex my less-than-precious books whenever I had a clearout. He had a loft-style open plan flat in a converted factory, and had a shelf running round 1/2 of it above door height.

He was a reader, but rarely read anything I gave him, unless I specifically recommended it. But because he did read, the implication was that the hundreds of books used by him as decoration were actually his treasured possessions. I stopped giving them to him when he started entertaining other ladies there. I couldn't stop him straying, but I could stop myself adding to his allure. Of course I should have just stopped seeing him... better late than never.

---

SamIam Monday Jan 18 04:37 PM

I notice they have a book on the sofa. Did they run out of room?

---

xoxoxoBruce Monday Jan 18 04:47 PM

That's a "coffee table book", but there's no coffee table.

---

monster Monday Jan 18 07:21 PM

It looks lovely, but it's not an inviting room for a reader. I too need my books within arm's reach -that was one of our critria for house hunting -so many houses round here are so open-plan there is simply no wall space for bookshelves

---

Stormieweather Tuesday Jan 19 12:06 AM

I love the room itself, but don't like any of the furnishings, except the guitar. I'd not keep my current books up there, maybe just some treasured collectibles interspersed with non-reading material collectibles.

I'd probably put a curving chaise lounge on either end of the span of windows, with two low ultra modern, half moon couch thingies in the middle forming a broken circle around a big centerpiece type coffee table. I'd arrange the seating so one could sit on them and see out the windows, not sit with one's back to them! In any case, my furniture would echo the room's shape and bring the eye from the uppermost shelves and collectibles down to the center table.

Yeah. That's what I'd do...with that room and unlimited funds

.

---

Gravdigr Tuesday Jan 19 04:56 AM

I can take or leave the room. I really don't like the link. AVG didn't like it either.

---

Sundae Tuesday Jan 19 09:49 AM

Agree re the chaise idea though - lovely.

---

xoxoxoBruce Tuesday Jan 19 10:41 AM

---

Gravdigr Wednesday Jan 20 02:39 AM

Oh, it was the link that said 'link'. Not the one that says 'via'.

---

xoxoxoBruce Wednesday Jan 20 02:44 AM

I've seen those, but not at that link. Never click OK, unless you know what and who.

---

Gravdigr Wednesday Jan 20 03:26 PM

Word.

---
Your reply here?

The Cellar Image of the Day is just a section of a larger web community: a bunch of interesting folks talking about everything. Add your two cents to IotD by joining the Cellar.