xoxoxoBruce Saturday Jan 16 11:34 PM

Jan 17, 2010: Free Country

It's a wonderful thing, living in a free country.
Sadly, something much of the World's population can't experience.
There is one minor drawback though...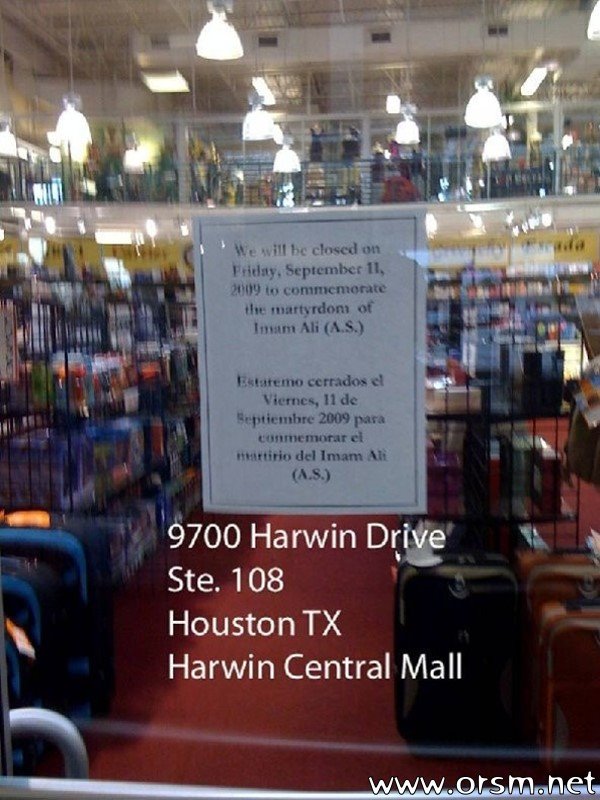 I borrowed this from Orsm.net, a very NSFW website in Australia, where it apparently was contributed by a Texan.

---

lumberjim Saturday Jan 16 11:39 PM

I think that if someone were to put a sign up that stated that this store closed for a day in respect for that religious nutbar....sales could suffer.

---

Bullitt Saturday Jan 16 11:42 PM

*cough*http://spacecityskeptics.wordpress.c...ical-thinking/
Fear mongering ftw.

---

lumberjim Saturday Jan 16 11:46 PM

burn them anyway!


THEY TURNED ME INTO A NEWT!





....I got better....

---

xoxoxoBruce Saturday Jan 16 11:55 PM

Excellent Bullitt, thanks for the link.


So this originated in an email, huh. Shows what can circulate when explanations are neither proffered of requested. I wonder if this made the local papers in Huston at the time? Obviously it upset some people, and someone, maybe a reporter, questioned the owner and got an explanation.

---

chrisinhouston Sunday Jan 17 10:45 AM

This is one of the more scary aspects of the power of the Internet. It's like shouting "Fire" from the balcony of a theater just to see what happens. I have a few relatives who constantly send me crappy hoax shit like this or how Obama is going to give Social Security benefits to illegal aliens or how Congress voted themselves a pay raise while cutting the amount in senior's SS checks. I used to try to respond with a link to the Snopes or other hoax website but now I just delete it and move on.

---

chrisinhouston Sunday Jan 17 10:48 AM

By the way, I forgot to mention that I know that area of Houston and it has a fairly large Muslim population, there is a big mosque on Harwin if I am not mistaken. And right next to this area is what Houstonians refer to as Chinatown because of the large Asian population. When I moved here in 1980 I lived and worked my first job not far from this area and it was totally white suburbia then.

---

xoxoxoBruce Sunday Jan 17 10:57 AM

I too, get those constantly, Chris. The most blatant/vicious, I still send back with Snope's-ish links, but like you say, nobody has time to fight them all.

---

nachoha Sunday Jan 17 11:43 AM

The Snopes link to be specific
http://www.snopes.com/rumors/photos/martyr.asp

---

xoxoxoBruce Sunday Jan 17 11:54 AM

Welcome to the Cellar, nachoha.

---

DanaC Sunday Jan 17 11:58 AM

We had a recent spate of attacks on taxi drivers (mainly Moslem) in our town, because someone spread a rumour that the black ribbons many of them have on their cabs (hanging off the rear bumper) were to show support for the Taliban and Al Qaeda. In the end the police had to print statements in the local newspaper, explaining that they were actualy charms to ward off evil whilst driving. Basically their version of a St Christopher.

In the letters page of the paper, people were still pissed off. They shouldn;t be allowed to have those charms on their cars, they said; this is a Christian country and they should do more to fit in.

---

Pete Zicato Sunday Jan 17 12:01 PM

And even if it was:

"You want free speech? Let's see you acknowledge a man whose words make your blood boil, who's standing center stage and advocating at the top of his lungs that which you would spend a lifetime opposing at the top of yours. You want to claim this land as the land of the free? Then the symbol of your country can't just be a flag; the symbol also has to be one of its citizens exercising his right to burn that flag in protest. Show me that, defend that, celebrate that in your classrooms. Then, you can stand up and sing about the "land of the free".

---

richlevy Sunday Jan 17 01:05 PM

---

classicman Sunday Jan 17 01:16 PM

Great one Petedar from The American President, I believe.

---

xoxoxoBruce Sunday Jan 17 01:22 PM

---

squirell nutkin Sunday Jan 17 02:41 PM

A lie makes it halfway around the world before the truth even has its boots on.

---

Antimatter Sunday Jan 17 02:52 PM

---

Gravdigr Sunday Jan 17 03:33 PMI believe: I believe that if I walk down the street in my town, and someone is burning a U.S. flag, that someone better damn-well be wearing a Boy Scout uniform or displaying some sort of affiliation with a known, local patriotic organization. Because if he ain't, I am perfectly willing to go to jail and/or the hospital for at least trying to stomp the ever-loving shit out of them.

And anyone that doesn't like that can take a flying fuck at a rolling donut.

---

Gravdigr Sunday Jan 17 03:35 PM

Oh, and 'freedom of speech' covers porn, so, freedom of speech rocks.

---

Pete Zicato Sunday Jan 17 05:06 PM

---

Pete Zicato Sunday Jan 17 05:15 PM

---

toranokaze Sunday Jan 17 05:36 PM

---

monster Sunday Jan 17 08:50 PM

Burning a flag is an action, not speech. If we want freedom of action, that's a whole different kettle of fish.

---

xoxoxoBruce Sunday Jan 17 09:16 PM

The courts have ruled it's freedom of expression, not action.

---

squirell nutkin Sunday Jan 17 09:24 PM

That is your definition Monster, not how the law is interpreted. We've gone over the Freedom of speech thing here ad nauseum. As much as I love uniformed argument, I wish people would read the fucking amendment before they blather on about how to interpret it and enforce it.

I'm not speaking to you specifically, Monster. More like to everyone in this thread.

It's the same with the BooYah! flag wavers who don't know the first thing about flag handling protocol, or priests that diddle little boys. (Hint: you take it down at nigth and replace it before it is shredded. If the flag is that important to you, then learn how to treat it. As for priests, remember that bit about celibacy? that extends to little boys, if being a priest is so important to you , they fucking act like a priest, and finally...

RTFM before you fucking weigh in on freedom of speech.

A few good places to start if you want to have a clue about your so called freedom of speech:
http://www.csulb.edu/~jvancamp/freedom1.html

http://en.wikipedia.org/wiki/Freedom...irst_Amendment

http://www.fas.org/sgp/crs/misc/95-815.pdf

But hey, isn't that what freedom of speech is all about? Your right to say whatever crosses your mind? Or is it? Read up and find out.

"Free Speech" or Protected speech is actually extremely limited in this country. There's a whole heap of shit you can't say. you'd be surprised, really.

---

xoxoxoBruce Sunday Jan 17 09:29 PM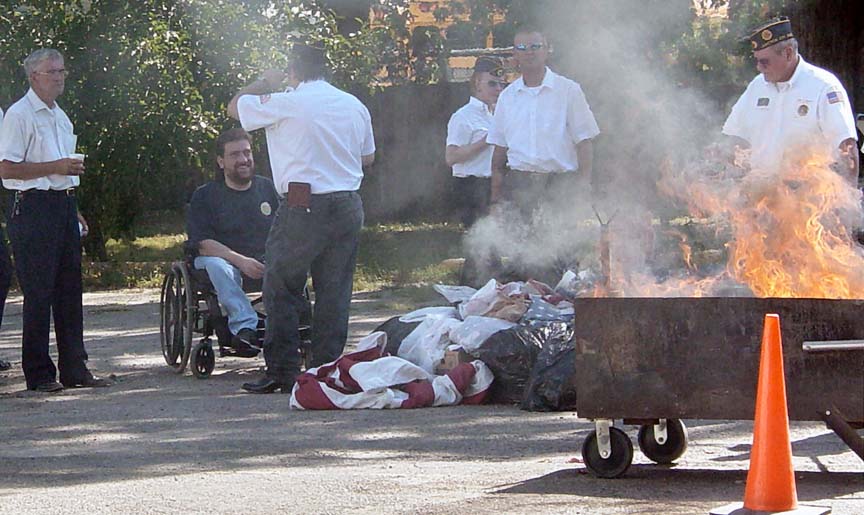 And not like this.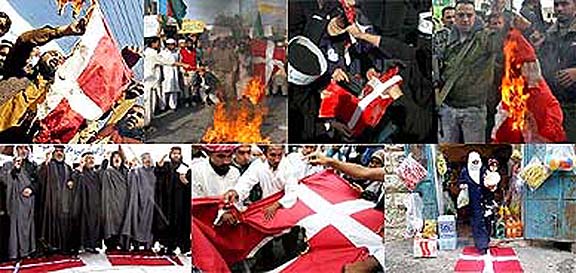 ---

monster Sunday Jan 17 09:36 PM

However, the law is interpreted by people. People who sometime disagree. Their intepretations are based on their opinions...are you with me so far...?

personally, I have no problem with flag-burning. It's a piece of material. But what if I choose to "express" myself by putting a bullet in someone? Should i be allowed that freedom too?

---

xoxoxoBruce Sunday Jan 17 09:38 PM

---

monster Sunday Jan 17 09:39 PM

you can leave it up at night, but it must be illuminated so you CAN see it gallantly streaming. Jus' sayin'

---

squirell nutkin Sunday Jan 17 09:43 PM

I thought you did when you said Burning a flag is an action not speech.

Symbolic Speech
"The First Amendment literally forbids the abridgment only of 'speech,' but we have long
recognized that its protection does not end at the spoken or written word."136 Thus wrote the
Supreme Court when it held that a statute prohibiting flag desecration violated the First
Amendment. Such a statute is not content-neutral if it is designed to protect "a perceived need to
preserve the flag's status as a symbol of our Nation and certain national ideals."137
By contrast, the Court upheld a federal statute that made it a crime to burn a draft card, finding
that the statute served "the Government's substantial interest in assuring the continuing
availability of issued Selective Service certificates," and imposed only an "appropriately narrow"
incidental restriction of speech.138 Even if Congress's purpose in enacting the statute had been tosuppress freedom of speech, "this Court will not strike down an otherwise constitutional statute
on the basis of an alleged illicit legislative motive."139
In 1992, in R.A.V. v. City of St. Paul, the Supreme Court struck down an ordinance that prohibited
the placing on public or private property of a symbol, such as "a burning cross or Nazi swastika,
which one knows or has reasonable grounds to know arouses anger, alarm or resentment in
others, on the basis of race, color, creed, religion or gender."140 Read literally, this ordinance
would clearly violate the First Amendment, because, "[i]f there is a bedrock principle underlying
the First Amendment, it is that the Government may not prohibit the expression of an idea simply
because society finds the idea itself offensive or disagreeable."141 In this case, however, the
Minnesota Supreme Court had construed the ordinance to apply only to conduct that amounted to
fighting words. Therefore, the question for the Supreme Court was whether the ordinance,
construed to apply only to fighting words, was constitutional.
The Court held that it was not, because, although fighting words may be proscribed "because of
their constitutionally proscribable content," they may not "be made the vehicles for content
discrimination unrelated to their distinctively proscribable content."142 Thus, the government may
proscribe fighting words, but it may not make the further content discrimination of proscribing
particular fighting words on the basis of hostility "towards the underlying message expressed."143
In this case, the ordinance banned fighting words that insult "on the basis of race, color, creed,
religion or gender," but not "for example, on the basis of political affiliation, union membership,
or homosexuality.... The First Amendment does not permit St. Paul to impose special prohibitions
on those speakers who express views on disfavored subjects."144 This decision does not, of
course, preclude prosecution for illegal conduct that may accompany cross burning, such as
trespass, arson, or threats. As the Court put it: "St. Paul has sufficient means at its disposal to
prevent such behavior without adding the First Amendment to the fire."145


Shooting someone is not protected speech.

Read all about it here:
http://www.fas.org/sgp/crs/misc/95-815.pdf

---

xoxoxoBruce Sunday Jan 17 09:43 PM

Since they squashed my right to rocket's red glare, fuck 'em.

---

squirell nutkin Sunday Jan 17 09:46 PM

I personally don't give a shit about flag burning either. I'm just saying, also that if it is important to you, then follow your own rules.

What bugs me is people trotting out "Freedom of Speech" as the universal defense to whatever opinion they have when that opinion is not protected speech.

Invoking the first amendment isn't like calling the coin flip. I called it first, is not how the law works.

And I'd never pick a fight with monster cause she's all swimming and tough and shit.

---

squirell nutkin Sunday Jan 17 09:48 PM

I can see why no one wants to actually read the law, it is much less interesting than reading "You suck and you're an asshole"

In fact, it's downright boring.

There's 39 pages of that shit I quoted.

---

xoxoxoBruce Sunday Jan 17 09:49 PM

Wussy. :p

---

squirell nutkin Sunday Jan 17 09:50 PM

---

squirell nutkin Sunday Jan 17 09:50 PM



---

monster Sunday Jan 17 09:55 PMis interpreted.

---

monster Sunday Jan 17 10:00 PM

FTR, talking to an immigrant about the constitution etc it like talking to a reformed smoker about the dangers of cigs. We know most of it backwards because some day they may test us on it. But we know it out of necessity, not passion. That's generally why I stay out of this stuff. I try not to get upset about the stuff I don't agree with becaise in the main I love living here and one day I will become a citizen.

---

squirell nutkin Sunday Jan 17 10:07 PM
Can we kiss and make up now?



Just a fair warning about citizenship:
The government cheese is not all that it's cracked up to be.

---

monster Sunday Jan 17 10:15 PM

heehee ...do we need to make up? I hate that stuff, blocks the pores... and as for kissing....I'm a married woman!!




I wish I could afford citizenship (am now eligable) -do you know how much it costs?!!!!111!!1

not like you yanks are citizenship Hos or nuthin'......

---

squirell nutkin Sunday Jan 17 10:22 PM

habla?

---

xoxoxoBruce Sunday Jan 17 10:26 PM

OK, start a buy Monster US citizenship fund.

---

monster Sunday Jan 17 10:34 PM

it's around $700 with notary fees -per person, and there's 4 of us.....

---

classicman Sunday Jan 17 10:45 PM

What a great Christmas Gift - ohhh thats right FSM doesn't have Christmas
Well what a great whateveryoufuckingcelebrateondecember25th gift.

---

xoxoxoBruce Sunday Jan 17 10:46 PM

OK, we need three grand, text MONSTER to 90999.

---

monster Sunday Jan 17 11:11 PM

are you sure you really want us.....

---

xoxoxoBruce Sunday Jan 17 11:13 PM

We don't want you to escape.

---

monster Sunday Jan 17 11:15 PM

ah.


fair enough.



the secrets of cheez whizz and perfect teeth must be preserved....

---

xoxoxoBruce Sunday Jan 17 11:19 PM

Yeah, well that, and we really, really like Beest.

---

monster Sunday Jan 17 11:24 PM

aw, bless, tf someone does. the kids and i were thinking at least he'd make great catfood when our earthquake comes.

---

Clodfobble Monday Jan 18 10:58 AM

There's four of you? Oh, because Thor was born here, is that right?

---

Happy Monkey Monday Jan 18 11:13 AM

Whether any of them, including burning a flag, is also protected speech depends on the context.

---

Pie Monday Jan 18 11:37 AM

---

squirell nutkin Monday Jan 18 11:51 AM

Can we make a t shirt for Thor that says something like "I was born here and got citizenship but all my mom got was this lousy green card?"

It'd be a lot less than $700.

---

morethanpretty Monday Jan 18 12:38 PM

(That is probably in the wrong order, I could never write Spanish questions correctly)

---

Gravdigr Tuesday Jan 19 05:29 AM

---

Gravdigr Wednesday Jan 20 03:32 PM

On second thought, that flag in the first pic should not be on the ground. Lazy bastards.

---

Happy Monkey Wednesday Jan 20 05:09 PM

There's another flag on the pile of trash. Not much better.

---

Griff Wednesday Jan 20 05:25 PM

I believe that pile of trash is flags. Which is more respectful a bunch of drunks with a bbq or an impassioned statement of protest?

---

Gravdigr Monday Jan 25 04:10 PM

But.

FUCK YOU FOR CALLING THE PEOPLE THAT GAVE YOU THE RIGHT TO SAY WHAT YOU WANT "a bunch of drunks".

That rather lengthy list includes a lot of people I love and RESPECT. (you'll prolly hafta look that one up.)

And I don't give the first flying fuck about how "impassioned" someone is when they insult my flag and my country...If I see some guy burning my flag, he's getting kicked in the nuts.
me ---->

<----

Flag burner

---

classicman Monday Jan 25 06:32 PM

---

Griff Monday Jan 25 06:34 PM

I support your right to tell me to fuck off. As I am in no way a flag worshiper, I don't have the training to understand why a haphazard pile of flags on a dirty parking lot by a BBQ is better handling than a Bic on the Capital steps. We can argue about the "gave me the right" part when I'm in the mood to piss off 90% of the board.

---

Gravdigr Tuesday Jan 26 12:24 AM

---

Griff Tuesday Jan 26 06:14 AM

Sorry.

---

xoxoxoBruce Tuesday Jan 26 09:50 AM

I'd like to invite you two to the White House for a beer.

---

Gravdigr Tuesday Jan 26 05:12 PM

GM got (getting?) billions in their bailout. Chrysler? Billions. Banks? Billions and billions. Me & Griff? Our bailout? A beer.

---

xoxoxoBruce Thursday Jan 28 12:35 AM

All right, all right, and beer nuts, ya whining maggot.:p

---

RellikLaerec Monday Feb 15 02:58 AM

I always thought there was a ceremony for burning a tattered/torn/dirty flag. It's usually done with respect. Those guys look like they are VFW or American Legion. So I would say they are burning old tattered flags. Nothing wrong with that.

As far as freedom of speech. The one thing I know is as long as the speech doesn't interfere or disrupt another persons pursuit of life liberty and the pursuit of happiness, then it's protected. Once it started interfering with those, then there's a problem. Things like slander are not protected. You can get in a lot of trouble for calling someone a lier or cheater, but you can pretty much get away with calling them mutherf*cker and other colorful terms. Just watch Penn & Teller's show "Bullshit". If someone wants to protest by burning a flag, then fine. As long as they don't have a problem with me tossing buckets of water on it when they light it.

That my

---
Your reply here?

The Cellar Image of the Day is just a section of a larger web community: a bunch of interesting folks talking about everything. Add your two cents to IotD by joining the Cellar.