sandypossum Monday Jan 4 05:02 PM

Jan 5, 2009: trucks like caterpillars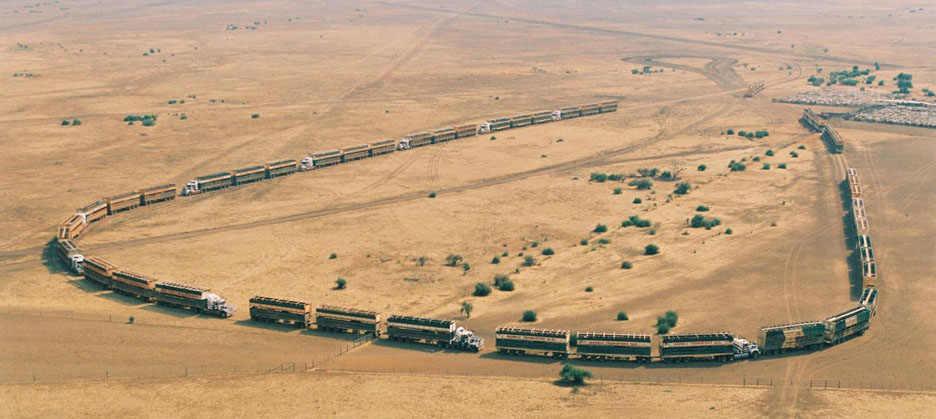 A friend emailed me this photo today. At a first glance I thought it was a circle of caterpillars following each other in the dust. But no, it's a photo of a whole lot of road trains, queuing to collect cattle from an outback cattle station in the NT (that's Northern Territory for we Aussies). There were three other aerial shots in the email.

I found more info on them here, which says

Quote:

At a rough count of 200 head of cattle per unit = 3400 head in the one lift.

I've experienced being buffeted by one of these road trains when driving through the outback. Hate to be driving on an outback road when this convoy was passing by!

---

gvidas Monday Jan 4 05:23 PM

If you have more photos of the same event / trucks, please post them. IoTD's strength tends to be in its completeness.

---

sandypossum Monday Jan 4 08:54 PM

Well then, since you asked...

Oh, and my apologies for the size of the first photo. I forgot to resize it to within the iotd limits.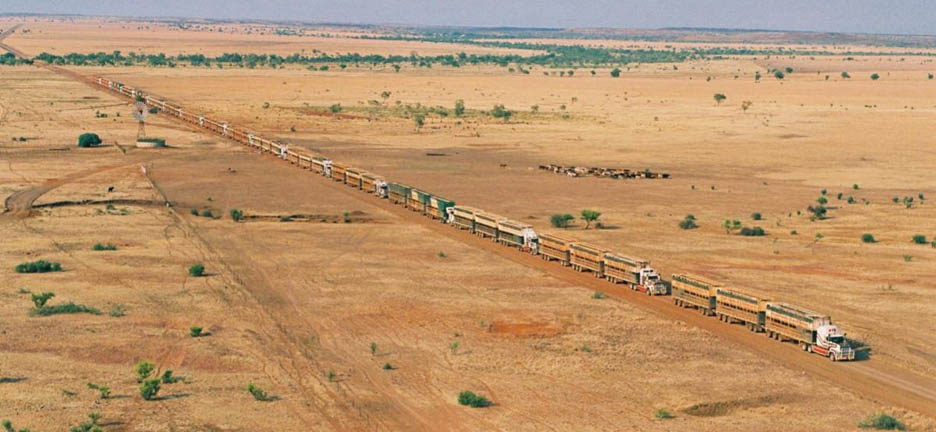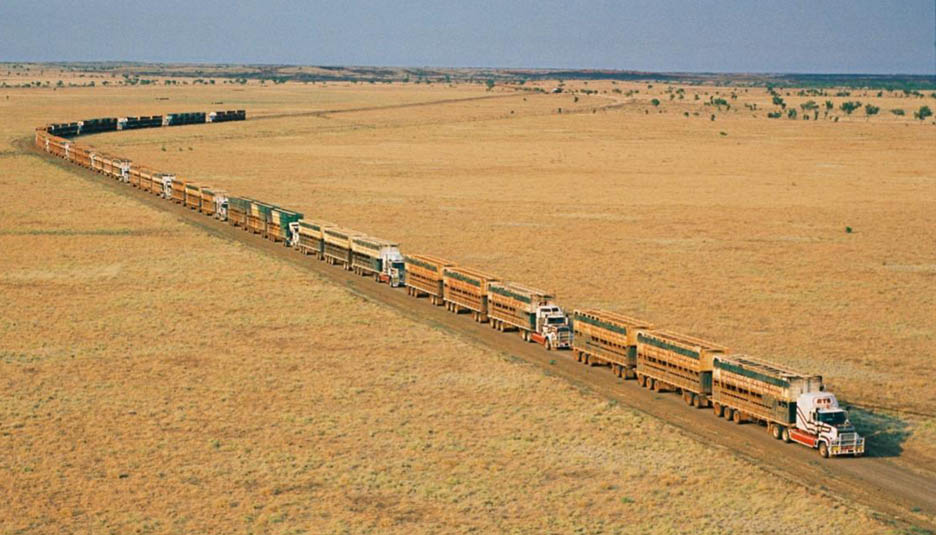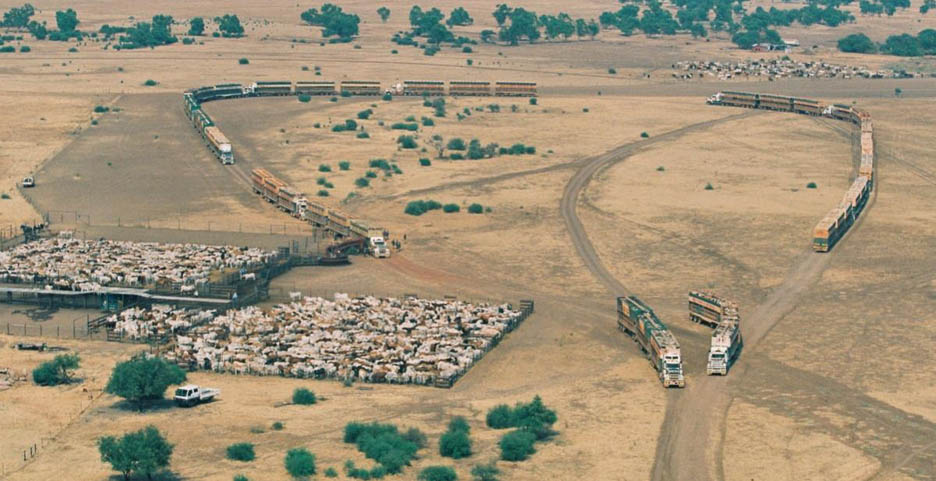 ---

monster Monday Jan 4 09:05 PM

excellent, thanks

---

glatt Monday Jan 4 09:11 PM

Amazing pictures!

---

Elspode Monday Jan 4 09:31 PM

Three or four more roundups like that, and we've got a pretty good start on supplying the tailgating before an average American football game.

---

classicman Monday Jan 4 10:01 PM

Wow each truck is pulling 3 of those things?!?!?!??! Holy crap, thats gotta be a bitch to control.

---

sandypossum Monday Jan 4 10:04 PM

Hokay, why aren't the other 3 pics that I uploaded showing on the main IoTD page? (post #3) I always forget how to do this right.

---

classicman Monday Jan 4 10:06 PM

Maybe a mod will take care of that. Personally I think its fine to add them in a subsequent post.

---

SPUCK Tuesday Jan 5 06:38 AM

It can't be smelling too great in that last cab...

---

ferret88 Tuesday Jan 5 07:22 AM

Now THAT is a cattle drive!

---

Alluvial Tuesday Jan 5 08:17 AM

I bet they kick up some dust.

---

Sheldonrs Tuesday Jan 5 08:33 AM

Now that's trucked up.

---

Gravdigr Tuesday Jan 5 06:17 PM

Yep, if the guy in front taps his brakes, every single driver will be "trucked up". 'Cept the guy in front, and he gets trucked up the ass.

---

xoxoxoBruce Tuesday Jan 5 07:52 PM

When they crash, a lot of cattle die.

---

sandypossum Tuesday Jan 5 09:51 PM

I last drove through the NT outback 10 years ago. At that time it was the only place in Australia with no speed limit outside residential areas. The roads are generally straight and flat so you can see another vehicle coming from miles away. Roos and other animals can appear suddenly, but the trucks just plough through them. General rule was: don't drive after sunset unless you have good roo bars, otherwise drive behind a truck. So not much happens despite that, but at such high speeds it can just take a small woops (like a microsleep, or, in my case, realising there is a huntsman in the car) at the wrong moment for something like this to happen. And even though we have Flying Doctors it can take quite a while before you get help at the scene.

---

SPUCK Wednesday Jan 6 05:40 AM

---
Your reply here?

The Cellar Image of the Day is just a section of a larger web community: a bunch of interesting folks talking about everything. Add your two cents to IotD by joining the Cellar.