SPUCK Friday Jan 1 06:28 AM

Jan 1, 2010: Riddle me this.

I found this to be a strange but interesting picture.

Here we have a riddled vehicle, a riddled building, and someone waiting to riddle..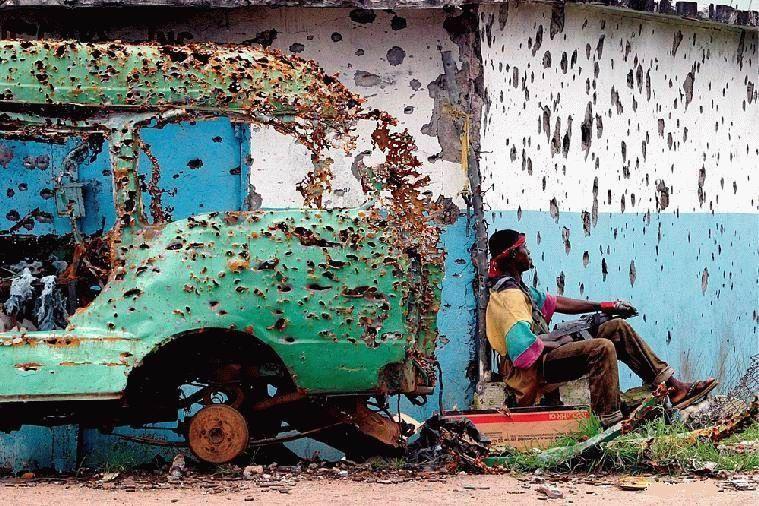 ---

Griff Friday Jan 1 08:21 AM

I'm torn between how artistic the shot is and how cheap ammunition must be in Africa.

---

smillie Friday Jan 1 09:33 AM

What makes you think Africa? It looks a lot like Detroit to me.

---

Griff Friday Jan 1 09:35 AM

AK and sandals if you're serious.

*Whoops didn't realize you were from the motor city.*

---

Sundae Friday Jan 1 09:47 AM

---

glatt Friday Jan 1 09:54 AM

lead poisoning for future generations there, even if there ever is peace.

---

Griff Friday Jan 1 09:54 AM

---

Trilby Friday Jan 1 10:33 AM

Everything is cooler with guns.

---

newtimer Friday Jan 1 11:21 AM

I'm going to buy stock in Bondo.

---

TheMercenary Friday Jan 1 11:31 AM

Looks like Mogadishu to me.

http://www.biyokulule.com/view_conte...articleid=2018

---

jano Friday Jan 1 11:38 AM

What is the box that is beside him?

---

TheMercenary Friday Jan 1 11:57 AM

Sony HD TV.

---

WillieO Friday Jan 1 01:23 PM

And in a country filled with poverty and people whose lives are destroyed by civil unrest, I'll bet he has satellite TV and an I phone to go with that HDTV.

---

Shawnee123 Friday Jan 1 01:29 PM

---

Griff Friday Jan 1 01:34 PM

...still don't get it.

---

Shawnee123 Friday Jan 1 01:36 PM

It's from a song that Janet Jackson did...Nasty.

I'm not a prude, I just want some respect
So close the door if you want me to respond
Cause privacy is my middle name
My last name is control
No, my first name ain't baby,
It's Janet... Ms. Jackson if you're nasty

---

TheMercenary Friday Jan 1 01:46 PM

you get the drift.

---

hipshot Friday Jan 1 03:06 PM

Killer termites...

---

Cicero Friday Jan 1 08:01 PM

So it looks like there are remains around...or am I just sick? I can't tell what all of that is inside the vehic.

---

spudcon Friday Jan 1 11:39 PM

I think the box under him was from the Daisy BB gun he's holding. And I also think the pink, aqua and yellow shirt makes him look like a sissy, but don't tell him I said so.

---

Gravdigr Saturday Jan 2 03:50 AM

That vehicle would probably bring millions as 'modern art'. It does look VERY cool!

---

Elspode Saturday Jan 2 12:43 PM

---

TheMercenary Monday Jan 4 02:08 PM

@spode.

---

TomBow Tuesday Jan 12 12:50 PM

I wonder if he moves would you see an outline with no holes in it?

---

treehugger Tuesday Jan 12 06:53 PM

i got this one in an email years ago. i guess it just takes a while for it to get around.

---

xoxoxoBruce Tuesday Jan 12 08:10 PM

Welcome to the Cellar, TomBow.

---

SPUCK Wednesday Jan 13 05:38 AM

Naw - if he moves the building will collapse.

---
Your reply here?

The Cellar Image of the Day is just a section of a larger web community: a bunch of interesting folks talking about everything. Add your two cents to IotD by joining the Cellar.