Coign Monday Dec 28 01:47 PM

Dec 28, 2009: Bird Strike at 11,000 ft.

Would you like your Christmas Chinese Turkey pureed?

(Christmas Story reference on the Chinese Turkey.)


Pilot inspects aircraft after receiving 8 stitches in the head!!! Note the blood splatter inside the aircraft - after the Beech 99 hit the bird at 11000 feet.

IDENTIFICATION
Regis#: 330AV Make/Model: C99 Description: BEECH C-99
Date: 11/04/2009 Time: 1520

Event Type: Incident Highest Injury: Minor Mid Air: N Missing: N
Damage: Minor

LOCATION
City: SHOW LOW State: AZ Country: US

DESCRIPTION
AIRCRAFT STRUCK A BIRD THAT SHATTERED THE WINDSCREEN, LANDED WITHOUT
INCIDENT, SHOW LOW, AZ

INJURY DATA Total Fatal: 0
# Crew: 1 Fat: 0 Ser: 0 Min: 1 Unk:
# Pass: 0 Fat: 0 Ser: 0 Min: 0 Unk:
# Grnd: Fat: 0 Ser: 0 Min: 0 Unk:

WEATHER: NOT REPORTED

OTHER DATA
Activity: Unknown Phase: Cruise Operation: OTHER


FAA FSDO: SCOTTSDALE, AZ (WP07) Entry date: 11/05/2009
The cost to repair the plane's windshield will be in the thousands. There's a minor dent on the frame where the bird's head hit as well.

Wednesday's incident marks the second plane hit by birds. On Monday, a Delta Air Lines passenger jet on a flight to Salt Lake City was forced to return to Phoenix after it struck a flock of birds.


More info at:

http://www.foxcharlotte.com/dpp/news...51257443027535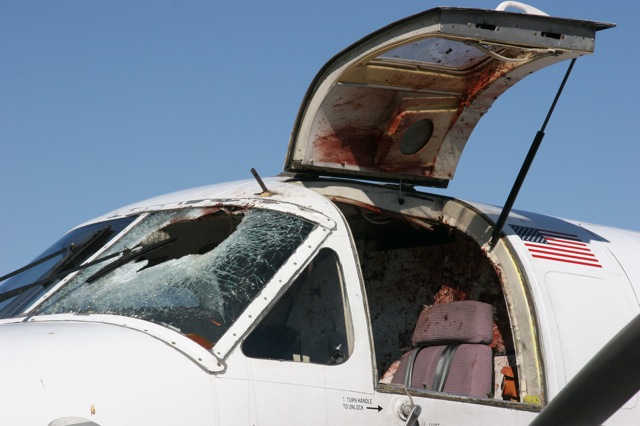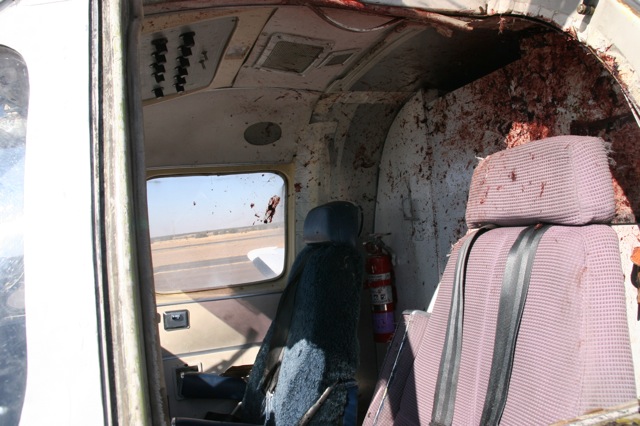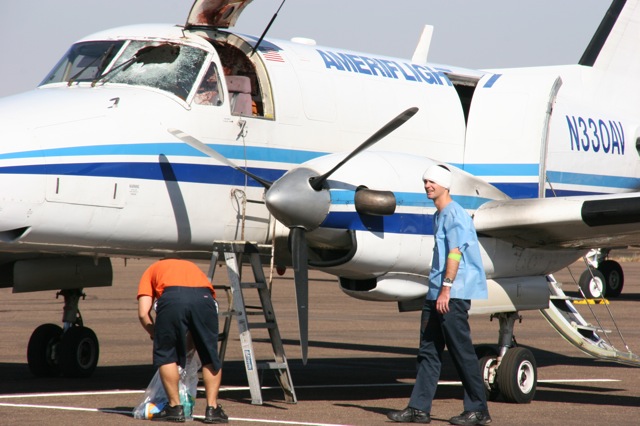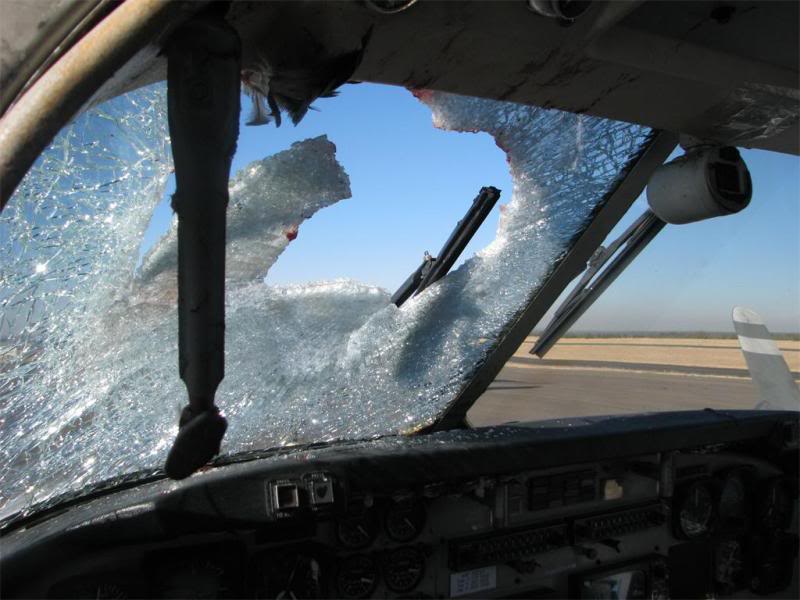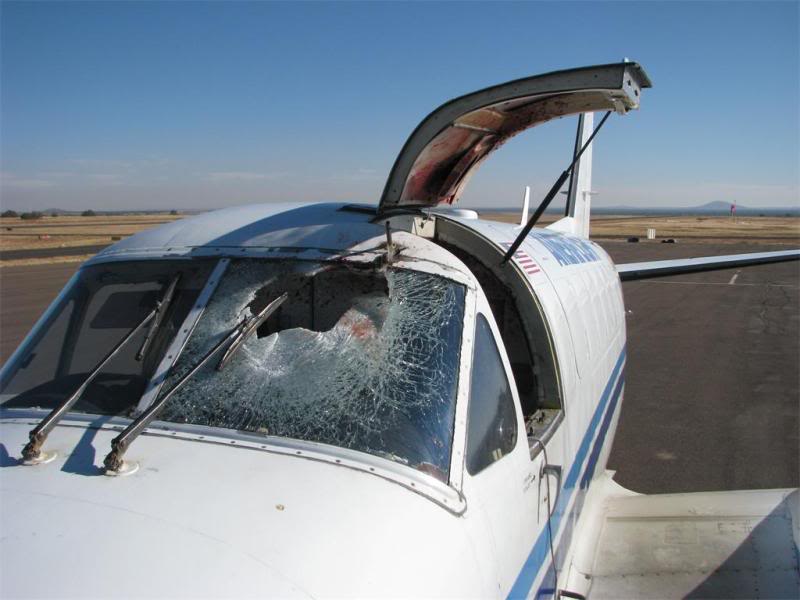 ---

Coign Monday Dec 28 01:50 PM

P.S. Can a forum mod please correct my spelling error in the title. It wasn't a wedding bride that was struck in mid flight, it was a bird. (Stupid spelling typos.)

---

wolf Monday Dec 28 02:02 PM

Done!

---

classicman Monday Dec 28 02:05 PM

No WAY! Keep it as is - Hell look what happened when the word was supposed to be "impending" and was incorrectly spelled as "impeding".
self fulfilling prophesy - now for a few pics <off to search "Bride Strike at 10,000">

---

Pie Monday Dec 28 02:07 PM

Although a 'bride-strike' would be funny. Lysistrata at 2 miles up!

Interesting find, Coign. I thought they tested windscreens for bird strike resistance?

---

footfootfoot Monday Dec 28 03:23 PM

Resistance is futile. We wish to improve ourselves. We will add your biological and technological distinctiveness to our own. Your culture will adapt to service ours." -- The Bird.

FAIL!

---

classicman Monday Dec 28 03:28 PM

Guess the pilot ducked in time - (see bird mess on headrest)

---

footfootfoot Monday Dec 28 04:44 PM

---

TheMercenary Monday Dec 28 06:13 PM

Bet that scared the birdshit out of him.

---

Tuba Loons Monday Dec 28 07:11 PM

fun faq fact:



Quote:

said clark to cooley, "if you can show low, you win." cooley promptly drew the deuce of clubs, lowest value card in the deck. displaying the card to clark, cooley said, "show low it is!" therefore the town is named show low, and the main drag through town is called deuce of clubs.

FAQ

---

xoxoxoBruce Monday Dec 28 09:07 PM

That pilot should be grounded for not yielding the right of way. After all that bird was probably not more than a couple years old... a toddler. Oh, the birdmanity.

---

SPUCK Tuesday Dec 29 06:07 AM

Quote:

Originally Posted by

Coign

P.S. Can a forum mod please correct my spelling error in the title. It wasn't a wedding bride that was struck in mid flight, it was a bird. (Stupid spelling typos.)

How do you know the bride wasn't in the co-pilot's seat?


Stoopid lost bird. Prolly thought it was at 1,100ft. Obviously had oxygen starvation.

Can you imagine the pilot's frame of mind!?!
Huge explosion two feet in front of his face. Glass in the face. That thing mashing into the wall inches from his head. 300mph wind jamming into the cabin. No visibility.
Wow. Horrific really.

This happened in New York once. The pilot took off, achieved altitude, reached over and hit the autopilotbirdcomesthruwindow and knocks him stone cold. He wakes up a while later. The autopilot saved his life.

---

capnhowdy Tuesday Dec 29 07:10 AM

Very lucky guy...... very unlucky bird.

---

chrisinhouston Tuesday Dec 29 11:26 AM

About 18 years ago the city of Houston aviation dept. wanted to build an airport on the city's fast growing west side. Only problem is that this is where most of the central flyway population of migrating ducks and geese spend their winter. That's close to several million large birds who like to fly in large flocks. Thankfully in never got approved

---

blueboy56 Tuesday Dec 29 01:57 PM

As a reference, MYTHBUSTERS had an episode that different versions of bird strikes. Frozen, thawed, chicken, turkey.
(Thats why I didn't choose flying ability as my superpower.)

---

capnhowdy Tuesday Dec 29 05:33 PM

Quote:

Note the blood splatter inside the aircraft -

Thanks for pointing that out.

---

Gravdigr Wednesday Dec 30 07:05 AM

---

xoxoxoBruce Wednesday Dec 30 12:33 PM

He could swallow a lot, 'cause I'm pretty sure the other end making room.

---

spudcon Wednesday Dec 30 01:35 PM

How did you know it was a swallow?

---

Gravdigr Saturday Jan 2 04:25 AM

Cuz, he didn't spit?

---

SPUCK Saturday Jan 2 06:25 AM

Want bird strikes? We got'em here!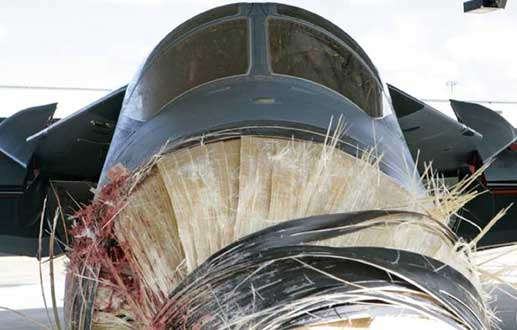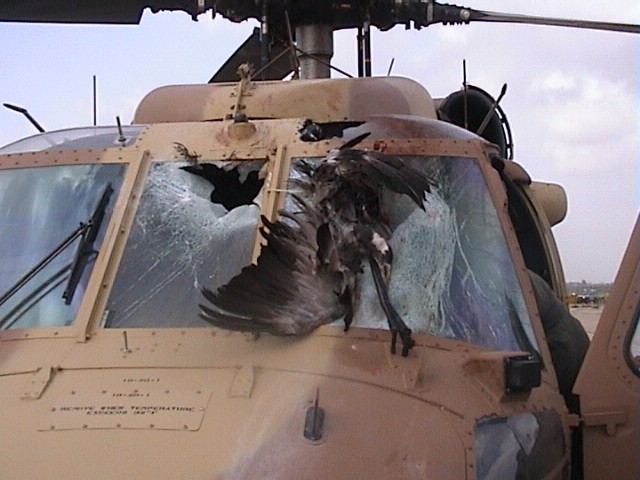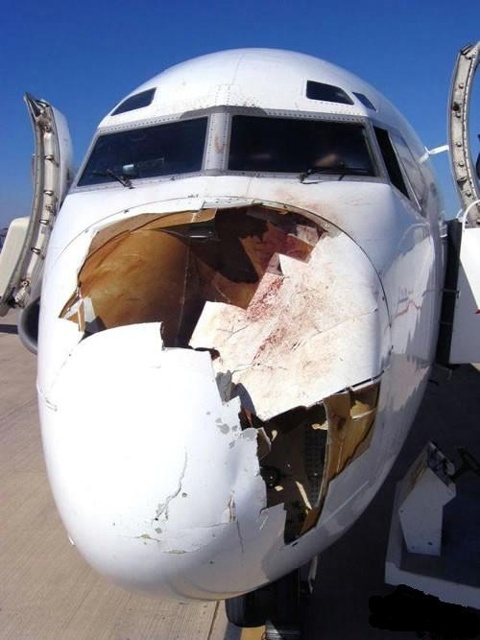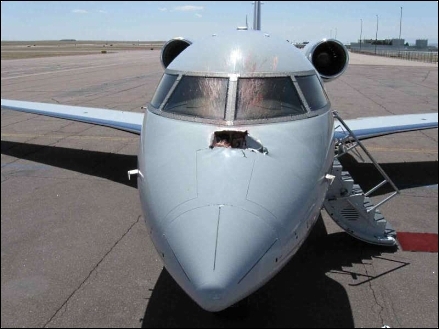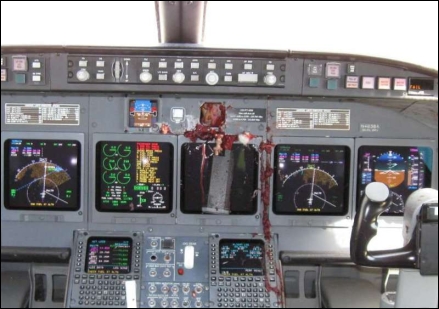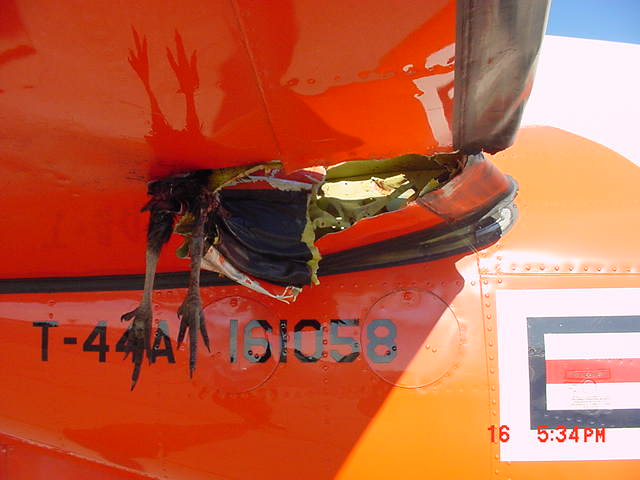 ---
Your reply here?

The Cellar Image of the Day is just a section of a larger web community: a bunch of interesting folks talking about everything. Add your two cents to IotD by joining the Cellar.