xoxoxoBruce Sunday Dec 13 11:15 PM

Dec 14, 2009: 'Gator On 'Gator, Action

It's Dog eat Dog out there, folks… or in this case 'Gator eat 'Gator.
I'd seen enough wildlife shows to know Mama Alligator has to guard the youngsters, so Daddy 'Gator, and his carousing buddies, won't eat them.
But I thought when they got to be 7 feet long, all that was behind them.
Not so.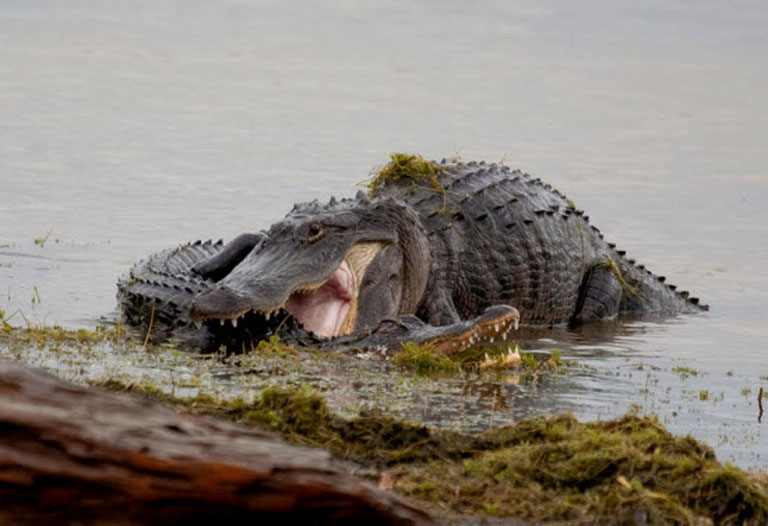 ---

ZenGum Sunday Dec 13 11:25 PM

Big Gator: "See you later!"

---

toranokaze Monday Dec 14 01:48 AM

That is crazy Bruce. I wonder how often this happens

---

Trimoon Monday Dec 14 07:31 AM

I've seen gator on gator attacks where death occurs about three times in the past 10 years. Most the time they're just mating which can get quite rough. Steve

---

spudcon Monday Dec 14 09:20 AM

The little guy should have stuck a stick between the big guy's jaws. That always works in the cartoons.

---

Pie Monday Dec 14 09:36 AM

Hey Trim-o! Welcome!

---

TheMercenary Monday Dec 14 10:28 AM

We have some gators like that around here, but most of the time they are just laying around together in the sun. I can't say as I have ever seen them so much as wink at each other.

---

boodoggy Monday Dec 14 10:52 AM

When you are that big, a spot of camoflauge on the back will suffice.

---

monster Monday Dec 14 11:18 AM

hi Steve, great pic, thanks.

I really want to put a santa hat on that gator, but I'll resist.....



I can't wait to go back to Florida in Feb.

---

glatt Monday Dec 14 11:23 AM

Yeah, thanks for letting us use the picture, Steve, and welcome to the Cellar.

Have any after pictures of the bloody water?

---

xoxoxoBruce Monday Dec 14 11:49 AM
Jonco wrote the 'Gators were 7 and 10 feet long, do they really differ that much in girth for only 3 ft in length?

---

Sundae Monday Dec 14 02:03 PM



Welcome, Trimoon.
Great photos.

---

Gravdigr Tuesday Dec 15 04:38 PM

Um...not what I was expecting when I read gator on gator action...

---

Cloud Tuesday Dec 15 04:45 PM

I was severely disappointed by the lack of alligator copulation in this thread.

Severely!

---

ZenGum Tuesday Dec 15 06:50 PM

How do you know that isn't 'gator foreplay you're seeing right there?

---

Cloud Tuesday Dec 15 08:18 PM

well, from the picture, they'd be doing 69

---

xoxoxoBruce Wednesday Dec 16 01:00 AM

Naw, that's a T-formation... very advanced, very kinky.

---

SPUCK Wednesday Dec 16 05:35 AM

"T" huh? Where's my Kama Sutra manual?



Foreplay and T and sex... Are you trying to work Tiger Woods into this?

---

Gravdigr Thursday Dec 17 03:40 PMForeplay doesn't need THAT many teeth.


BTW: Know the difference between erotic and kinky? Erotic - you use the feather. Kinky - you use the whole chicken.

---
Your reply here?

The Cellar Image of the Day is just a section of a larger web community: a bunch of interesting folks talking about everything. Add your two cents to IotD by joining the Cellar.