xoxoxoBruce Sunday Dec 13 12:57 AM

Dec 13, 2009: Maniwa

This is the automotive breakthrough, that will put LJ's family on easy street... well, at least buy them a house on the Outer Banks.
Screw carbon fiber and exotic alloys, sustainable, recyclable materials is the key.






Don't forget, those of us that live in snowy climes will save even more! By limited usage.
So PM LJ today, and Western Union a cash transfer right away, to ride the first wave (wood is good for wave riding too) of the future.

link
---

richlevy Sunday Dec 13 01:28 AM

Wow. It's Bob Vila meets John Delorean.

That cars is so cool I'm pining away for one right now.

If LJ could get the US distribution rights, he really would be Lumber Jim.

---

Adak Sunday Dec 13 02:36 AM

I can hear the termites licking their chops, as this is posted!

Thousands of wooden cars, marinated to perfection in the occasional bit of rain - they'll swear they've died and gone to termite heaven!

---

Eclipse Sunday Dec 13 04:18 AM

That won't pass safety standards in any way

---

xoxoxoBruce Sunday Dec 13 04:27 AM

I'm not so sure about that. I think it's a trike, and would have to only pass motorcycle standards.

---

SPUCK Sunday Dec 13 05:46 AM

I think it's so ugly it would stop a train.

---

Tuba Loons Sunday Dec 13 06:46 AM

The way they mounted the stereo looks like ass.

Thumbs down to the Picnicwagen styling.

---

spudcon Sunday Dec 13 07:53 AM

---

Sundae Sunday Dec 13 08:05 AM

Not sure about the low clearance.
No sleeping policemen in Japan, huh?
And where are the seatbelts! Won't somebody think of the children!

Actually I like the way it looks. so there.

---

xoxoxoBruce Sunday Dec 13 10:50 AM

---

richlevy Sunday Dec 13 12:17 PM

Actually, if I remember correctly, wasn't there a British car that was built on a wood chassis? Was it the Cooper Mini or something else?

---

jinx Sunday Dec 13 12:32 PM

Thatthing would need to come with a house in OBX for me to drive it... wouldn't get thru the sand though I bet.

Although we did see a chevy malibu on the beach last time we were there.... that surprised me. Usually you see several awd mini vans stuck a few hundred feet past the end of the paved road, but the malibu was jammin' along...

---

xoxoxoBruce Sunday Dec 13 12:39 PM
Actually, prewar American cars had nearly as much wood as metal. You just couldn't see it, except on the woodies.

---

Cloud Sunday Dec 13 02:13 PM

he he. you said woodies.



the above was not actually an attempt at humor; rather, it was an attempt to test my keyboard which mysteriously turned off on me.

---

Gravdigr Sunday Dec 13 02:27 PM

Lotsa sharp corners and edges. Hell in even a minor fender-bender, or bumper-thumper. I woodn't want one.

---

glatt Monday Dec 14 09:26 AM

Wood can be made to look much more streamlined and beautiful than that. Just look at any wooden boat. This thing is ugly and clunky looking.

---

dar512 Monday Dec 14 09:52 AM

---

glatt Monday Dec 14 09:54 AM

I thought steampunk hardware virtually always has brass as a major component.

---

classicman Monday Dec 14 09:57 AM

that looks like a picnic table or other outdoor furniture. With the right craftsmen, it could look sooo much better.

Whats that? Oh thats the style they were going for? nevermind.

---

Spexxvet Monday Dec 14 10:00 AM

it even has a pergola off the back.

---

dar512 Monday Dec 14 10:41 AM

It looks like something a Keebler elf would drive.

---

xoxoxoBruce Monday Dec 14 12:00 PM

It just dawned on me, they're following the style of custom vans, in Japan.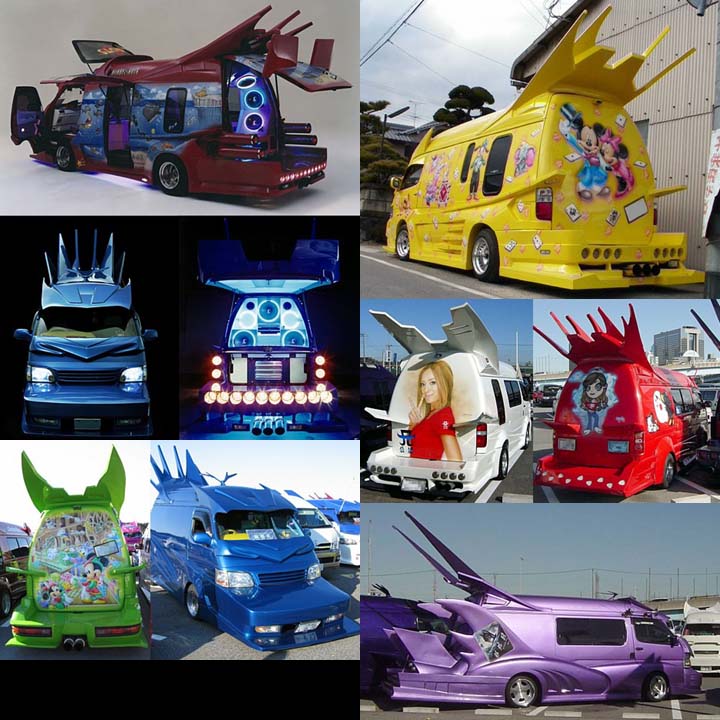 ---

Undertoad Monday Dec 14 02:01 PM

I'm just... so happy those are not street legal in any state in my nation

In my nation, morons identify themselves with the ugly-ass body kit... butusually this is restricted to a rear wing that would fall off if the car was driven at any speed at which it might become useful...

Japan says, I know... let's take a vehicle that gets 8 mpg and weigh it down with things that are not aerodynamic

---

xoxoxoBruce Tuesday Dec 15 02:15 AM

---

Undertoad Tuesday Dec 15 02:26 AM

The Rose Parade doesn't count

---

xoxoxoBruce Tuesday Dec 15 02:56 AM

How about these?

---

Undertoad Tuesday Dec 15 03:13 AM

Oh dear.

---

Gravdigr Thursday Dec 17 03:51 PM

---

Cloud Thursday Dec 17 04:32 PM

the wings go up--it's like a wooden delorean

---
Your reply here?

The Cellar Image of the Day is just a section of a larger web community: a bunch of interesting folks talking about everything. Add your two cents to IotD by joining the Cellar.