xoxoxoBruce Friday Nov 27 12:42 AM

Nov 27, 2009: Pigeon Express

Let's say you're running a white water adventure business, in the Colorado Rockies. And to make the most of the limited season, you want to sell the adventurer/customers, pictures of themselves in the thick of the river action. So you have the guide/photographers take lots of pictures to sell, but there's a problem... the pictures get to the end at the same time as the customer, and really don't want to wait. They've got to find dry clothes, or catch a plane, or off to the next memory.


Pigeon Express.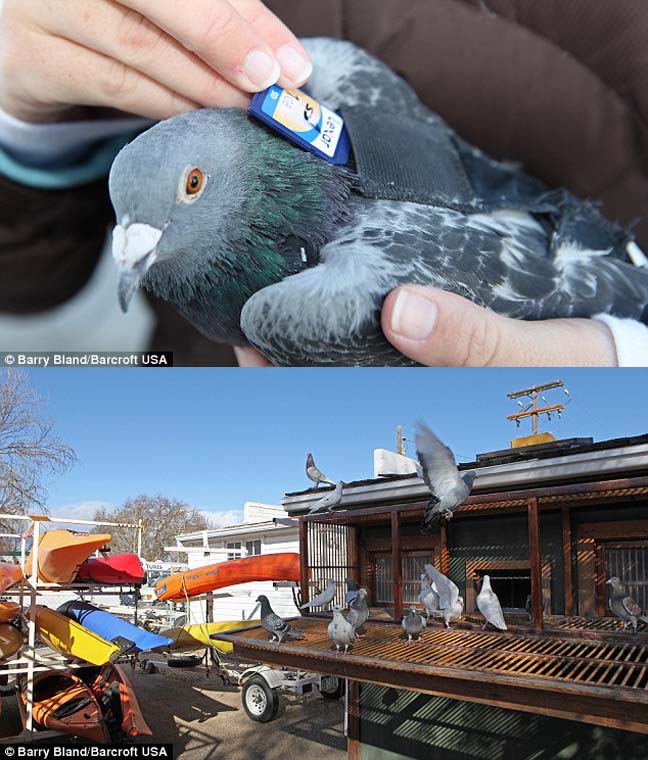 link
---

Undertoad Friday Nov 27 01:15 AM

This data transfer method has actually been documented for years in RFC 1149, "A Standard for the Transmission of IP Datagrams on Avian Carriers".

The data loss for pigeons taken by hawks was not considered in the original RFC. Perhaps they should contact the Internet Engineering Task Force.

---

capnhowdy Friday Nov 27 07:19 AM

Now we can use up all that cranberry sauce.

...slides knife against steel......

---

capnhowdy Friday Nov 27 07:21 AM

Note: Remove memory card prior to cooking. And the backpack thingie. Feet are optional.

---

monster Friday Nov 27 09:13 AM

They should send decoy/bodyguard pigeons to keep the hawks busy

---

Cloud Friday Nov 27 09:56 AM

I thought homing pigeons were extinct. You mean regular sky rats do this, too?

---

Coign Friday Nov 27 01:54 PM

No, homing pigeons have never gone extinct.

http://en.wikipedia.org/wiki/Homing_Pigeon

---

monster Friday Nov 27 02:40 PM

pigeon-fancying is popular in the UK.

---

richlevy Friday Nov 27 08:52 PM

Am I the only one who saw the words 'pigeon express' and immediately thought of takeout?


Pigeon Pie




Braised pigeons in chocolate sauce (I'm not kidding!!!)


---

monster Friday Nov 27 10:08 PM

Vulhawkeon -pigeon in a hawk in a vulture

---

dar512 Saturday Nov 28 12:03 AM

---

SPUCK Saturday Nov 28 06:29 AM

A ping must take hours!

---

richlevy Saturday Nov 28 11:01 AM

---

Undertoad Saturday Nov 28 11:37 AM

At 20 minutes per GB, that's actually faster than DSL. It's a great technology!

---

ZenGum Saturday Nov 28 06:27 PM

Yeah, but the viruses include bird flu.

---

richlevy Saturday Nov 28 10:57 PM

---

Sundae Sunday Dec 6 11:44 AM

I've eaten pigeon.
It was pretty good actually.
And no, it didn't taste like chicken. Well - a bit. It's poultry! More gamey though, like duck without the strength of flavour.

I had it in a pie. Nom nom nom. You can eat pretty much anything with pastry. Come on over and I'll prepare a long pig plait...

---

SPUCK Monday Dec 7 05:20 AM

Pigeon is the best bird I've ever had. Very good. Not much there, but what is, is outstanding.

---

ZenGum Monday Dec 7 05:53 AM

I had pigeon in a restaurant once. It was tough and stringy so I sent it back. That's when the trouble started...

---
Your reply here?

The Cellar Image of the Day is just a section of a larger web community: a bunch of interesting folks talking about everything. Add your two cents to IotD by joining the Cellar.