xoxoxoBruce Friday Nov 20 12:45 AM

Nov 20, 2009: Moon Monkey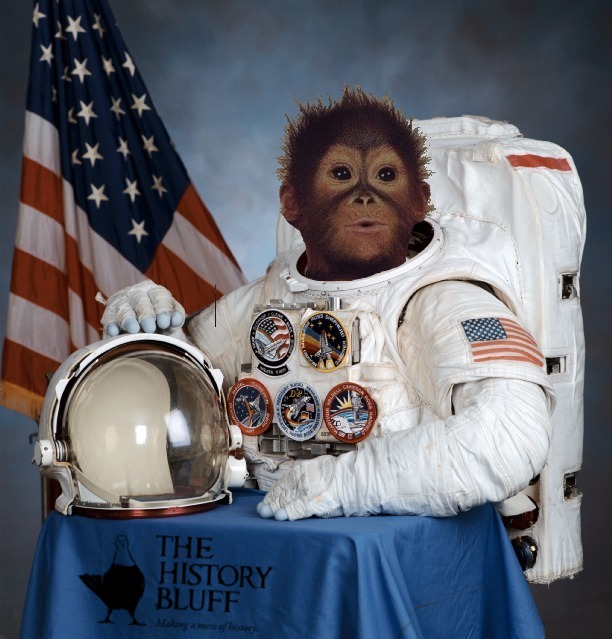 Quote:

On June 3, 1981 Harlan the Monkey became the first primate to ever walk on the moon.
Harlan died on November 18, 2009 of an apparent Tang overdose.

Oh darn, I forgot to check with snopes.

link
---

SPUCK Friday Nov 20 05:46 AM

Was he wearing a diaper?

---

Griff Friday Nov 20 06:12 AM

I saw what you did there.

---

ZenGum Friday Nov 20 06:59 AM

That's what the Ape-ollo missions were all about.

---

spudcon Friday Nov 20 07:34 AM

That's fake. I happen to know Harlan, and he's alive and well, living in Chicago.

---

capnhowdy Friday Nov 20 08:00 AM

Guest from link:



Quote:

Initial reports indicate no sign of forced entry and his cage door locked from the inside, but officials refuse to rule out foul play due to accusations by immediate family members claiming his private physician, Dr. Saliika Bhat brother of former comedian Rodney Dangerfield's physician Dr. Vinni Boom Bhat, administered a fatal dose of anti-depressant medication immediately prior to his death. Dr. Bhat refused comment and is held on $500,000 bond.

---

Sheldonrs Friday Nov 20 10:02 AM

Mooning monkey

http://gallery.live.com/liveItemDeta...8-df41d457f367

---

newtimer Friday Nov 20 11:05 AM

1) We didn't send any rockets to the moon in 1981. At that time NASA was playing with the new space shuttles, not practicing moonwalks for apes. (Somehow there's a Michael Jackson/Bubbles joke in that sentence.)
2) It's impossible to overdose on Tang. Otherwise I, and every kid I knew in first grade, would have died years ago. Unless Pixie Stix are the antidote to Tang.
3) There's no way the animal-rights crowd would have tolerated seeing an ape in a space suit like that. How is he supposed to be able to pick up his turds and throw them? Chimps have that right!

Of course it's fake, folks. Enjoy the humor of it.

---

Tawny Friday Nov 20 02:22 PM

Here's a not so cute picture of a monkey in the University of Utah lab.

They withheld water from him to get him to comply. (This against Welfare Act rules for lab animals.)

http://twitpic.com/pw93v

We need to stop this "experimenting" on other beings.

---

capnhowdy Friday Nov 20 05:14 PM

Well I reckon you get the death penalty for spanking or shocking the 'monkey'.

---

Gravdigr Sunday Nov 22 02:15 AM

Quote:

Originally Posted by

capnhowdy

Well I reckon you get the death penalty for spanking the 'monkey'.

DEAD MAN WALKIN'!!

---

capnhowdy Sunday Nov 22 07:43 AM

yep....

---
Your reply here?

The Cellar Image of the Day is just a section of a larger web community: a bunch of interesting folks talking about everything. Add your two cents to IotD by joining the Cellar.