xoxoxoBruce Monday Nov 16 12:09 AM

Nov 16, 2009: Figurative Sculpture

This in Jeanne...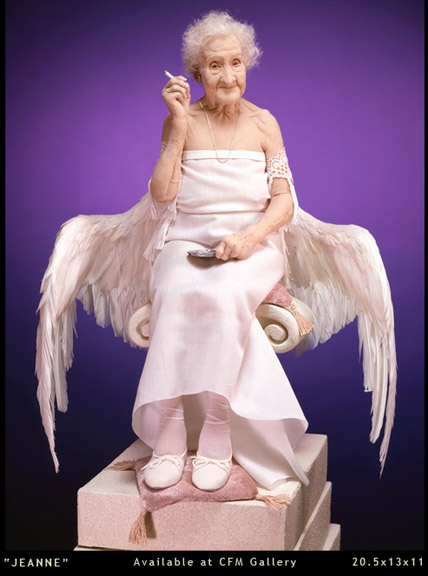 Jeanne is one of Lisa Lichtenfels' fantastic figurative sculptures. Unlike other sculptures, these are built like a real person.
Starting with a wire frame that's turned into a skeleton, she adds properly shaped muscle structure, then a skin of woven nylon
(think nylon stocking material), that gives a realistic texture and colorings.







Quote:

The first time I saw the fabric used for anything other than clothing was during a presentation at the Philadelphia College of Art given by Judy Jampell. She worked like many 3-dimensional illustrators do today -- by creating a facade that could be manipulated from behind. This makes sense since the photograph is the final product for publication. I was intrigued by the idea of wrapping the nylon completely around to create a free-standing sculpture and did that for the graduating competition. When I subsequently won an Ely award, I thought I had a powerful idea -- but since I had committed to a career in animation, I set it aside.

At Disney, working with nylon again came to mind while I was developing figures with moveable internal skeletons, control boxes and other kinetic mechanisms. Nylon was perfect as a simple surface that could stretch and move as the figure was positioned. It wasn't long, however, before the properties of nylon began to present other options. For example, nylon is semi translucent, so several layers of differently colored nylon can produce very subtle and realistic skin tones. Also "needlemodelling" produces wrinkles, soft indentations, and delicate facial features. I felt compelled to explore these potentials, so I left Disney.

I would imagine working this way takes considerable time, and limits her production ability, greatly.
I would also imagine they are out of my price range, but she sells photographic prints taken with a large format camera, of her work.
She also sells books and instructional DVDs, so you can build your own.
Many of her sculptures are in museums, but some are for sale at CFM Gallery in New York.



Quote:

Curiously, although my work has evolved over the years, my earlier styles of working have never been out of favor with me, and I love the early figures as much as ever. I still cherish my first soft sculpture, and it reminds me of the time I showed her to a college professor. He proclaimed it the "worst piece of junk" he had ever critiqued, and chastised me at length for having the gall to present it. I also remember how hurt he was that his words didn't bother me. How could he have known that all his harsh castigation could possibly achieve was the cementing of a permanent relationship between a new artist and her work? In any case, I can't say I explored my medium as much as followed where it took me. It has been such an enlightening, enriching, and forgiving journey that I always feel excited in the morning when I go into my studio.

Excited to go to work? I'm soooo jealous of that.

green with envy

If you're in the Erie, PA, neighborhood, check out the Erie Art Museum, they have "The Avalon Restaurant" and "Krazy Horse Saloon".


Quote:

Since 1984, visitors to the Erie Art Museum have been delighted to discover Lisa Lichtenfels' The Avalon Restaurant. The installation depicts a moment from the life of the Avalon, a now-defunct downtown diner. The Avalon contains 21 soft sculpture figures, scaled to 1/3 life-sized, each remarkably lifelike and painstakingly detailed.

Ms Lichtenfels grew up in Erie, although she now lives where I grew up in MA, with her husband, the poet Jeremy Ward Wilson.
link

---

Tawny Monday Nov 16 04:13 PM

So that's where GI Joe's blank crotch comes from, the Mayans!

---

Cloud Monday Nov 16 04:32 PM

"figurative sculpture" = dolls. in fact, they're called art dolls, and Ms. Lichtenfels has a book out, too:

http://www.amazon.com/Figures-Fabric...8407050&sr=8-1

---

capnhowdy Tuesday Nov 17 06:53 AM

Absolutely amazing. I have deep respect for artists who create real looking things. Now that's talent. I think it is refreshing also to see someone do an angel that is not beautiful and perfect. Good image Bruce. Thanks.

---

xoxoxoBruce Wednesday Nov 18 01:56 AM

Yeah, I love these things. She has a number of angels, of varying ages, at her site.

---

casimendocina Wednesday Nov 18 03:46 AM

Wow!

---

jujuwwhite Wednesday Nov 18 04:41 AM

Well at least now I know what my 96 yo Granny looks like in heaven!

---

capnhowdy Wednesday Nov 18 07:46 AM

I am also relieved to learn that you can smoke in heaven. I was contemplating going to hell for that very reason.

..reaches for cigs and a blue bic........

---

spudcon Wednesday Nov 18 09:55 AM

Everyone smokes in hell

---

jujuwwhite Wednesday Nov 18 10:29 AM

Smoking in Hell would consist of having a room full of cigs in your favorite brand and NO lighter!

---

xoxoxoBruce Wednesday Nov 18 11:49 AM

Of course we're assuming she's an angel. Maybe Granny Jeanne is just getting ready to "Shake a Tail Feather".

---
Your reply here?

The Cellar Image of the Day is just a section of a larger web community: a bunch of interesting folks talking about everything. Add your two cents to IotD by joining the Cellar.