xoxoxoBruce Friday Nov 13 02:17 AM

Nov 13, 2009: Sabi

For Friday the 13th, some good luck... for Sabi.
No, not half of wabi-sabi, Sabi is an Aussie, bomb sniffing, Black Labrador Retriever.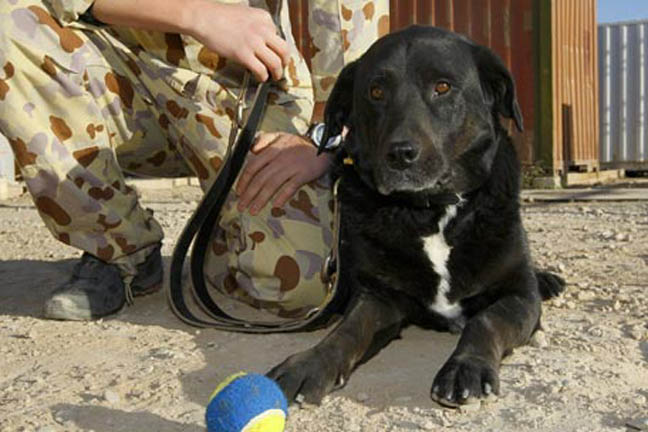 Quote:

The 10-year-old black Labrador, trained to detect explosives, was declared missing in action after a battle in Oruzgan Province in Afghanistan almost 14 months ago. Sabi became separated from her patrol when it was ambushed by the Taliban. Nine Australian soldiers including her handler were wounded and SAS Trooper Mark Donaldson was awarded a Victoria Cross for his bravery during the firefight on September 2 last year.
Sabi was on her second tour of duty in Afghanistan.

Another article said she was 4 years old, and they spent considerable time and effort trying to find her, to no avail.
But not to worry, here comes Uncle Sam.





Quote:

Last week an American soldier — named only as John — spotted the dog close to an isolated outpost in the northwest of the province. Officials said he knew the Australians had lost a dog, and it matched her description so he called her towards him. "I took the dog and gave it some commands, and it understood," he said.

Sabi was airlifted to the Australian headquarters in the provincial capital, Tarin Kowt. She was then reunited with the Army's working dogs unit. Army vets are testing the dog for diseases, but Brigadier Brian Dawson from the Australian Defence Force, said she appeared in good health despite living wild — suggesting that someone may have been feeding her. Pedigree dogs are prized for fighting in some parts of Afghanistan and can fetch prices of more than $2,000 (£1,200), it is reported.

And Sabi lives happily ever after.

In another article...

Quote:

Sabi's story of survival came as no surprise to Katherine MacDonald, who has four Labradors and runs Labrador Rescue, which matches abandoned Labradors with new families in the ACT region.
''Labs will thrive anywhere. All they need is food, water and human companionship and they're as happy as pigs in mud,'' she said.

Food, water, and human companionship?
Wow, Kathrine, whodda thunk it... makes them different form every other breed of dog, eh? You must be a real expert on dogs.

link
link
link
---

SPUCK Friday Nov 13 06:29 AM

That's cool! Glad it worked out.

---

capnhowdy Friday Nov 13 06:31 AM

She forgot about they need an ass or balls to lick. That's mandatory.

---

Sheldonrs Friday Nov 13 08:25 AM

Quote:

Originally Posted by

capnhowdy

She forgot about they need an ass or balls to lick. That's mandatory.

Diet staples for me as well.

---

classicman Friday Nov 13 01:36 PM

Nice story, but she is certainly not a purebred, but I'll leave that part up to Nirvana. Thats her specialty.

---

Cloud Friday Nov 13 01:58 PM

Heard about this. Awwww.

In a similar vein, someone sent me an email with vids of dogs greeting their soldier-dads home from war (and some human kids, too). If you haven't seen it, it's very affecting:

http://www.mentalfloss.com/blogs/archives/40324

---

spudcon Friday Nov 13 02:48 PM

Thank you Cloud. It was indeed affecting.

---

Cloud Friday Nov 13 02:51 PM

yeah, affecting; as in bawling my eyes out!

---

Pie Friday Nov 13 03:27 PM

There's something in my eye.

Why is it so dusty in here?

---

Shawnee123 Friday Nov 13 03:43 PM

Oh wow. Yep. Cried like a baby. Those kids at the end, especially that first little boy...so sweet.

---

ZenGum Friday Nov 13 06:03 PM

When I saw the Sabi story I was pretty sure it was going to be the next Friday IotD. Awwww, don't we love a happy ending in a doggie story?

---

spudcon Friday Nov 13 10:06 PM

Having said all of the above, Dog Ke Bob with barbecue sauce is delicious.

---

footfootfoot Saturday Nov 14 12:22 AM

Quote:

Originally Posted by

xoxoxoBruce

For Friday the 13th, some good luck... for Sabi.
No, not half of wabi-sabi,

Wabi-Sabi? From ZenGum or maybe TigerFart, erm, uh Wind, I might expect that, but Bruce you never cease to surprise me.

Marine Corps Schools, indeed.*



*10 points to anyone who gets that reference.

---

xoxoxoBruce Saturday Nov 14 02:48 AM

Well, I'm not as stupid as I look, ya know.

---
Your reply here?

The Cellar Image of the Day is just a section of a larger web community: a bunch of interesting folks talking about everything. Add your two cents to IotD by joining the Cellar.