What's IotD?

The interesting, amazing, or mind-boggling images of our days.
xoxoxoBruce Thursday Nov 12 12:31 AM

Nov 12, 2009: Nazi Surrender

Ronald Playforth was Monty's clerk from D-Day on, and hiding in the bushes, took the only color photographs of the Nazi surrender. He took two pictures, unseen by the world until now, that have been in his family album ever since.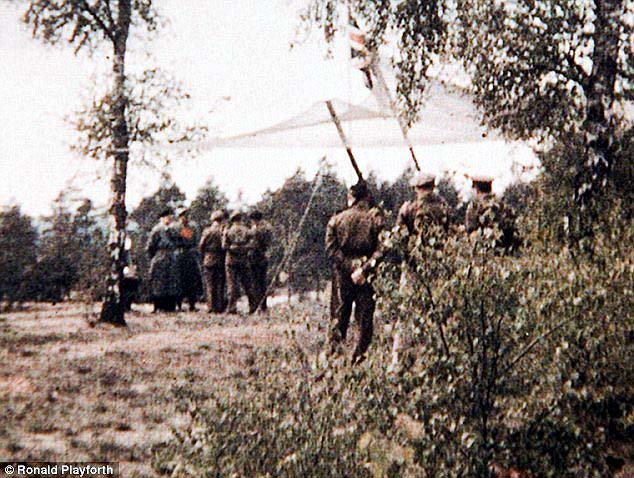 Quote:

His pictures show Admiral Hans Georg von Friedeburg, the most senior member of the delegation, General Eberhard Kinzel, chief of staff of the north west Germany army, and Major Friedl, a 6ft 6ins Gestapo chief. They were received by Field Marshall Montgomery, with his customary black beret and army uniform, who, when the Germans tried to negotiate, reportedly gave them a 'tongue lashing' about the bombing of Coventry and the horrors of Belsen. The delegation reported back to their HQ and Admiral Karl Doenitz – Hitler's successor – and were given permission to sign the surrender papers, which they did the next day, May 4. When it was all over Montgomery is said to have leaned back and said simply: 'That concludes the surrender.' Two of the German delegation – Kinzel and Friedeburg – committed suicide weeks later by taking cyanide while Friedl died in a car accident.

Hmmm, car accident... they got rid of Patton that way, too.



Ok, the picture is not all that clear, but it is an actual photograph, and one of the only two in color, of one of the most important happenings in modern human history.

You can see the other one here.

EDIT: I lied, he took 4 photographs, according to some sources.

---

ZenGum Thursday Nov 12 05:44 AM

This thread was Goodwined before it started.

---

Shawnee123 Thursday Nov 12 09:56 AM

Very neat. I love when they find historically significant photos that someone just had in an album and never thought much about: like when they found the Helen Keller/Anne Sullivan pic.

I think of what was in the mind of the photographer, at that moment.

---

Sheldonrs Thursday Nov 12 12:19 PM

Quote:

Originally Posted by

Shawnee123

...I think of what was in the mind of the photographer, at that moment.

Probably wondering if the photos would ever be considered good enough for IotD.

---

newtimer Thursday Nov 12 01:25 PM

Quote:

Originally Posted by

Shawnee123

... think of what was in the mind of the photographer, at that moment.

"Blast it! Why did those Germans have to walk up and surrender at THIS spot?? And why now? Couldn't they wait 5 more minutes for me to finish up my morning latrine business in the woods in peace?"

---

Elspode Thursday Nov 12 10:05 PM

The Japanese surrender location was much, much more impressive than this.

---

monster Thursday Nov 12 11:02 PM

I cleaned it up a little and was able to provide more detail....


.

---
Your reply here?

The Cellar Image of the Day is just a section of a larger web community: a bunch of interesting folks talking about everything. Add your two cents to IotD by joining the Cellar.