xoxoxoBruce Tuesday Nov 10 01:08 AM

Nov 10, 2009: Eye Lies

Forgive me, I'm having a senior moment.

I can't remember if this has been posted before. If so, I can't find it, but it seems familiar.

In another thread we were discussing email vs telephone vs face-to-face. One poster made the claim that you really don't know what the person meant unless you could see their eyes.

But sometimes, the eye lies...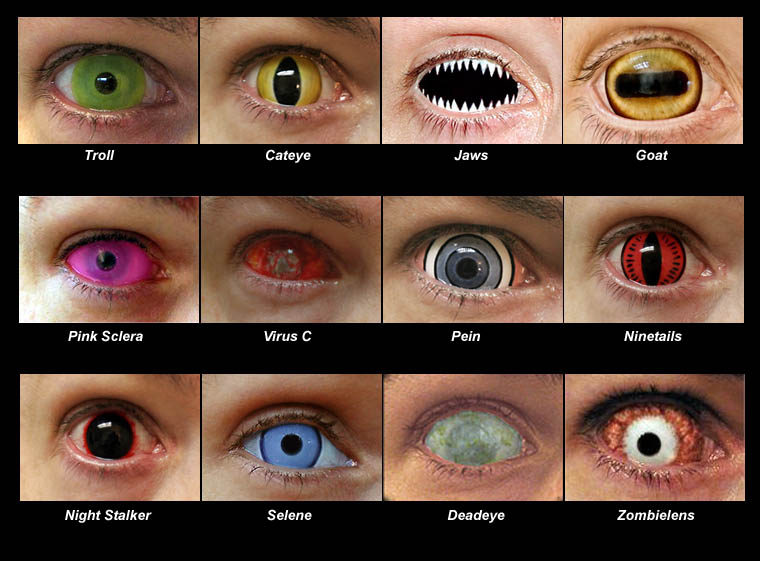 Of course you won't often talk to someone wearing these contact lenses, as they are for theatrical/costume use, and kind of expensive.
But if you do find yourself talking to someone that looks like this, just hope to hell they are contacts.



link

---

nil_orally Tuesday Nov 10 02:05 AM

Eyes are what attract you to a woman (along with any other obvious protrusions). When, however, they have eyes like Virus C 28 days a month and they start talking in tongues, the opposite can happen. All it costs is a house and 70% of your income for a third of your life. Quite cheap, really.

---

xhaos01 Tuesday Nov 10 03:37 PM

I have the Black Sclera lenses from here and they look great, even if my fingers are too big to put them in my own eyes, my wife has to do it for me and I have to wear them about a half dozen times just around the house to get used to them.

---

sweetwater Tuesday Nov 10 03:51 PM

I wonder if one could paint a lens so that it would look like the Cellar Monkey is peering out at the world from inside one's head?

---

TheMercenary Tuesday Nov 10 03:51 PM

That is crazy. I would love to do something like that just for fun but I doubt I could put anything on my eye.

---

ZenGum Tuesday Nov 10 10:09 PM

Modify Sweetwater's idea ... holgram contact lenses! I've seen hologram novelty glasses - I didn't fancy wearing 3-d dope-leaves on my face, bit of a give-away, but if it had been a monkey peering out of my eyesockets, well, that would be fun.

---

xoxoxoBruce Wednesday Nov 11 02:07 AM

I wonder if they could put a hologram on that curved surface?

---

Queen of the Ryche Wednesday Nov 11 01:38 PM

Quote:

Originally Posted by

sweetwater

I wonder if one could paint a lens so that it would look like the Cellar Monkey is peering out at the world from inside one's head?

I read that as "Peeing" out at the world.....now THAT I'd like to see, holographically!

---

Gravdigr Thursday Nov 12 06:23 AM

WANT!!!

---

ZenGum Thursday Nov 12 06:37 AM

Now, if you were wearing the hologram pissing-monkey contacts, and you started crying ...

---

seakdivers Friday Nov 13 03:26 PM

Goat eyes freak me the hell out.

---

toranokaze Monday Nov 16 12:29 AM

If they could do these in my script I would buy them in a heartbeat

---
Your reply here?

The Cellar Image of the Day is just a section of a larger web community: a bunch of interesting folks talking about everything. Add your two cents to IotD by joining the Cellar.