xoxoxoBruce Wednesday Nov 4 01:29 AM

Nov 4, 2009: New Pool

It's great to have a new pool.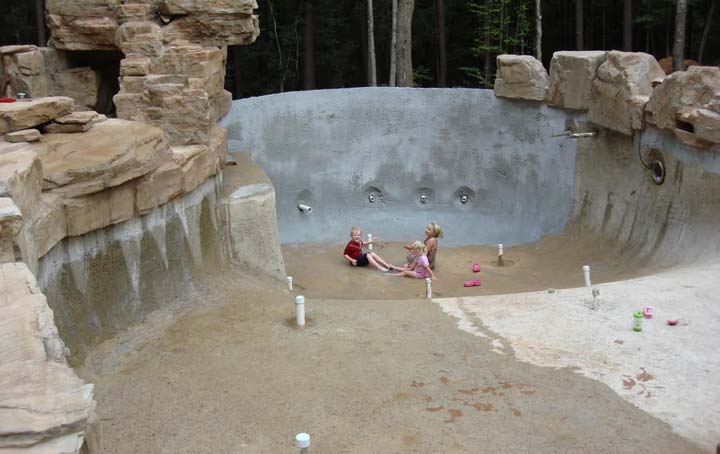 It's even better with water in it.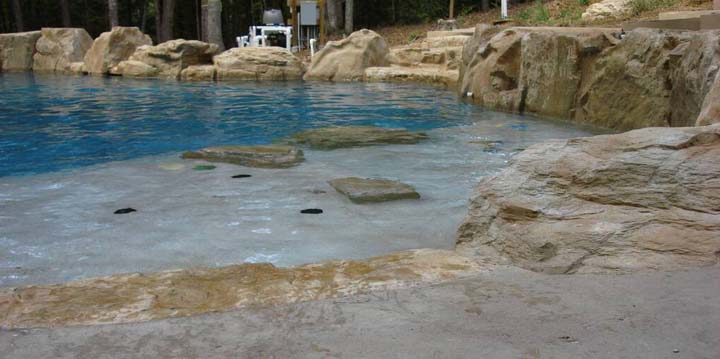 And of course a pool house.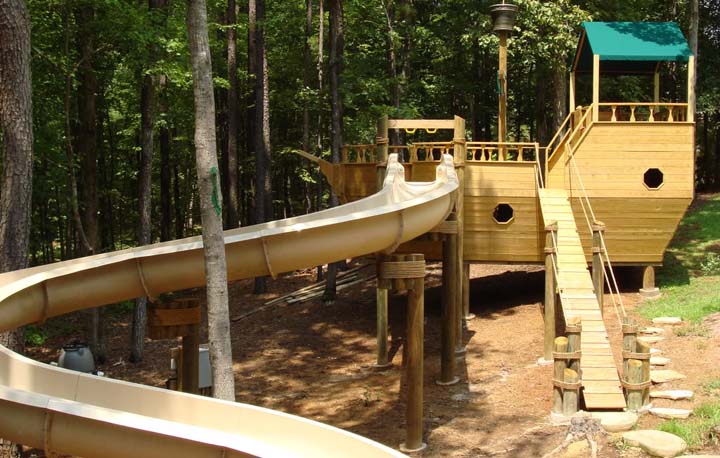 With direct access to the water.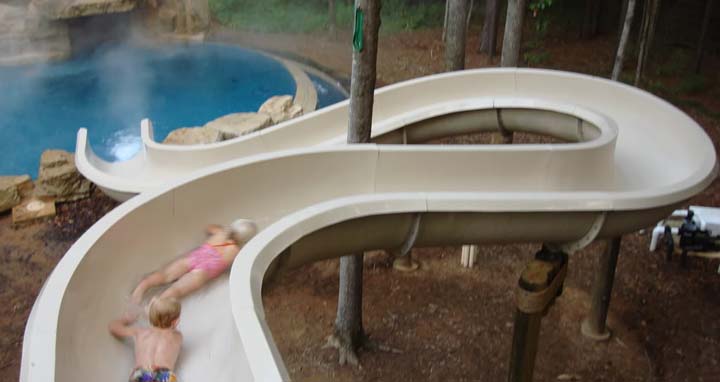 Looks like something Al Gore would own.
I've been sitting on this link for a couple months, because everytime I tried to use it, his photo account was OD'd.
So check it out before it gets too far into the month, for a lot of pics and the plan.


Oh, and scroll down, there's a lot of comments between pictures.

---

capnhowdy Wednesday Nov 4 08:02 AM

That's gotta be the coolest pool I've ever seen. Now I want one just like it. Too bad I never will get one.

But wait....there's always the lottery.

---

monster Wednesday Nov 4 08:12 AM

wow.

I am so envious. ...and impressed.

---

Shawnee123 Wednesday Nov 4 08:17 AM

What monster said!

---

glatt Wednesday Nov 4 09:42 AM

It's an awesome job. The pool looks great, and the slide and pirate ship are spectacular.

It's clearly a DIY job though. Lots of safety details are missing. All those high platforms and no balusters. A kid (or adult) could go right between those rope railings way up there. I'm not a stickler for code enforcement, but on playground equipment, I think it's critical. Kids are running around, jumping, climbing, and a little rope isn't going to keep them from falling off a high platform. At least cover up those concrete post supports with some thick mulch! I bet this guy's insurance company doesn't know about this job. They would drop him in a second.

---

Cloud Wednesday Nov 4 09:52 AM

this is why we have a concrete shortage!

Save the Concrete!

---

birdclaw Wednesday Nov 4 10:09 AM

Geez glatt. Can't you just let this one slide? Sounds like you have a concrete argument but water you going to do?


---

dar512 Wednesday Nov 4 10:14 AM

---

newtimer Wednesday Nov 4 10:16 AM

But I like the way the workers did a there-I-fixed-it job on the columns.

---

glatt Wednesday Nov 4 10:17 AM

---

xoxoxoBruce Wednesday Nov 4 11:31 AM

So, if you want a rock garden, they have to be foam rocks?
And the pool should have a net over the water so they can't drown?
Just don't let the neighbors in. If his own kids get hurt, he can eat them.

---

dar512 Wednesday Nov 4 12:08 PM

---

Gravdigr Wednesday Nov 4 03:37 PM

Geez Glatt, safety nazi much? (hmm...thought there was a smilie w/a hard hat around here somewhere...)

---

glatt Wednesday Nov 4 03:59 PM

Hey, let's replace that rope handrail with barbed wire. That will make men out of those toddlers.

Seriously, I have a lot of respect for the guy who made this, but he is in violation of building codes. The changes he would have to make to create a safe structure for his children and obey the law are very small and cost little. They would take none of the fun away from the structure. They could even look good too. But no, we are too macho for a sissy thing like making a safe play structure.

I bet there is close to a 100% chance that a kid will fall from that structure and break a bone. But we'll never hear about it.

---

ZenGum Wednesday Nov 4 04:36 PM

But think what an important life lesson that child will learn from the experience.

---

Flint Wednesday Nov 4 04:43 PM

---

classicman Wednesday Nov 4 07:38 PM

Money talks and safety is for sissies?

---

ZenGum Wednesday Nov 4 08:05 PM

I was thinking more like "The whole world is a dangerous place, and if you run about carelessly you will get hurt, so look where you are bloody going!!!".

They should put sharks in the pool to emphasise the point.

Mind you, the there-I-fixed-it job on those supports is pretty spectacular.

---

Shawnee123 Wednesday Nov 4 09:20 PM

I see glatt's point. There are safety issues.

However, we could just outfit all the kids in these: (I hope they float)

---

Undertoad Wednesday Nov 4 11:02 PM

Don't miss the 3 year old climbing the waterfall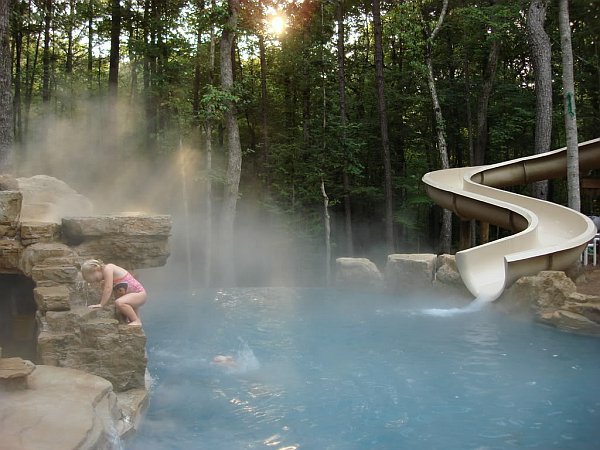 and jumping off.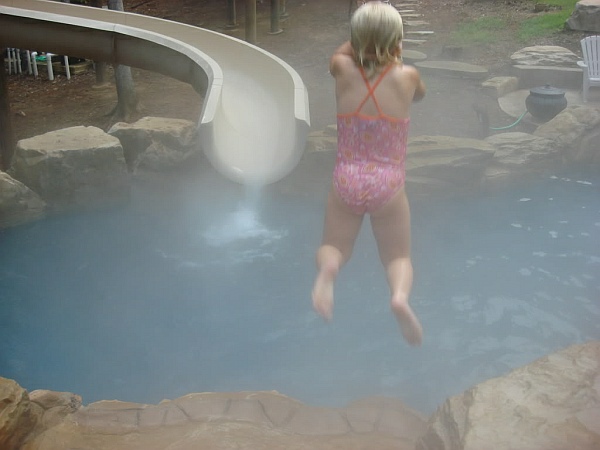 ---

xoxoxoBruce Thursday Nov 5 01:31 AM

Just like kids have done for a million years before anybody built swimming pools.

---

Undertoad Thursday Nov 5 01:37 AM

It seems crazy but after considering this for far too long, and studying the pics, I think those slide supports are that way on purpose. This guy is an ultimate perfectionist, to the point where all those boulders are artificially created so they have just the right amount of grip to them. They visited the rock factory to make sure these were the right rocks for the project! After the slide watering system didn't work the way he wanted, he practically re-engineered it.

---

ZenGum Thursday Nov 5 06:01 AM

---

capnhowdy Thursday Nov 5 07:26 AM

IMO kids aren't allowed to live anymore. Most parents act like they're afraid their kid will get dirty. And a skinned up knee? GOD FORBID! Maybe that's why adults are so soft these days. Just make them sit on the couch all day where they're nice and safe. Add a video game to keep them quiet.

---

glatt Thursday Nov 5 08:47 AM

The playground equipment has the feeling of being self contained and safe, but it is neither. It is tricking the kids (and a couple posters here) into thinking they are in a safe environment when they are not. Their instincts won't have a chance to save them, and they will only learn to be careful there after they fall out of the 10 foot tall tower onto the concrete footers below. Kids should have the chance to learn about taking risks in a location where the penalty won't be a broken neck. Here, they risk breaking their neck, but are not even provided the chance to learn about risks.
What exactly is the benefit of the rope railings over a safer kind? Why would a wooden railing with balusters be so offensive?

---

xoxoxoBruce Thursday Nov 5 12:19 PM

What, Kids don't know when they're 10 ft in the air?
It's not a playground, it's a backyard, and no more dangerous than the woods behind it, with trees from vertical to horizontal, rocks sticking up everywhere, and rabid mutant killer snakes.

Did you ever see anyone walking the plank, with railings?

If you pad the footers, when they fall off, they just break their arm or leg, and end up in a cast for a couple months... whining, demanding to be waited on, and being a royal pain in the ass.

---
Your reply here?

The Cellar Image of the Day is just a section of a larger web community: a bunch of interesting folks talking about everything. Add your two cents to IotD by joining the Cellar.