SPUCK Monday Nov 2 06:03 AM

Nov 2, 2009: The Busk Stops Here!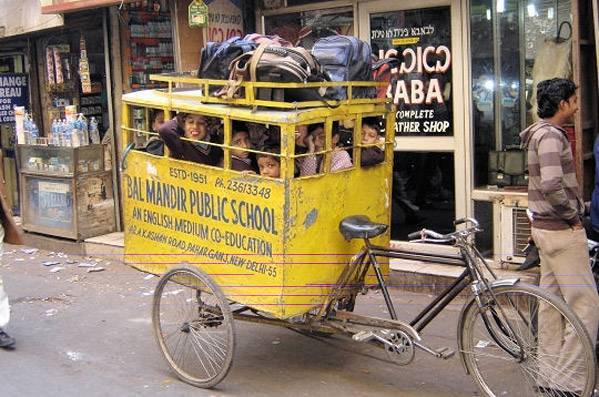 Some kids have all the fun!

---

capnhowdy Monday Nov 2 07:50 AM

Weird.... that was my phone number about 30 years ago when I lived in Savannah. Srsly.

---

spudcon Monday Nov 2 10:35 AM

Not enough bars on that cage, the kids can reach the driver.

---

Shawnee123 Monday Nov 2 10:40 AM

Looks like Chitty Chitty Bang Bang.

---

k012957 Monday Nov 2 12:39 PM

Hebrew??

I assume that this is in New Dehli, India. But the leather shop in back of it has lettering in English and Hebrew. Any ideas as to why?

---

Diaphone Jim Monday Nov 2 06:23 PM

Maybe it's a feather shop.

---

monster Monday Nov 2 06:31 PM

It's a father shop. Those are orphans looking for a new papa. Aba is Hebrew for daddy.

---

Shawnee123 Monday Nov 2 07:04 PM

The father inventory looks like a little depleted. Don't the new ones come in on Tuesdays?

---

Nirvana Monday Nov 2 07:56 PM

Short Bus?

---

richlevy Monday Nov 2 09:22 PM

Speaking of which, they are trying to allow pedicabs in Philadelphia.

---

DanaC Monday Nov 2 09:30 PM

pedi-cabs? *snickers*

---

newtimer Monday Nov 2 10:54 PM

---

Cloud Monday Nov 2 11:01 PM

I don't see any busking going on here, and the associations with Slumdog Millionaire are mildly unpleasant (i.e., blinding kids to be better buskers)

---

monster Monday Nov 2 11:22 PM



(female, but most definitely not a madam!)

---

xoxoxoBruce Monday Nov 2 11:48 PM
Anyway, welcome to the Cellar, ko12957.

---

ZenGum Monday Nov 2 11:59 PM

I guess there might be some connection between the hebrew script and the leather shop - Hindus hold cows sacred, and so would not touch leather (I think), yet there are non-hindus who use leather goods, so there will be a leather industry, and the leather industry will be in the hands of non-hindus.

Mind you, cricket balls are leather-wrapped cork, and many indians - including Hindus - are crazy for cricket. I'm not sure how this works out, kinda like a jewish or muslim guy playing football and catching the pigskin. Hmmm


/ramble.

---

spudcon Tuesday Nov 3 12:35 PM

How do they get the leather to wrap around those tiny balls crickets have?

---

Pie Tuesday Nov 3 01:20 PM

Untrue. India has a thriving leather-goods industry. It's all part of the hypocrisy.

---

Gravdigr Tuesday Nov 3 04:21 PM

I think that girl in the middle window of the bus is wearing her grandmother's teeth.

---

JuancoRocks Tuesday Nov 3 11:05 PM

The laugh......Not the balls......

---

ZenGum Tuesday Nov 3 11:58 PM
And that is why crickets chirps are so high pitched.

---

BigV Wednesday Nov 4 03:14 PM

---

SPUCK Thursday Nov 5 06:27 AM




Now I be edumacated gooder.

---

BigV Thursday Nov 5 10:18 AM

Excellent. My work here is done.

---
Your reply here?

The Cellar Image of the Day is just a section of a larger web community: a bunch of interesting folks talking about everything. Add your two cents to IotD by joining the Cellar.