xoxoxoBruce Tuesday Oct 27 02:43 AM

Oct 27, 2009: Killer Plastic

We've discussed, here in the Cellar, the stories of huge amounts of plastic in the Pacific Ocean Gyre. Apparently most of the plastic breaks down into small pieces, making a "soup" just below the surface.

Well, not all of the pieces are small...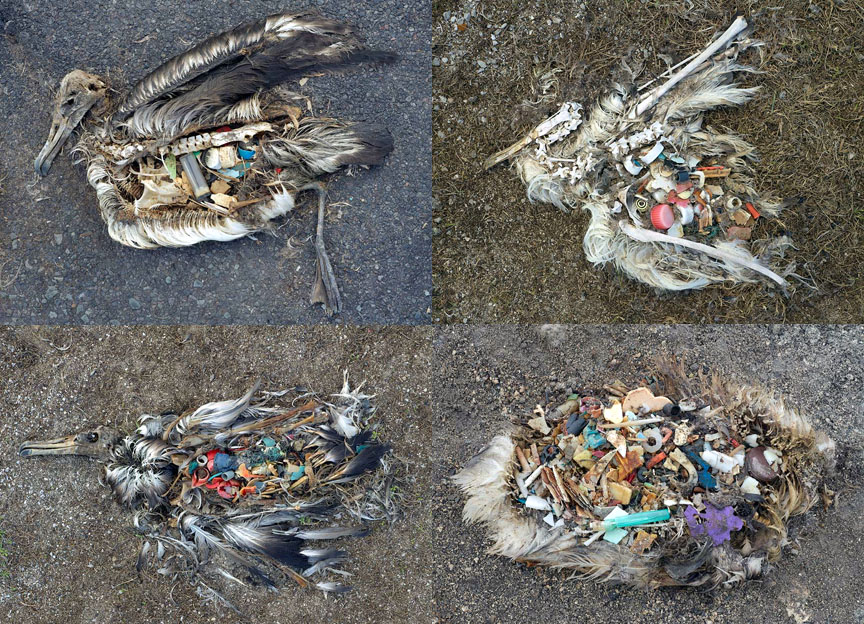 link
---

Scriveyn Tuesday Oct 27 03:50 AM

Plus, less obvious, the "sand" on the worlds beaches is in part made up of broken down plastic. Some research found up to 10% of the grains are actually plastic.

---

SPUCK Tuesday Oct 27 05:33 AM

The bastards!
Death to plastic hording birds!




Got a light buddy?

---

Griff Tuesday Oct 27 06:21 AM

Dead albatros on the cellar, dead aspen on NPR, depressing start to the day and that's just the "A"s.

---

spudcon Tuesday Oct 27 07:29 AM

Don't you just hate it when you're eating a dead albatross chick, and you get a hunk of bottlecap stuck between your teeth?

---

TheMercenary Tuesday Oct 27 08:54 AM

Pretty sad statement.

---

birdclaw Tuesday Oct 27 10:28 AM

Strange you don't see these images on the "power of plastic" commercials.


---

xoxoxoBruce Tuesday Oct 27 10:43 AM

---

glatt Tuesday Oct 27 04:28 PM

This IotD is depressing as hell. We human beings are filthy pigs.

---

xoxoxoBruce Tuesday Oct 27 05:06 PM

Yeah, yeah, I know. I'd prefer happier things too, but some things are too important to ignore. Let's blame it on the Aussies, or the Japs, or maybe Aliens.

---

Gravdigr Tuesday Oct 27 06:30 PM

I thought we (Merkins, anyway) were blaming everything on China and Cuba. And Iran. Yeah, Iran.

---

wolf Tuesday Oct 27 06:54 PM

Mebbe that evil-loution theory thingy is wrong ... albatrosses seem to be as good at figuring out plastic is not food as deer, squirrels, and opossum are about cars.

---

TheDaVinciChode Tuesday Oct 27 07:10 PM

Those that do not, cannot.

The young who fail to use the information, never grow old enough to pass on said information.

It's a slow process, but nature is slowly killing off the less-able-to-adapt.

---

Elspode Tuesday Oct 27 07:52 PM

What we need here is an ad campaign:

"Plastic - Albatross tested, albatross approved! Hundreds of thousands of albatross can't be wrong!"

Yeah, that's what we need.

---

newtimer Tuesday Oct 27 08:52 PM

Hey, there's my lucky green lighter I lost at the beach last year. Thanks for finding it!

---

trev0006 Friday Feb 5 09:32 PM

Yup, this is evolution at its finest.










---

classicman Saturday Feb 6 08:01 AM

Man has overcome evolution to the detriment of the planet.

---

classicman Saturday Mar 27 10:02 PM

He did it here as well in post 16.

---
Your reply here?

The Cellar Image of the Day is just a section of a larger web community: a bunch of interesting folks talking about everything. Add your two cents to IotD by joining the Cellar.